Le Bonheur Cabernet Sauvignon 1989
2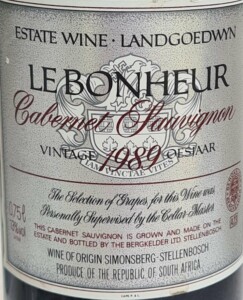 For whatever reason, the 1980s are something of a forgotten decade in the history of South African wine although one property that does get spoken of with some reverence is Le Bonheur in Stellenbosch, then-owner Michael Woodhead famed for his dedication to his vineyards which resulted in Cabernet Sauvignon that was among the best in the country.
Yesterday a bottle of the 1989, which proved to be goosebumps-inducing good. Red and black berries, some attractive herbal character, tomato cocktail and just the slightest note of undergrowth on the nose. A good core of fruit, bright acidity, the tannins pretty much resolved but the finish wonderfully dry. Light-bodied, still very much intact, and wonderfully detailed (alcohol: 13%).
CE's rating: 96/100.
Check out our South African wine ratings database.   
Like our content?
Show your support.
Subscribe