Thorne & Daughters new releases
What an accomplishment Rocking Horse 2021 from John Seccombe is. He refers to it as his "cornerstone" wine and at 16 000 bottles, volumes aren't insignificant. It nevertheless manages to be one of the most refined and complete offerings from this vintage yet tasted. The rest of the range happens to be rather smart, too. Tasting notes and ratings as follows:
Tin Soldier 2021
From Swartland Semillon Gris, 50% fermented on the skins for one week. Complex aromatics of potpourri, citrus, peach, some nuttiness and spice. The palate shows great fruit depth matched by tangy acidity, the finish gently savoury. A wine full of captivating detail.
CE's rating: 95/100.
Paper Kite Old Vine Semillon 2021
From a 1963 Swartland vineyard. A change in winemaking saw the wine spend three months in new 500-litre barrels from Austrian cooperage Stockinger done to offset the variety's natural propensity to become reductive – it has certainly added the wine a little more polish. The nose shows peach, naartjie, hay and a hint of waxiness while the palate is relatively rich and thick textured with nicely integrated acidity, the finish long and intensely savoury.
CE's rating: 93/100.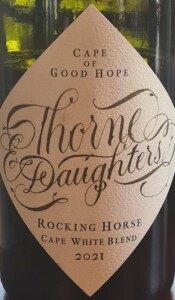 Rocking Horse 2021
32% Roussanne, 29% Semillon, 19% Chardonnay, 16% Chenin Blanc and 4% Clairette Blanche sourced from the Cape winelands. Sensational aromatics of green, white and yellow fruit, flowers, herbs and spice plus a touch of flinty reduction – very expressive but not at all vulgar or overwrought. The palate has great fruit definition, a lovely line of acidity and finish that is long and dry. Precisely made, the whole very much more than the sum of the parts.
CE's rating: 97/100.
Cat's Cradle Old Vine Chenin Blanc 2021
Grapes from an old Swartland vineyard. The nose shows lime and white peach but also some intriguing oxidative notes including some bruised apple, nuts and spice. The palate has a dense core of fruit and snappy acidity – it comes across as quite tense and reticent now but should drink beautifully in two to five years' time.
CE's rating: 94/100.
Snakes and Ladders Sauvignon Blanc 2021
From Skurfberg Sauvignon Blanc. Spontaneously fermented and matured for approximately nine months in old oak. Exotic aromatics of elderflower, citrus, peach, granadilla and pineapple plus some leesy complexity. "We try to beat it down but it won't quit," says Seccombe. The palate has pure fruit and racy acidity before a dry finish. Good weight as you might expect from a wine with an alcohol of 14.14%.
CE's rating: 92/100.
Wanderer's Heart 2021
46% Syrah, 32% Grenache, 18% Mourvèdre and 4% Carignan sourced from across the Western Cape. Striking aromatics of red berries, olive, fynbos, pepper and spice while the palate is light-bodied but intensely flavoured – pure fruit, snappy acidity and powdery tannins. Great energy and an especially dry finish.
CE's rating: 92/100.
Check out our South African wine ratings database.