Vinevenom new releases
The first release from Samantha Suddons under her Vinevenom label was a 2015 Cap Classique called Serenade which placed Top 10 with a rating of 92 in last year's Prescient Report. Now she offers three new wines, these very much adhering to a New Wave aesthetic.
Vinevenom Silence Chenin Blanc Flor Non-vintage
Price: R190
From Paardeberg grapes, this is aged under flor for 12 months and made solera-style. Stone fruit, melon, some green olive and some elusive waxy, yeasty notes but certainly nothing too overtly nutty or oxidative. The palate has a nice roundness before a salty finish.
CE's rating: 90/100.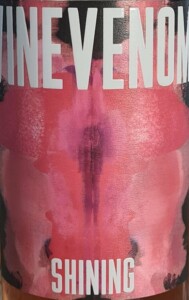 Vinevenom Shining Carignan Touriga Nacional Rosé Non-vintage
Price: R170
From Paardeberg grapes, this is made in a Spanish-inspired, oxidative style – partially filled barrels, some light flor ageing and including a maderised component. Subtle and appealing aromatics of orange, red apple, cherry, spice and even a touch of earthiness. The palate is broad and gently flavourful. It's an understated wine that hangs together well.
CE's rating: 91/100.

Vinevenom Satelittes Syrah Touriga Nacional Non-vintage
Price: R170
From Paardeberg grapes, this is a light red intended to be immediately accessible. Red berries plus hints of lavender and dried herbs on the nose while the palate shows lots of juicy fruit, bright acidity and soft tannins making for a cheerful drop.
CE's rating: 88/100.

Check out our South African wine ratings database.
Help us out. If you'd like to show a little love for independent media, we'd greatly appreciate it. To make a financial contribution, click here. Invoice available upon request – contact info@winemag.co.za