Waterkloof Circle of Life Red 2020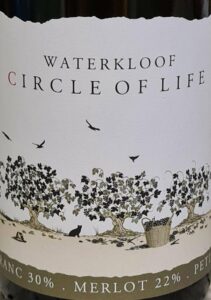 Schapenberg property Waterkloof was conventionally farmed until Paul Boutinot acquired it in 2003 whereafter it underwent organic and biodynamic conversion and hence the name of this wine and its companion white blend.
The 2020 vintage is a blend of 36% Syrah, 22% Merlot, 20% Cabernet Franc and 12% Petit Verdot – the idea is to arrive at a reflection of the totality of the property rather than seeking to represent a particular vineyard or being constrained by a traditional blending format.
Regarding winemaking, the Syrah was whole-bunch fermented while maturation lasted 12 months, the Syrah in 600-litre barrels and the Bordeaux varieties in 225-litre – only 10 of the barrels new. After blending, the wine was kept in wooden fermenters for another five months.
The nose is complex and expressive with notes of red and black berries, fynbos and pepper while the palate shows pure fruit, fresh acidity and crunchy tannins. Dense (alcohol is 14.2%) but still wonderfully lively with firm but not coarse tannins. Some might find this a bit raw and unresolved, but I liked how characterful it is. Price: R160 a bottle.
CE's rating: 95/100.
Check out our South African wine ratings database.
Like our content?
Show your support.
Subscribe