Share by Errieda du Toit – the ultimate Coronavirus cookbook
Before this wretched virus kept me indoors, one of my favourite Saturday afternoon activities was trawling through secondhand bookshops looking for vintage community cookbooks. By which I mean those glorious, compilations of family favourite-style recipes drawn up by groups of fundraising volunteers.
Amongst the gastronomic gems in my collection is a battered (literally) copy of The Calendar of Puddings published by the Women's Agricultural Association of the Cape Province. Mine is the 6th edition from 1938. This almanac offers a pudding per day. No dessert devotee should go through life without making and tasting, at least once, the February 8th entry (buttermilk pudding). I also regularly reach for my dog-eared copy of Our Kosher Kitchen compiled by the Sephardi Ladies Society of Salisbury in 1962.
These tasty tomes are a profoundly female formula within which to fundraise, proselytize and/ or express identity. Whether it's the recipe for roasted sturgeon from The Woman Suffrage Cookbook (published by politically progressive women in Massachusetts in 1886), the lovely lamingtons showcased by the Queensland Presbyterian Women's Missionary Union in 1875 or the spiral bound breakfast recipes contained in the 1969 Black Panther Party Community Programs Cookbook, there is a culinary collection to suit every palate and persuasion.
South Africans have been putting out community cookbooks for over a century. One of our earliest examples is The Paarl Cookery Book, which was published in 1918 in aid of the Red Cross. Funds raised went towards the Spanish Flu and World War One widows and orphans' relief effort.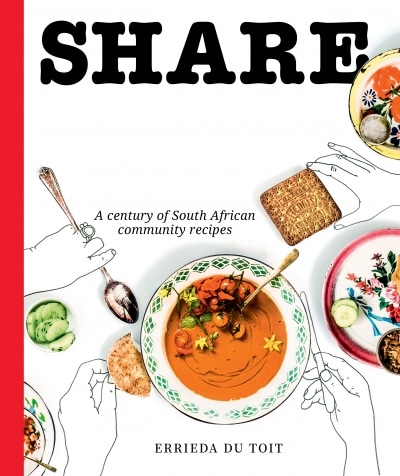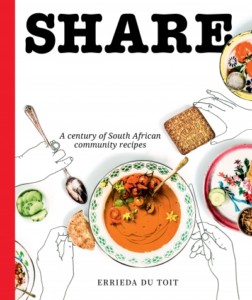 Imagine my delight when I discovered that there are others out there who share my epicurean addiction. Errieda du Toit's compulsion to collect community cookbooks is clearly even greater than my own. Her new book, Share ("Saam" in Afrikaans), offers a selection of our finest school, church, charity and agricultural association recipes. Since I can no longer indulge my compulsion directly, I have spent the last few weeks reading then cooking and eating my way through du Toit's brilliant book. I defy anyone to find a more comforting lockdown supper than the mushroom soup-laden broccoli chicken recipe as supplied by the 1982 Unie Primary School Cookbook. I am in awe of the magnificently spongy Malva Pudding recipe from 1972 Volsmaak Geregte uit Grootvlei. I have had great successes with several of the terrific tart recipes contained within the Suid-Afrikaanse Vrouefederasie's 1964 Uitgesoekte Resepte. I don't own a microwave – which has never bothered me before – but now I long for one because without it I will not be able to make the delicious sounding cappuccino fudge from the 1986 book put out by the Ladies of the Pretoria Police Officers Wives Club.
Not all, but most of the recipes in Share where first published by groups of white women in the apartheid era. Some such women's organisations were explicitly part of the Afrikaner nationalist project while others were passive beneficiaries of racial inequality. My book, Hunger for Freedom; the story of food in the life of Nelson Mandela (2007) draws on recipes provided by predominantly black women involved in the struggle against apartheid. These cooking comrades were active at the same time but within very different social and political circles. One of the many things that I found intriguing about Share was how many of the recipes I recognized from my kitchen sessions with the Struggle veteran women activists. The recipe in du Toit's book for 'Gone with the Wind jelly fluff pudding' (as supplied by the Durbanville Lions Club in 1960s) is almost identical to the recipe that Maki Mandela called 'jelly with a twist' which was her mother, Evelyn Mandela's 1950's party piece. What I know as Xoliswa Ndoyiya's 'sweet chicken' is given in the 1990 Bethlehem West Dutch Reform Church book Beproefde Resepte as chutney chicken. The cream scone recipe in Cookery Book, Kookboek, Kochbuch (printed in 1965 by the unnervingly named Cripple Care Association of South West Africa) matches that used by the Pondoland ANC Women's League delegates – sales of which they funded their delegation's trip to the 1955 Congress of the People in Kliptown, Soweto. I am not so naive as to think that these recipes offer evidence of a kumbaya culinary moment – one only has to observe Israelis and Palestinians to know that kitchen common ground seldom serves up equitable or even amiable interactions – but it does suggest that cultural overlap was part of a process that allowed for our subsequent incomplete, but not insignificant, political détente.
That was then. This is now. Community cookbooks are not dead in 2020 – my son's school produces an annual edition – but they are much less common than they once were. These days recipes and household hacks are generally shared by way of virtual social networking sites. Which is all very well but quantity often obscures quality in such settings. While social media scorn can be cutting, its inherent anonymity reduces the pressure to present only the finest, most super-successful, tried and tested recipes. Printed community cookbooks stress the value of experience over hit-and-miss gourmet Googling. There are very few photographs in such books and where they do contain pictures they almost always reveal the authors' preference for substance over style.
In the current climate nothing seems certain. Reassurance is rare. Knowing that generations of great cooks from the Women's Auxillary Service of the Dutch Reformed Church in Kloofsig approved of the chicken pie recipe in their 1967 tome Bak en Verras is super-soothing in these troubled times. Forget the rest. Go straight to the best. Share by Errieda du Toit is the ultimate Coronavirus cookbook.
SHARE: A Century of South African Community Recipes by Errieda du Toit is published by Struik Lifestyle (R350).
Dr Anna Trapido was trained as an anthropologist at King's College Cambridge and a chef at the Prue Leith College of Food and Wine. She has twice won the World Gourmand Cookbook Award. She has made a birthday cake for Will Smith, a Christmas cake for Nelson Mandela and cranberry scones for Michelle Obama. She is in favour of Champagne socialism and once swallowed a digital watch by mistake.
Attention: Articles like this take time and effort to create. We need your support to make our work possible. To make a financial contribution, click here. Invoice available upon request – contact info@winemag.co.za
Like our content?
Show your support.
Subscribe