Recipe: Hot cross buns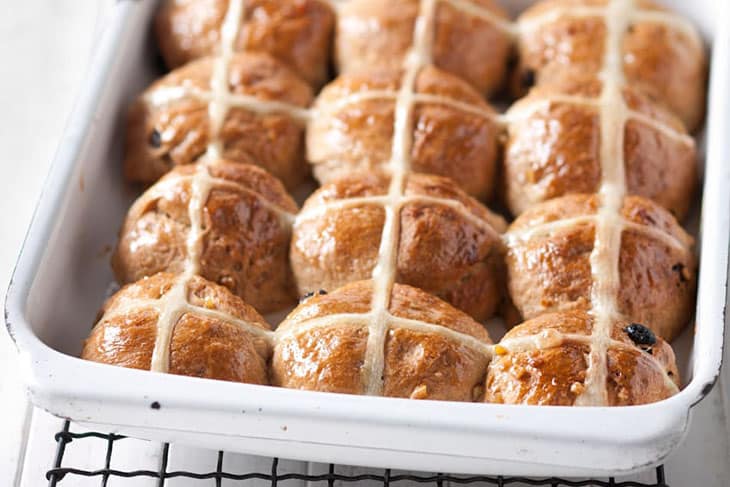 These hot cross buns aren't just for Easter – you can enjoy them all year round!
Yield
This recipe makes 12 buns.
Hot cross buns recipe ingredients
4 cups (500g) flour
1 tbsp (15ml) all spice
1 tbsp (15ml) cinnamon
½ tsp (2.5ml) ground cloves
½ tsp (2.5ml) nutmeg
60g (70ml) castor sugar
15g instant dried yeast
1 tsp (5ml) salt
1 cup (250ml) milk
1/3 cup (100ml) water
80g butter
1 egg, lightly beaten
½ cup (125ml) mixed dried candied, chopped
½ cup (125ml) raisins
Dough for the cross
1 cup (250ml) flour
1 tbsp (15ml) sugar
2/3 cup (water)
For the glaze
¼ cup (60ml) water
2 tbsp (30ml) sugar
Baking method
Place flour, all spice, cinnamon, ground cloves, nutmeg, castor sugar, yeast and salt into a bowl and mix together until combined.
Place milk, water and butter into a saucepan and heat gently until butter is melted and liquid is lukewarm. Add lukewarm liquid to dry ingredients as well as the beaten egg and mix to form a soft dough.
Transfer dough onto a lightly floured surface and knead for 15 minutes until dough is soft and smooth. Place dough into an oiled bowl, cover with a tea towel and allow to rise in a warm place until double its size. Remove risen dough from bowl and knock back (punch down), adding the mixed candied fruit and raisons. Divide dough into 12 equal portions and form into small round buns. Place buns onto a greased baking tray and leave in a warm place until buns have doubled in size.
Make the dough for the cross by mixing all the ingredients together until smooth. Fill a piping bag with the dough and neatly pipe a cross on each bun.
Pre-heat oven to 180°C. Place buns in the oven and bake for 20 minutes or until golden brown.
Make the glaze by placing water and sugar into a small saucepan and stirring over low heat until sugar has dissolved and boiling for 5 minutes. Keep warm. Remove buns from oven, and quickly spread glaze over.
Remove from tray and place on a wire wrack to cool slightly before serving.
Wine pairing
Normal people are going to opt for a cup of tea with their hot cross buns but why be normal? We suggest a Muscadel with a bit of age which will complement the fruit and spice of the bun.
Like our content?
Show your support.
Subscribe