Recipe: Lamb meatballs with feta, olives & tomato dip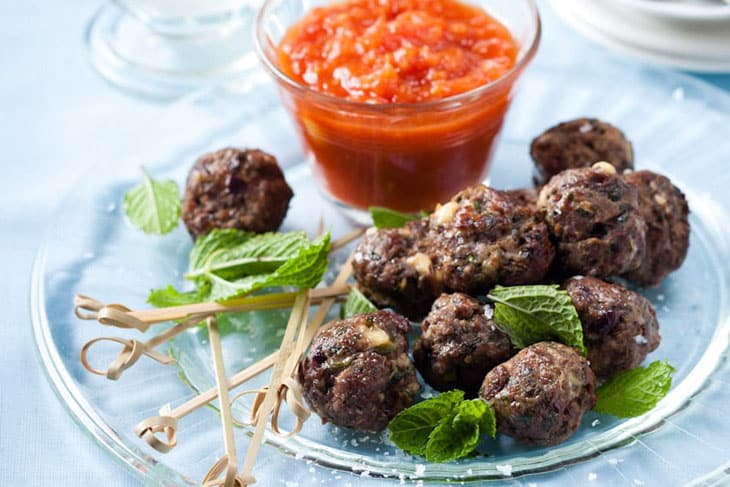 Perfect for casual entertaining.
Lamb meatball recipe ingredients
For the lamb meatballs
500g lamb mince
1½ rounds feta, crumbled
15g parsley, finely chopped
15g mint, finely chopped
4 spring onions, finely chopped
8 black olives, roughly chopped
2 garlic cloves, crushed
½ tsp (5ml) cumin
zest of 1 lemon
salt and freshly ground black pepper
2 tbsp (30ml) olive oil
For the tomato dip
8 tomatoes, peeled, deseeded and roughly chopped
1 onion, finely chopped
1 tbsp (15ml) olive oil
1 tbsp (15ml) brown sugar
1 tbsp (15ml) minced ginger
salt and freshly ground black pepper
Cooking method
Heat the olive oil in a heavy saucepan and fry the onion for about seven minutes or until soft. Add the tomatoes, sugar and ginger and simmer for about 30 minutes or until the sauce has reduced. Season and set side.
Mix the lamb, feta, parsley, mint, spring onions, olives, garlic, cumin and lemon zest together and season. Roll tablespoons of the mince into little balls and chill for at least an hour to allow the flavours to develop and the mixture to firm up. Heat the olive oil and sauté the meatballs for about 8 minutes or until cooked.
Serve on a platter alongside the tomato dipping sauce.
Wine pairing
This is an appetizer you can afford to serve with a red wine – think of something that is fruity and not too tannic which can be served slightly chilled like Cinsault or new-wave Pinotage.
Like our content?
Show your support.
Subscribe