Recipe: Pea soup with watercress & coppa ham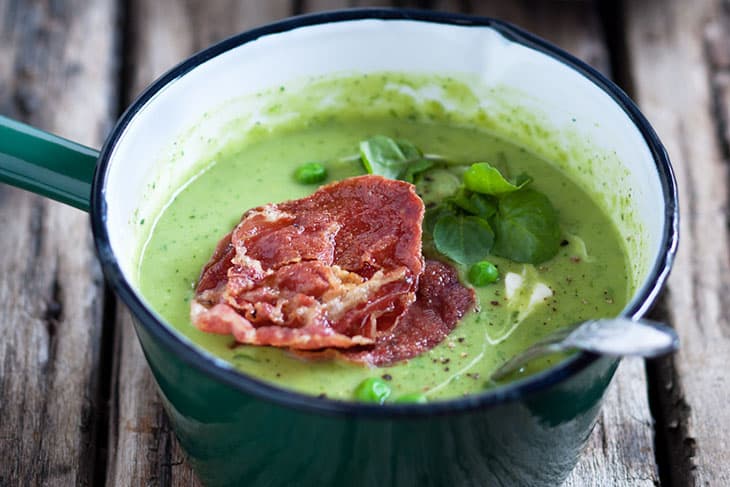 A light and refreshing pea soup that can be served hot or cold.
Yield
This recipe serves 4 people.
Pea soup recipe ingredients
1 tbsp (15ml) olive oil
1 onion, roughly chopped
2 potatoes, peeled and cubed
2 cloves of garlic, crushed
4 cups (1l) chicken or vegetable stock
500g peas, fresh or frozen
¼ cup (60ml) sour cream
60g watercress, washed
100g coppa ham
Cooking method
Heat olive oil in a saucepan and gently sauté onion, potatoes and garlic for a few minutes or until onions are soft.
Chop 50g of the coppa ham, add to onions and sauté for a few more minutes or until golden. Add stock and bring to the boil. Add peas and simmer with the lid on for about 8-10 minutes. Do not over cook or soup will lose its bright green colour.
Remove from heat and add sour cream and watercress. Blend the soup until smooth and season with salt and freshly ground pepper.
Heat a non-stick frying pan and fry the remaining coppa ham slices until crispy and golden brown.
Serve hot or cold garnished with crispy coppa ham on top.
Wine pairing
A crisp dry white wine will pair best with this soup – sauvignon blanc, in particular, will complement the "green" flavours of the dish. We recommend the Boschendal Appellation Series Elgin Sauvignon Blanc 2017
Like our content?
Show your support.
Subscribe