Greg Sherwood MW: A fine-wine-inspired Spring in London
Autumn in the Cape winelands has got to be one of the most wonderful times of the year when evenings start drawing in and spectacular sunsets light up the early night skies with every colour of pink, orange, yellow and red that an artist could imagine mixing on their paint palette. The mornings become thrillingly crisp and fresh and early afternoon temperatures hover in a perfect equilibrium of 20 to 22 degrees centigrade with summer's oppressive heat now just a distant memory. Here in the UK, conversely, the end of March and early April has seen a last resurgent chill of winter attempt to rear its head before finally retreating defeated, yielding to Spring's temperate promise.
It was not a literary passage from Charles Dickens's Great Expectations that I knew when I read it recently, but it was certainly one which I thought would resonate with not only those living here in London but also with the residents of the Cape… "It was one of those March days when the sun shines hot and the wind blows cold; when it is summer in the light, and winter in the shade." A lovely little literary extract to help remind one of the wonders of the seasons. For with the seasons, we not only change our behaviours and our dress habits, but also the foods we eat and the wines we drink.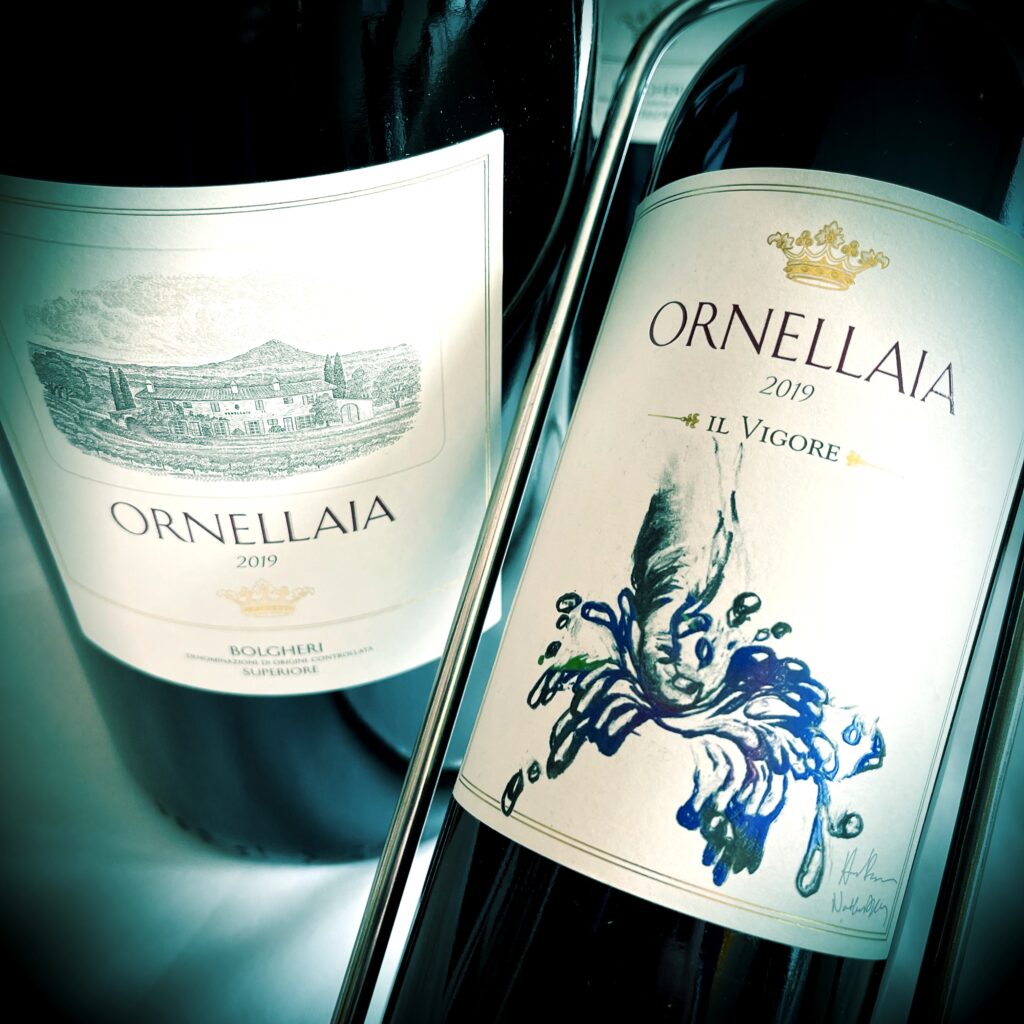 This time of year also happens to feature two of my favourite new release tastings of the year, namely Sassicaia in March and Ornellaia in early April. While Pricilla Incisa della Rochetta's visit to the UK was sadly foiled by one of her children testing positive for Covid enroute back from a skiing holiday, we were however able to catch up with her over Zoom to taste the fabulous new Sassicaia 2019, one of the most thrilling Tenuta San Guido releases from Bolgheri, Tuscany, certainly since the 100-point 2016 vintage. This week it was the turn of neighbour Tenuta dell'Ornellaia, with long-time winemaker Axel Heinz flying into London for the first time in several years to present the new Ornellaia 2019, dubbed the "Il Vigore" vintage.
Of course, every year Ornellaia releases a Vendemmia d'Artista label with a renowned international artist chosen, a la Mouton Rothschild, to interpret and convey the essence of the vintage after the winemaking team has selected a label or moniker that they feel represents the new vintage. In 2019 the Swedish multi-media artists Nathalie Djurberg and Hans Berg were commissioned. But those with a keen memory will recall that the excellent 2015 Ornellaia vintage, coined the "Il Carisma" release, was illustrated by one of South Africa's most famous living artists, William Kentridge. Indeed in 2015, he was invited to design not one but ten unique labels to adorn a special release of the Ornellaia Vendemmia d'Artista label series, that were auctioned off to raise considerable funds for charity.
While sitting in the private dinning room 35 floors up the Shard building in the Shangri-la hotel in London Bridge, I found myself listening to Axel but also being completely mesmerised by the Ornellaia label on the bottle in front of me, entranced by its clean lines, its simplicity, its classicism and its pure class. With the first Ornellaia release to market coming with the 1985 vintage, the same year Sassicaia produced the famous 100-point wine, it probably wasn't until the early 2000s that I finally got to taste my first Ornellaia. Unforgettably, it was the remarkable 1998 vintage which had only recently been voted the Wine Spectator's Number 1 wine of the year in their annual Top 100 listing. I can now admit to being seduced enough to splash the cash and buy a six pack of this wine on release. One of my more extravagant purchases at the time.
Down to my last two bottles of 1998, I indulgingly drank one of them at my favourite London restaurant, The River Café, last summer with Christelle Guibert from the IWSC and Jo Wehring from WOSA. Served blind, everyone on the table called it as a top, mostly likely first growth, Bordeaux. An incredible wine that has aged superbly well and lived up to its lofty accolade of Wine of the Year. But while I might get to taste the new releases every year, consuming younger or even older bottles is becoming an increasingly rare occurrence as the retail price for new releases approaches the £225 per bottle mark (R4 500). As a result, I am now more likely to be seen pulling the cork on a bottle of Ornellaia's second wine, Le Serre Nuove Dell'Ornellaia at circa £55 per bottle (R1,100), or alternatively, their Le Volte Dell'Ornellaia Toscana IGT blend of Cabernet Sauvignon, Merlot and Sangiovese at £26 per bottle (R520).
The tasting this week also marked my first meeting with Ornellaia's winemaker Axel Heinz since May 2018, when he flew out to London to host the extravagant William Kentridge charity dinner at London's Victoria & Albert Museum. That special evening, with William Kentridge in attendance, will also be remembered for some wonderful wine trade chatter with Axel and the late great Steven Spurrier, whose one-year anniversary of his passing we recently commemorated in early March. Steven, like Axel, was not just a great Bordeaux lover but also a notable Italian collector with many Bolgheri and Brunello di Montalcino wines taking pride of place in is extensive Dorset cellar.
Many of Steven's wine tasting stories would inevitably revolve around drinking one or another great iconic producers' wine for the first time, reminding everyone that even great wine connoisseurs like himself enjoyed the journey of wine discovery on a daily basis. While Steven is still greatly missed, it is comforting to note that many of his last notable wine discoveries and experiences undoubtedly centred around some of South Africa's great young gun producers for which he too became a great champion.
Greg Sherwood was born in Pretoria, South Africa, and as the son of a career diplomat, spent his first 21 years travelling the globe with his parents. With a Business Management and Marketing degree from Webster University, St. Louis, Missouri, USA, Sherwood began his working career as a commodity trader. In 2000, he decided to make more of a long-held interest in wine taking a position at Handford Wines in South Kensington, London and is today Senior Wine Buyer. He became a Master of Wine in 2007.
Like our content?
Show your support.
Subscribe