Greg Sherwood MW: A South African fine wine triumph at the mini-judgement of Chelsea
7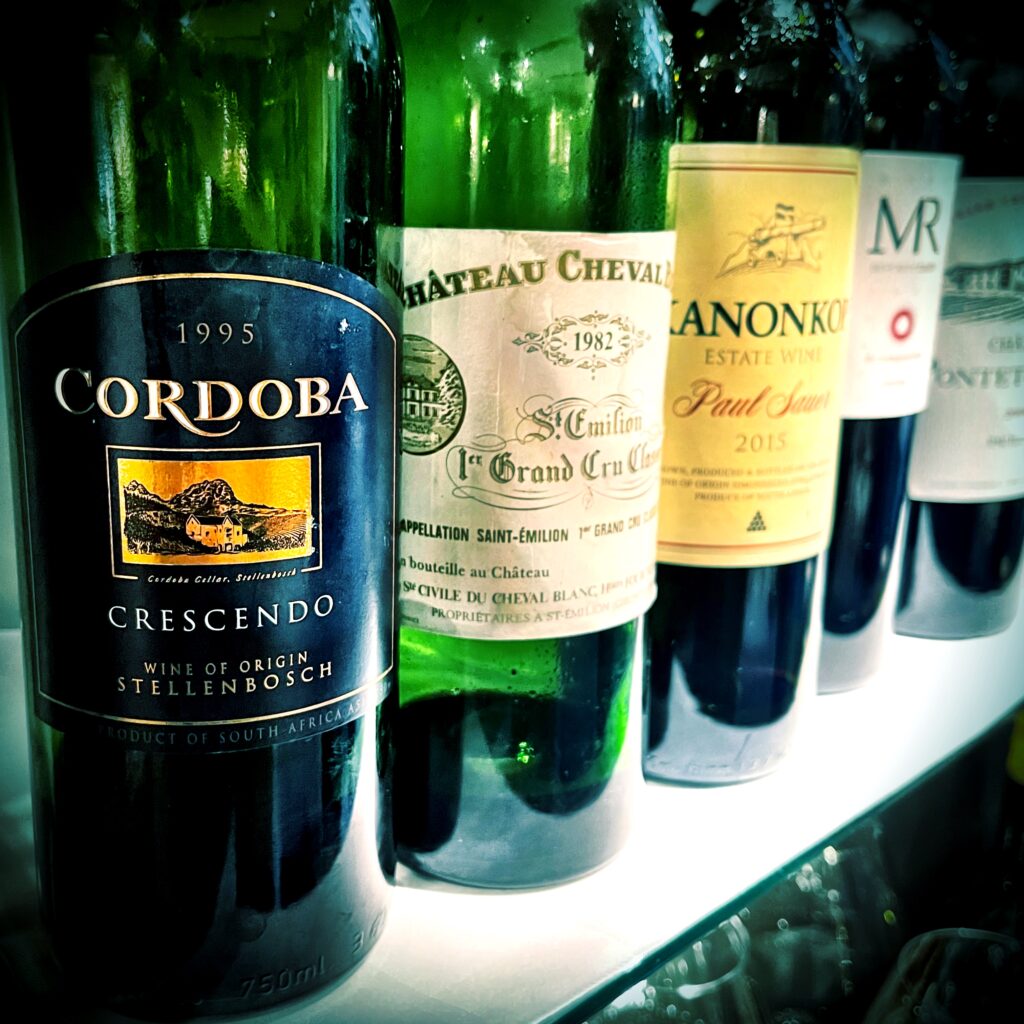 There are many mythical wines in the world, but some just seem to grow endlessly in legendary stature as the years roll by with bottles becoming ever rarer to find and taste. I have been vocal over the years that it is exactly because I have been fortunate to taste and drink many of these mythical bottles of excellence, that I don't feel particularly comfortable scoring young, new-release wines from anywhere in the world, a complete 100-point score when so much of their life lies ahead of them. Now, I'm going to try and not be side tracked into making this piece all about the merits and demerits of scoring wines because there is a much bigger and more important story to tell.
I do however understand that when Robert Parker, Neal Martin, Antonio Galloni or Tim Atkin MW etc. score a wine 100 points, it is more of a philosophical statement that the wine in question is as near to perfection as they have tasted. Should the wine be tasted again five or ten years later and prove to be incrementally more elegant and complex than on release, no, it doesn't mean that the wine should suddenly be scored 110 or 120. It simply remains a 100 pointer. In any case, the notion of perfection is not necessarily a finite position when it comes to wine, which is an ever changing and ever evolving entity.  
The two wines I have tasted several times over the years to illustrate this point are Chateau Mouton Rothschild 1982 and Sassicaia 1985. Over the years, without exception, these wines both remain, for me, as close as you can get to perfection, whatever that tastes like, and I continue to score them both 100 points. Clearly, not all 100-point wines have the longevity, staying power and timelessness of these two incredible wines as the down grading of Chateau Lafite Rothschild 1982 from 100 to 97 points in recent years illustrates. So perfection is also a fleeting concept, at a fixed point in time.
Of course, we can talk endlessly about all these great names of fine wine from Europe but seldom does anything from South Africa ever seem to crack the nod and get mentioned in the same breath. Well, that could all be about to change. As 2022 drew to a close, a group of fellow wine lovers and I proposed a lunch at the end of January 2023, or what we preferred to call a "light-at-the-end-of-the-tunnel lunch" to stave off the relentlessness cold, grey weather of the UK winter and also to give us something special to look forward to as the joys of Christmas and New Year faded into memories. The theme agreed upon was a mini-Judgement tasting featuring the best of South Africa against the best of France. It was an informal lunch, and the terms bandied about were more in jest than for scientific advancement! The wines were not to be tasted blind but sighted for full assessment and appreciation.
The wines proposed from South Africa were quickly countered with a suitable selection of French equivalents, though not necessarily the same blend or even from the same vintage. This was after, all a fun exercise in hedonistic fine wine pleasure and not an audited, research-based endeavour.
The line-up consisted of:
MR de Compostella 2009, WO Stellenbosch – A wine I have scored 95+ on several occasions and is also currently considered to be winemaker Bruwer Raats's favourite vintage to drink at the moment from what is increasingly being regarded as one of South Africa's best recent red wine vintages along with 2015 and 2017.
Chateau Pontet Canet 2009, Pauillac – A legendary Pontet , the 2009 and 2010 pairing of vintages both scoringa perfect 100 points from Robert Parker back in the day. A big wine that we drank as recently as November 2022 in London with Bruwer Raats at the launch of his MR de Compostella 2020 at a dinner hosted by UK South African fine wine specialist Museum Wines.
Kanonkop Paul Sauer 2015, WO Stellenbosch – A wine that needs little introduction being the first wine critic Tim Atkin MW scored 100 points from South Africa. Now quite solidly ranked in the echelons of some of the most sought-after Bordeaux blends in the world and trading at secondary market prices over £300 (R6300) per bottle to match its stature.
Cordoba Crescendo 1995, WO Stellenbosch – A wine that is considered one of the greatest red wines produced in recent South Africa wine making history from an original case I purchased on release in Pretoria back in 1997. This was one of my last bottles which I brought back to London with view to doing a blind taste off against a Cheval Blanc 1995. These plans were scuppered by the Covid-19 pandemic, and the wine was reabsorbed back into my London cellar.
Chateau Cheval Blanc 1982, St Emilion Grand Cru Classé – A legendary last bottle brought along by a very kind collector friend. Released nowadays at astronomical en-primeur prices of over 800 Euros a bottle, getting an opportunity to taste the Cordoba Crescendo 1995 against a mature bottle of top vintage Cheval Blanc, the wine that inspired the creation of the Crescendo way back when by Chris Keet, was certainly a dream come true. Having scored 99/100 by Wine Advocate's Bordeaux critic William Kelley on the last three occasions he tasted it certainly created a sizable challenge for the Crescendo!
Needless to say, the tasting that transpired over lunch was certainly a magical experience with all wines consumed showing exceptionally well. Without any undue bias, the crowd favourites seemed to be the MR de Compostella 2009 and the Cordoba Crescendo 1995. The Paul Sauer 2015 was exceptional and very obligingly came out of its shell to show glimpses of just why it has become such a highly regarded vintage release. The Pontet Canet 2009 was fairly youthful, elegantly brutish but also seductively delicious. Which brings us to the real stars of the lunch, the legendary Cordoba Crescendo 1995 and the Cheval Blanc 1982.
In 2020, a two-bottle lot of Cordoba Crescendo 1995 was offered at the Strauss Fine Wine Auction in Cape Town, realising a price of over R4 000 rand a bottle. The last bottle I drank from the same case must have been close to 10 years ago in Cape Town and I remember the wine being mature but classically structured and elegantly sweet fruited. The Cheval Blanc 1982 is itself an iconic wine from a legendary vintage and at over £1 000 per bottle (R21 000), you can consider the Cordoba to be a bargain at just R4 000.
As we poured over the line-up in front of us, the debate about the different wines ebbed and flowed as fluidly as the wines themselves. None of the guests present, other than me, had ever tasted the Cordoba Crescendo 1995 before, but all of us were in agreement that the wine was undoubtedly otherworldly, made when the stars, moon and planets must have been in complete alignment. As one taster commented, "a wine that certainly had a larger emotional impact than the Cheval Blanc." Something incredibly special from a bottle in perfect condition. Tasting it alongside the grandeur and splendour of the Cheval Blanc 1982 merely reinforced the greatness that South Africa's top wines are capable of, and that we will without doubt, look back on tastings like this one in years to come, and appreciate these special moments as being yet another step or two climbed up the global fine wine ladder for the South African fine wines category.
I did not manage to make detailed tasting notes for all the wines tasted but did manage to pen my brief impressions of the iconic Cordoba Crescendo and Cheval Blanc. For added meat in the fine wine debate sandwich, I have dredged up the most recent Cheval Blanc 1982 note and score from William Kelley as a further point of reference, as well as our very own editor's last bottle tasting note for the famed Cordoba Crescendo 1995. If this wine ever resurfaces again at the Strauss Fine Wine Auction, I would be very surprised if the bottles did not surpass the R5 000 rand level and possibly even R10 000. What price on greatness?
Cordoba Crescendo 1995 – Tasted January 2023
Dense, dark and opaque in colour. The aromatics reveal a dusty complex nose of grilled herbs, dried black currants, hints of stemmy sapidity, breakfast espresso, sweet tannery leather mixed with Marrakesh spices. Super sleek and utterly beguiling with an awesome growing density the longer it sits in the glass, topped with a sweet fruited, macerated cherry finish. Just simply so incredible enticing and seductive on so many levels. A wine that keeps on unfurling, revealing layer upon layer of pure magnificence. A true Cape classic that without doubt rivals the world's very finest Bordeaux blends produced.  (98/100 Greg Sherwood MW)
Chateau Cheval Blanc 1982 – Tasted January 2023
Dusty high toned nose of cedar oak, cigar box and sappy spice with an incredibly elegant, taut wild strawberry, earthy porcini mushroom and red currant fruit depth. Beneath the fleshy veneer there is an underworld of silky soft red currant and earthy red cherry fruits, ripe red apple nuances and a long, savoury tilled earth persistence. Impressive on so many levels, and at over 40 years old, it's just simply an iconic right bank Bordeaux expression. (97+/100 Greg Sherwood MW) 
Chateau Cheval Blanc 1982 – William Kelley writing for The Wine Advocate – Tasted Dec 2022
The 1982 Cheval Blanc is a sumptuous, sensual wine, bursting with aromas of sweet raspberries, orange rind, dried flowers, cedar box, black truffles, vine smoke and menthol. Medium to full-bodied, ample and enveloping, it's supple and seamless, with a fleshy mid-palate, melting tannins and a long, expansive finish. As is often the case at this address, at age 40, it's the wine's Cabernet Franc component that really dominates its personality, meaning that it gratifies the intellect as completely as it does the senses. I've drunk the 1982 Cheval three times this year, and it has been remarkably consistently brilliant. (99/100 William Kelley)
Cordoba Crescendo 1995 – Christian Eedes writing for Winemag.co.za – Tasted 26th October 2013
Was the maiden vintage 1995 Crescendo from Helderberg property Cordoba the best Crescendo of them all? A blend of 70% Cabernet Franc, 20% Cabernet Sauvignon and 10% Merlot, it was rated 5 Stars and termed "a new benchmark" in the 1999 edition of Platter's. "Expensively oaked and tastes it, structure to last 10 years" is also part of the review which appears in that edition of Platter's and I recall drinking a bottle with leading commentator Michael Fridjhon some 10 years ago where he expressed scepticism as to whether the tannins would ever resolve. For me, however, that firmness of tannin has always been what's made the wine great. I opened my last remaining bottle last night and it again proved excellent drinking. On the nose, red fruit and some decay, but decay in the best sense – forest floor, mulch, compost. Perhaps some dried herbs, but that implies some greenness which isn't there. The palate, meanwhile, was medium bodied and still remarkably lively. Savoury but not severe, the acidity fresh but not sour and those tannins – still firm but not aggressive, a steel girding lending shape and form. (93/100 Christian Eedes)
Greg Sherwood was born in Pretoria, South Africa, and as the son of a career diplomat, spent his first 21 years travelling the globe with his parents. With a Business Management and Marketing degree from Webster University, St. Louis, Missouri, USA, Sherwood began his working career as a commodity trader. In 2000, he decided to make more of a long-held interest in wine taking a position at Handford Wines in South Kensington, London, working his way up to the position of Senior Wine Buyer. He became a Master of Wine in 2007.
Like our content?
Show your support.
Subscribe