Greg Sherwood MW: Cinsault and Pinotage – The New Unlikely Bedfellows?
One is regarded as a relatively ancient, classical variety while the other is seen as a fairly boisterous nouveau creation. But both Cinsault and Pinotage can comfortably be regarded as being very firmly rooted in the South African wine industry's historical winemaking DNA. Cinsault, as pretty much everyone will or should know by now, is one of the parent varieties of Pinotage, known at the time as Hermitage, which was crossed by Professor Abraham Perold in 1925 with Pinot Noir to create a new, truly indigenous South African grape variety that of course existed nowhere else in the wine world. In subsequent decades, both varieties have also suffered their own individual ups and downs despite each variety acquiring its own notable industry champions along the way, whether it's Beyers Truter for Pinotage or Eben Sadie and Ian Naudé for Cinsault. Both varieties are capable of producing wines of profound quality, yet both have inherited attributes in their DNA that actually make them both somewhat difficult, temperamental grapes to manage, grow and produce premium wines from.
Coming off the back of a relaxing Easter long weekend, I was invited to join a fascinating Zoom tasting this week that was hosted in Paarl and attended by such prestigious wine trade luminaries as Rosa Kruger, Ian Naudé, Cathy van Zyl MW, Madeleine Stenwreth MW, Andre Morgenthal from the Old Vine Project as well as several other notable industry figures. The topic was the future direction of Cinsault in South Africa which was discussed alongside a 10-plus wine Cinsault tasting featuring some notable expressions from Naudé Family Wines, Leeu Passant, Kaapzicht and others. When I agreed to attend this Zoom, I was quite happy and intent on doing more listening than talking. After all, I know my UK clientele and I have a fairly good handle on the overall UK market, but I was fascinated to hear from the horse's mouth, where locals saw Cinsault's current positioning and also what its further future potential might be.
The overall soundbite that resonated for me from the tasting was that despite quality being high and the supply of multiple top brands very healthy, the local South African market had undoubtedly started to lose interest in this variety of late and that many consumers were beginning to look at Cinsault in a slightly less favourable, perhaps cheaper, poorer quality light once again. Some argued this was down to the initial popularity and trendiness of Cinsault that then spawned a broader single-varietal production base but also a greater number of lesser, poor quality expressions from large co-ops and mass market brand owners. While this is undoubtedly not the market segment I operate in, it was interesting to hear this slightly negative picture of Cinsault being mapped out. At this moment, I felt it necessary to point out that the local market interest, or lack there-of, in premium, high quality Cinsault was neither here nor there. When most of the top premium old vine expressions are exported to key global markets around the world, and then are still very tightly allocated, South Africa's leading producers should not be overly concerned with what locals are choosing to drink around their lockdown braais, unless of course you are actually one of these local mass-market focused Cinsault brand owners.
Looking more broadly and deeply at the topic than merely at supply and demand, it is increasingly important to acknowledge the popularity of South Africa's top limited-production Cinsault cuvees from the likes of Eben Sadie (Pofadder), Bosman (Twyfeling), Lukas van Loggerenberg (Geronimo), Leeu Passant (Basson, Lötter), Naudé Family Wines, Duncan Savage (Follow the Line), Donovan Rall, Adi Badenhorst, Kaapzicht and many others. All of the above-mentioned wines are highly sought after and, in most instances, tightly allocated across the UK independent trade. Premium, high quality old vine Cinsault has found a truly loyal following in the UK as perhaps a quasi red Burgundy substitute. With few other viable challengers within this category other than perhaps a few fresh, Tempranillo and Garnacha (think Gredos) red wine styles from Spain, I see little need to panic as a producer. Cinsault must continue on its upward quality curve and upward brand building mission while developing further style nuances and complexities in its offering.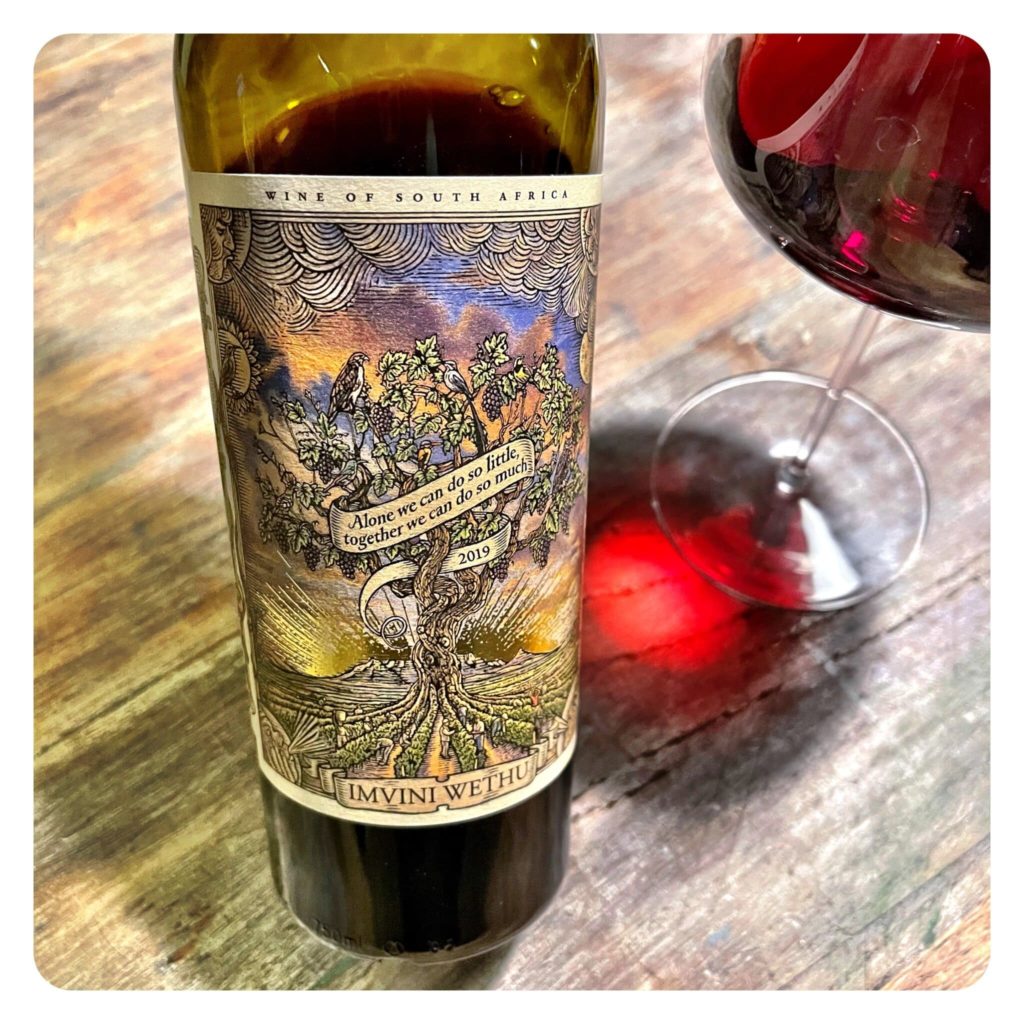 So where does Pinotage fit into this whole discussion? Well, only recently I had the great pleasure of tasting and reviewing the new Imvini Wethu Cinsault Pinotage 2019 red blend that is a project conceived by the German wine trade with the express intention of raising funds and empowering future winemakers while protecting South Africa's precious wine heritage, with the Cape Winemakers Guild's Protégé Programme and the Old Vine Project run by Rosa Kruger and Andre Morgenthal being the specific beneficiaries. With the notion of the Pinotage-based Cape Blend category still hanging over the Cape industry as a slightly awkward cloud, the Cinsault / Pinotage blend appeared like somewhat of a breath of fresh air, presenting a wine style that to me, offered up two slightly awkward varieties, but when blended together created a wonderful red berry synergy and energy with potent drinkability unlike many of the heavier, soupier, slightly dull Cape Red Blends currently doing the rounds on the market at the moment.
We all know that the Cape Red Blend category has taken to international success a bit like the ostrich has taken to flying. Plenty of taxiing on the runway but with still no take-off. Meanwhile, in its shadow, the Cape Heritage Blend category (normally a blend based around Cinsault and Cabernet Sauvignon) has started to flex its commercial muscles and has now become "the real thing", and also perhaps the true calling for the original Cape Blend category? Or could the Cape Red Blend's rejuvenation and future success lie in championing the Cinsault / Pinotage blend synergy? These two local varieties certainly seem to be comfortable, if slightly unlikely, bedfellows. Who knows? It certainly wouldn't be the first time a parent has had to come to the rescue of one of its faltering children!
Greg Sherwood was born in Pretoria, South Africa, and as the son of a career diplomat, spent his first 21 years travelling the globe with his parents. With a Business Management and Marketing degree from Webster University, St. Louis, Missouri, USA, Sherwood began his working career as a commodity trader. In 2000, he decided to make more of a long-held interest in wine taking a position at Handford Wines in South Kensington, London and is today Senior Wine Buyer. He became a Master of Wine in 2007.
Help us out. If you'd like to show a little love for independent media, we'd greatly appreciate it. To make a financial contribution, click here. Invoice available upon request – contact info@winemag.co.za