Kaapzicht and the continued search for profitability
3
Bottelary property Kaapzicht has potential for 160ha of vineyard although currently plantings amount to only 120ha. "We've taken a lot of vineyard out. We were producing a lot of bulk and we were selling it for less than it cost to produce," says current winemaker Danie Steytler Jnr.
As is well documented, there's continued profitability decline at farm level throughout the wine industry. The net farm income per hectare has remained significantly below sustainable levels and this gap is widening. With 38% of producers loss-making in 2022, a further 3% at break-even and 50% in a low-profit situation, vineyard is inevitably being removed and not replaced – total national plantings are predicted to fall from a current level of 90 500ha to 82 000ha by 2030.
None of this lost on Steytler of Kaapzicht. The property founded in 1946 by his great grandfather, he became involved in production activities in 2009 and has been driving a process of both rationalisation and premiumisation ever since.
"We've decided to focus on Chenin Blanc and Pinotage – it seems growing conditions are only going to get warmer and drier over the next 50 years and these are both earlier ripening varieties. We can get the stuff into the cellar quicker," he says.
In the case of Chenin Blanc, he's excited about getting consumers to trade up by offering higher quality, although he relates that this hasn't been straightforward. "We noted the emergence of bigger, riper examples of Chenin Blanc selling at higher prices and in 2008, we launched our own version labelled as "Wooded Reserve" at R60 a bottle – it didn't sell".
Leveraging the value proposition that old vines represent is also part of the way forward for Steytler but this is also not without its challenges. "Old vines yield between three to five tonnes a hectare – if we're selling that wine for R80 a bottle, then we're not making enough money to farm let alone replant," says Steytler. "Put sheep or cattle on that land and at least we can braai something".
Kaapzicht is home to the second oldest Chenin Blanc vineyard in the country, this planted in 1947, but it came very close to being eradicated. Originally 6ha in size, 5ha were pulled out on the basis that the block would therefore cease to be an economic burden.
Just before it was all gone, however, Steytler put his mind to creating something superior and so The 1947 was born, maiden vintage being 2013. Total production is 1 800 bottles, the wine now selling for R650 a bottle.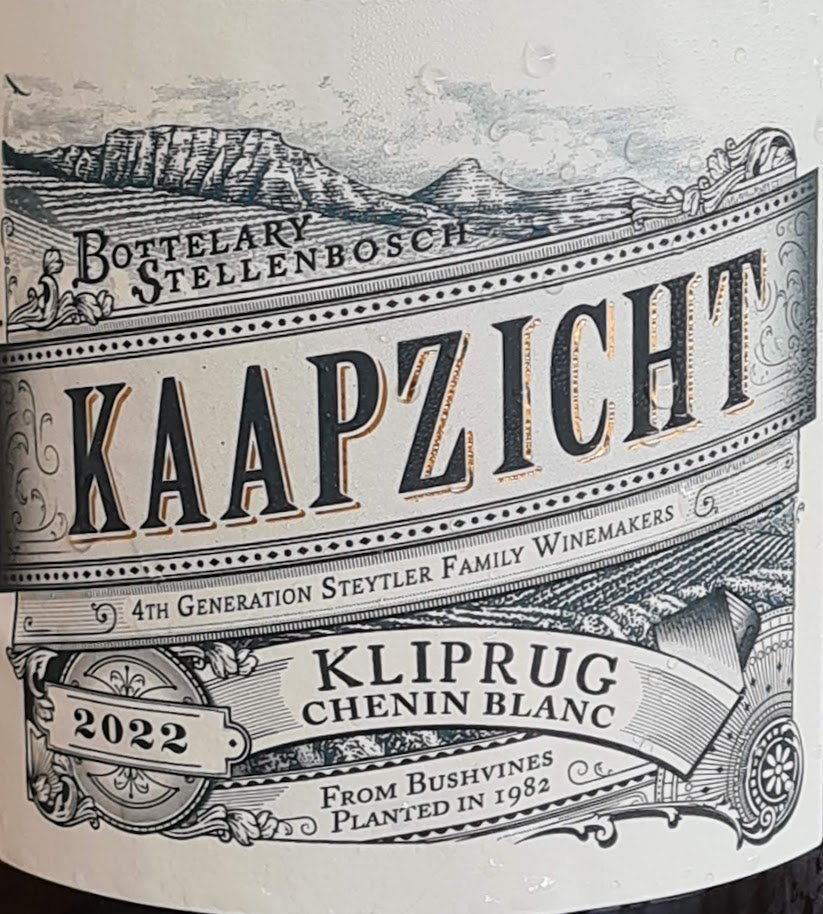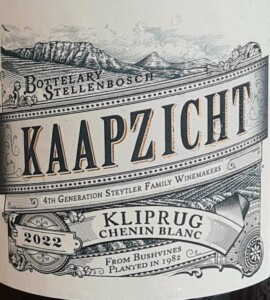 Buoyed by the success of The 1947, a second old-vine Chenin called Kliprug followed, grapes in this instance from a 4.18ha block planted in 1982. Maiden vintage was 2015, total volume then set at 3 000 bottles. By the 2021 vintage, this had grown to some 17 000 bottles and released in February last year it was sold out by June. The decision was consequently taken to bottle everything the vineyard was capable of and there are 29 000 bottles plus 200 magnums of the recently released 2022.
The 2021 vintage of Kliprug was much acclaimed but I think the 2022 is even better, being that much more energetic – Steyler says that as vintages go by, he's aiming for slightly more freshness and he's now inclined to pick half a Balling earlier and "sulphur up" after ferment with a view to restricting malolactic fermentation.
My tasting note for the 2022 as follows:

Fermented and matured for 10 months in 500-litre barrels, 10% new. Enticing aromatics of quince, peach, flowers, fynbos and hay while the palate has lovely purity – great fruit delineation to go with zippy acidity, the finish long and dry. Price: R220 a bottle.
CE's rating: 93/100.
Steytler is committed to different versions of Chenin Blanc for different market segments and 2023 sees a wine from a 1985 block planted close to neighbouring property Mooiplaas in the works which includes a skin-fermented portion. Kaapzicht looks set to succeed because the stakeholders are pragmatic about what vineyard to keep and what to lose, and then adding as much value as possible to anything they do bottle. The rest of the industry might do well to follow suit.
Like our content?
Show your support.
Subscribe