SA wine history: The first Stellenbosch wine farms
As discussed last month, Steenberg claims to be 'the Cape's first farm' with a founding date of 1682, yet this is also the founding date claimed by both Rustenberg and Blaauwklippen in Stellenbosch. I thought I'd pay them a visit back in time…
The story begins with Simon van der Stel, the VOC's 10th commander at the Cape, deciding within weeks of his arrival to survey the land beyond the Cape Flats. On 6 November 1679 he camped on an island in the Eerste River (so named since 1655 because it was the first river reached beyond the Cape settlement) and declared that he would build a town there. Freehold land was offered to anyone prepared to move to these wild parts, and within a year eight vrijburghers had settled there with their families (although they only received official title deeds many years later).
Among them was the Cape's very first vrijburgher, a Liesbeeck farmer since 1657 (Steven Jansz Botma's Stellenbosch farm was called Welgevallen – today an experimental farm belonging to Stellenbosch University). One of Willem Adriaan van der Stel's fiercest future adversaries was also there (Henning Huysing, who called his farm Welmoed, later selling part of it to Jacobus van der Heijden but retaining the part he named Meerlust).
I'll have to come back to Meerlust later, needless to say, and I definitely want to look more closely at the freed slaves who owned land in Stellenbosch during the 1680s (Johannes Colijn's grandfather 'De Vryzwart Evert van Guinea' who farmed at Welgelegen, for example, along with Antonie van Angola and Jan van Ceylon, whose Jonkershoek Valley farms were later incorporated into Schoongezicht – Lanzerac as we know it today).
And may I just say that if I've taken a few paragraphs to get to the intended subject of my article (the Stellenbosch farms claiming 1682 as their founding date, namely Rustenberg and Blaauwklippen) it's nothing compared to the many hours – days! – I've spent studying the circa-1688/90 map which shows the names of the earliest settlers, attempting to figure out who was where, when, in the context of wine farms still around today…
But let's start with Rustenberg – not to be confused with Rustenburg, the Company's Orchard at Rondebosch, which had been developed in the 1660s and was where Simon van der Stel opted to live in 1684, when he estimated that the 100,000 vines planted there could produce 100 leaguers of wine in a good year.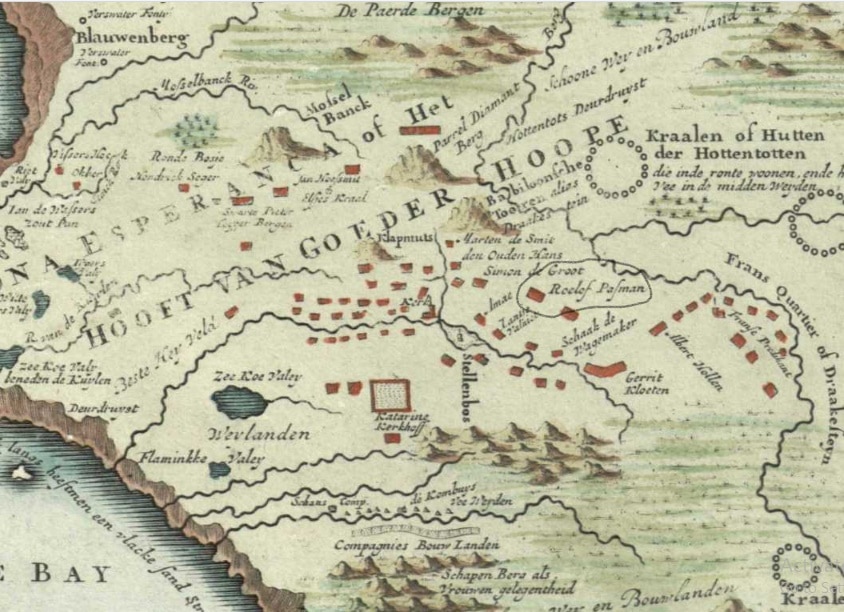 This is what Rustenberg says on its website:
'Rustenberg has a wine-growing history dating back to 1682, when Roelof Pasman from Meurs, near the Rhine, recognised its wine-growing potential. By 1781 some 3000 cases of wine were produced on the farm. Production doubled by the end of the century and a new cellar was built. Wine has been bottled at this cellar for an unbroken period since 1892.'
I suppose that's enough history for some people, but there's quite a bit more to the story than that!
The town Pasman came from was Mörs, which is on the western bank of the Rhine but a good 100km to the north of Germany's traditional wine regions, so I very much doubt he had much insight into any 'wine-growing potential' of his Stellenbosch farm. Nonetheless, the Opgaafrol shows that by 1692 he had 400 sheep, 20 oxen and 5,000 vines planted (with the assistance of his two slaves). There is also a receipt recording that he sold brandy to a midwife in 1692.
Pasman died in 1695, without having received an official title deed for his farm, which is why it's rather intriguing that his name still appears – fairly prominently – on the 'Carte de l'Afrique méridionale' that was issued by the famous Visscher family of cartographers in 1710, as well as on Pieter van der Aa's 1713 map of 'Le Cap de Bonne Esperance'.
I can't help thinking that this must, at least partly, be thanks to Pasman's widow, Sophia 'Fytje' Schalk van der Merwe, having been another of those astonishingly determined women of the time. The eldest daughter of Willem Schalk van der Merwe and Elsje Cloete, she was baptised at the Cape on 1 November 1670 and married Pasman just 14 years later on 12 November 1684. They had four daughters: Margaretha (baptised 19 August 1689), Catharina (baptised 27 August 1691), Sibella (baptised 9 August 1693) and Roelophina (baptised 27 September 1695).
After Pasman's death, it didn't take long for his 25-year-old widow to find a new husband. On 25 January 1696 she married Pieter Robberts, a Dane from Neustadt (now in Schleswig-Holstein, Germany) who'd arrived at the Cape in 1693 as a sergeant employed by the VOC. A Stellenbosch heemraad (councillor) from 1701 onwards, he was named acting landdrost (magistrate) in 1703 and in 1705 he was accused of being an informer by Adam Tas, one of the chief opponents of WA van der Stel.
Whether or not this was true, Robberts then seems to have had a stroke which left him semi-paralysed and unable to speak clearly, with Tas comparing him to 'a slobbering donkey at the water trough' in his diary entry for 21 July 1705, adding that he was 'swerving like a swallow with one wing' and that nobody wanted anything to do with him. Fytje seems to have encountered similar hostility, with Tas recording two days later that this onbescofte wijf (rude wife) had sworn brutally at his sister and threatened to hit her…
Once Van der Stel had been dismissed and forced to leave his beloved Vergelegen, the stroke-affected Robberts survived until the smallpox epidemic of 1713, despite his will dated 2 May 1709 already describing him as bedridden (siekelijk te bedde leggende). It seems Fytje managed the farm very well without him, probably before as well as after his death. By 1720 she had 600 sheep, 30 horses, 24 slaves and 12,000 vines planted. What's more, she had extended her property holdings considerably:
When her eldest daughter Margaretha and son-in-law Nicolaas Elberts succumbed to smallpox in 1713, she acquired their Hottentots-Holland property Onverwacht (once part of Vergelegen), which she transferred to her second daughter Catharina's husband, Philip Morkel, in 1718 (the Morkel family celebrated 300 years on this property, albeit much reduced in size, in 2013).
In 1713 Fytje also acquired the Stellenbosch farm Nooitgedacht, which she transferred to her other daughter Sibella's husband, Johannes Albertus Loubser, in 1718.
It was Sibella's son, Pieter Loubser, who eventually inherited Rustenberg from Fytje, who died around 1742 as a relatively old woman, despite medical research in the 1980s suggesting that she may have suffered from Huntington's disease (it certainly seems to have been proved that her children carried the gene).
And it was another of Sibilla's sons, Hendrik Cloete, born of her second marriage to Jacobus Cloete, who became one of the Cape's wealthiest land owners, not to mention 'world famous' for his Constantia wine after purchasing Groot Constantia in 1778.
In my research into Constantia, I'd wondered how Hendrik Cloete had managed to accumulate quite so much property before acquiring Groot Constantia (not only Nooitgedacht, where he eventually died, but also Dekkersvallei, Vryberg, Hartenberg, Weltevreden, Vogelenzang, De Berg Sinai, Zandvliet and a cattle farm in the Overberg).
Meeting his formidable grandmother at Rustenberg certainly helps to explain things a bit!
BIBLIOGRAPHY
Fouche, Leo & Boekseken, AJ (eds); Smuts, Dr J (transl): The Diary of Adam Tas (1705-1706), Van Riebeeck Society, Cape Town, 1970
Morkel, Andre Theron & co-authors: Morkel: A Remarkable South African Family, Future Managers, 2017
Joanne Gibson has been a journalist, specialising in wine, for over two decades. She holds a Level 4 Diploma from the Wine & Spirit Education Trust and has won both the Du Toitskloof and Franschhoek Literary Festival Wine Writer of the Year awards, not to mention being shortlisted four times in the Louis Roederer International Wine Writers' Awards. As a sought-after freelance writer and copy editor, her passion is digging up nuggets of SA wine history.