Tim James: Fifty Shades of Pink – On wine colour
By Tim James, 22 October 2018
1
Many years back, when I was receiving instruction from the Cape Wine Academy about how to taste wine (and, by the prevailing logic, therefore how to score it), the rating was out of 20 points, and three of those were reserved for "colour". Or rather, for appearance, which includes aspects like cloudiness and brilliance, and the gradation of depth from light rim to darker, more intense heart. Such things are obviously important in understanding a wine. Colour and associated matters can give important clues, in conjunction with other sensory aspects, particularly about the age and condition of the wine, sometimes about oaking, and even about the variety.
As for scoring these visual phenomena, rather than merely learning from them, there was always an element of absurdity about the process. Now I've come to regard a bit of haziness, for example, or lightness of hue in red wines, as of irrelevance, unless proved otherwise, to the important things: aroma and flavour. If a touch of turbidity is there because the wine hasn't been filtered and polished to within an inch of its life, shouldn't that be something to celebrate rather than deplore?
I'm convinced that the range of colours of South African wine – especially white wine – has increased greatly since my studious days when just about all the whites were some degree of very pale-to-medium straw. The increasingly widespread use of skin contact now makes an enormous difference, of course: no orange wines in those days.
No less are rosé wines now coming in a much wider range of rosiness – reflecting the improvement in the category in the last decade. Well, improvement in the tiny upper part of the category at least, where there are now some delightful, even delightfully serious, wines: dry, elegant, a touch savoury. More rosés now tend away from obvious "girly" pinkness towards what's generally described as "partridge eye" (by gentlemanly Brits more than the likes of me who haven't looked a partridge in the eye) or "onionskin" – that is, more brown than pink, or (my favourite) with gleams of copper. This is the colour, for example, of Van Loggerenberg's excellent blanc de noir from cinsaut – a perfect variety for making rosés.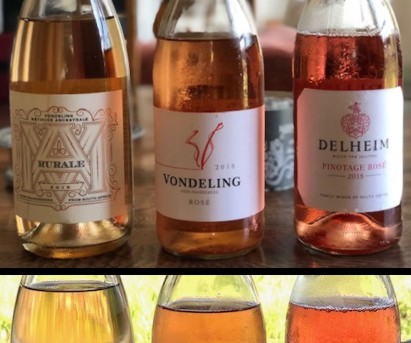 Fifty shades of pink? Perhaps so. I noticed three shades last week when tasting some new releases with my colleague Angela Lloyd. And one of them reminded me how sometimes appearance can have a significant aesthetic aspect, arguably of relevance to a score. See the attached photo – the strip at the bottom is of the same wines seen against Angela's sunny garden; the colours shown will obviously depend not only on my camera but also on the calibration of your device.
Delheim Pinotage Rosé 2018 is officially salmon pink – a bit pinker than a healthy partridge's eye – and pretty well what you'd expect from Delheim: deft and a bit more than decent. Moderate sort of price as things go now (I see R75 from the farm's E-shop, but R65 from Cybercellar – go figure). Fruity nose, some added fragrance from a little muscat; quite lively fruity palate but dry and zippy enough.
Vondeling Rosé 2018 in terms of colour moves further away from pink in the direction of onionskin. Made largely from merlot, similarly priced to the Delheim and a touch less convincing; less subtle, a little fruitier and sweeter in effect; you're unlikely to complain if you have a bottle, but I think you're also unlikely to squeak with pleasure.
I'm generally a great admirer of Vondeling, so I'm surprised to find myself unenthusiastic about the Rosé, even more about the Rurale Blanc de Noir 2015. The latter is a "méthode ancestrale" wine – that is, a sparkling wine made simply by letting residual sugar ferment in a sealed bottle and thus produce lots of bubbles. The Champagne method (as used in MCC bubblies) is more complex, and I personally can see why it evolved, as I find the results invariably vastly superior. I can't see the appeal of méthode ancestrale wines (sometimes called pet-nat, for pétillant naturel, "natural sparkling") – though I do see that its artisanal credentials gives it an a priori appeal to some producers and some consumers.
The Vondeling Rurale Blanc de Noir 2015 costs R265 ex-farm – a great deal more, for example, than lovely Colmant Brut Rosé MCC. That seems to me a bit of a joke, even if, as is very possible that the bottle that Angela and I had was, for some reason, a poor example (I don't know if one is likely to get significant bottle variation in this style of wine, but it seems plausible; if so, it's not a point in its favour). The wine in our bottle tasted much like the colour showed: dull, lifeless and beige-brown – an unsatisfactory version of onion-skin. I see that Christian gave this wine a rather more enthusiastic reception earlier this year, so I hope for the sake of the hipsters that his was a more representative sample.  The wine did serve me quite well, however, in reminding me that the appearance of a wine can indeed correspond closely with its character on nose and palate.
Tim James is one of South Africa's leading wine commentators, contributing to various local and international wine publications. He is a taster (and associate editor) for Platter's. His book Wines of South Africa – Tradition and Revolution appeared in 2013.
Like our content?
Show your support.
Subscribe