Tim James: Maanschijn gets serious
2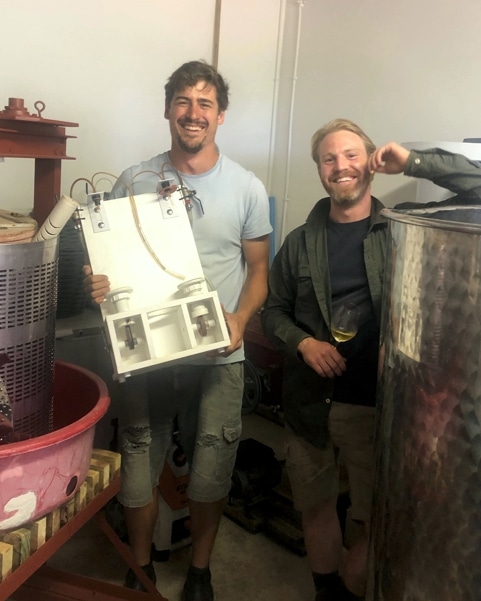 That's not some sort of weird trophy Doug Mylrea is holding in the photo, but he and Paul Hoogwerf, his partner in Maanschijn, are nonetheless proud of it. And it's rather more useful than a trophy, as it pretty well amounts to the Maanschijn bottling line – though corking is done separately, also laboriously by hand. Acquired from an ingenious amateur winemaker, it nicely expresses the small-scale and elemental – let's say genuinely artisanal – approach of the pair. Though the photo does also show the more conventional steel tank and the basket press (gratefully replacing an altogether more rustic one) that help to furnish their small winery.
Small? Very small, in fact, and correspondingly charming: a row of three, thick-walled little rooms (no corridor, no interleading doors), in a eucalyptus grove just outside the seaside town of Hermanus on the road to Stanford. Once it was an old abandoned stable. The land, alongside the Klein River Lagoon, has long been a holiday place for Doug Mylrea's family, owners of Eagles' Nest in far-off Constantia. When a fire among the bluegums in 2013 exposed the virtually hidden and forgotten century-old building, the inspiration came to repair and refashion it as a place where the youthful Doug and Paul (school friends and vinicultural students together at Stellenbosch) could have a home for a wine enterprise. The mountain rising behind, Maanschijnkop (Moonlight Peak), gave them a name.
This, 2021, is their fifth vintage in the cellar – and wine fermenting in barrels was bubbling away most musically when I visited it at the end of February. But it's the 2020 vintage that marks the turning point for Maanschijn. The earlier wines had been impressive enough (I wrote with slightly guarded enthusiasm about them back in 2017, welcoming the latest generation pursuing the Cape wine revolution), but perhaps too determined to be radical – or "alternative" as the official description has it – without any real sense of coherence beyond that. However, as Paul said, "we're growing up a bit!"

It was a happy idea to resolve to build their range as an expression of the district where they're based – "we're slap bang in the middle of Walker Bay" (Hemel-en-Aarde is on the other side of the mountains). The new labels are no longer whacky – the Herbivarium duo features a simple drawing of moon, mountain and winery: the erstwhile stable also once served a certain Oom Samie as a place to live and to string up flowers and medicinal plants to dry, hence the name. And though "alternative" winemaking is no longer the focus, keeping the winemaking as simple and natural as possible certainly is.
A very real advantage of sourcing the great majority of their grapes locally is, they say, that not having to travel widely allows more time and effort in the vineyards they source from, working with the farmers. Only the muscat d'Alexandrie, aka hanepoot, that features in a few of the wines and wholly makes up the méthode ancestrale – a convincing, rather elegant and properly dry sparkling wine – comes from outside Walker Bay. That bubbly and a white and a red are grouped in the crown-capped Brunch Club range. The majority of these are exported to the East, but when there is stock they're also listed on the Maanschijn website. At present, there's the Dry Red 2020, a delicious and characterful, perfumed and light (12.2% alcohol) blend of cinsault and syrah – with an informing but unobtrusive 20% muscat (R1020 for a case of six).
As to availability, apart from offering their wines from their website, Paul and Doug have decided (and it seems to me a good idea, especially at this stage of their development) to concentrate on selling directly to restaurants and other outlets in the locality – and, with tastings available by appointment or if one of them happens to be around when a visitor pops in at the little winery.
I much liked the Brunch Club wines, and the Herbarium pair even more, notably new-wave in their light, fresh styling, while offering something distinctive and characterful. I also like that the Herbarium wines are called Cape White and Cape Red – as well as offering a "taste of Walker Bay", they are notably Cape-ish in their blends, respectively based on chenin and pinotage.
The unusual component in the White is sauvignon blanc – and Paul reminded me only a little sheepishly that I'd previously quoted him saying "You'll never see us produce a sauvignon blanc". In fact, on the home property there's an organically farmed hectare of sauvignon, called Stonefield for reasons not hard to guess at, now managed by Paul and Doug. The fruit used to go to Eagles' Nest, but is destined to be "the hero of our blend". In the 2020 Herbarium Cape White, sauvignon is just 20%, behind chenin and verdelho – not notably obvious in a wine that's as savoury as it is fruity, though no doubt contributing to the green-fruit edge and firm acidity. A very pleasing wine, in fact, with a stoney bite and a tang that I'm happy to fashionably call salty.
I'm perhaps more impressed with the Cape Red – or more grateful, at least, as reds like Maanschijn's are more rare than whites. Half from pinotage, with mourvèdre and syrah, wholebunch-pressed, nine months in old oak, minimal intervention (natural ferment, no additives, fining or filtration), a light and fresh but sufficiently weighty and vinous 12.5% alcohol. It's wonderfully easy drinking although with a good grippiness, delightfully dry. Most importantly, its spicy aromatics and structure offer much more character than many of the lighter new-wave reds. It's not a wine for the ages – it's for drinking now (though I dare say a few years might bring out more), and for drinking with great pleasure. At about R210, like the White, a good buy.
I'd guess that Maanschijn will one day bursting out of its little home among the bluegums. But the good-natured integrity of the winemaking should continue to bring honour to the Walker Bay appellation it celebrates.
Tim James is one of South Africa's leading wine commentators, contributing to various local and international wine publications. He is a taster (and associate editor) for Platter's. His book Wines of South Africa – Tradition and Revolution appeared in 2013
Attention: Articles like this take time and effort to create. We need your support to make our work possible. To make a financial contribution, click here. Invoice available upon request – contact info@winemag.co.za