Tim James: More on 19th century wine labels
Here are three more examples from the small collection of late 19th century labels bought by Hennie Taljaard from an American dealer – I discussed two from Constantia a few weeks back (see here). One of those mentioned Pontac, a black grape variety (and more, a rare red-juiced variety, known in France as Teinturier) that was used in some versions of the famous sweet Constantia.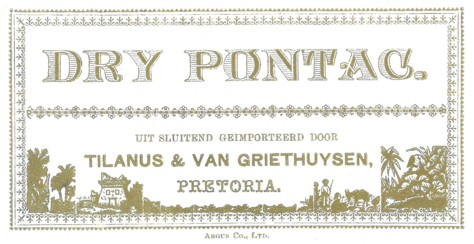 This Pontac, though, is specifically noted as dry, which is interesting in itself. It's easy to guess that the information was important, at a time when dry, unfortified wines were becoming more in demand (an international phenomenon, it seems, which possibly helped push the Constantia area into severe decline in the last third of the century). Probably pontac was mostly associated with sweetness, and dry-wine drinkers would have needed reassurance – much as they do now when it comes to rosé.
Pontac seems to have been the Cape's commonest black grape variety at a time when white wines hugely predominated. When civil servant William Bird wrote his State of the Cape of Good Hope, in 1822, it was the only black grape he mentioned – while "green grape" was cited as representing an astounding 93.7% of the Cape vineyard. In 1885, the new government viticulturist, Count von Babo, said that "Of the dark grapes the Pontac is the most valuable". It lingered substantially for a time, but its contribution declined, especially during the KWV years. In 1933 viticultural academic CJ Theron wrote sadly of how this decline was "a striking example of how, in this country, quality was sacrificed to quantity".
This label, while proudly asserting the variety, typically doesn't mention the origin of the grapes. The wine was labelled in the Cape (Argus is the printer named at the bottom) and "exclusively imported" for a Dutch-speaking dealer in Pretoria – remember that the South African Republic (Transvaal) was a separate and independent country in those days, so "imported" is the correct term! Probably the wine was intended for foreigners trying their luck in the new gold fields and wanting something more refined than rotgut spirits.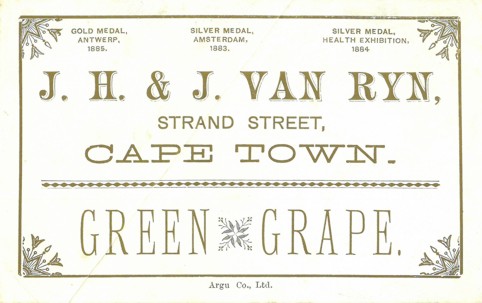 The next label was for a Cape Town merchant, JH and J van Ryn. This is the name behind Distell's great brandy house of today, but until 1878, when they amalgamated with Collisons, they were only wine merchants. Again this label mentions the variety – in this case the once near-ubiquitous "greengrape", so common in the 19th century it was also widely known as "wijndruif", or "winegrape". The wine was always white, but the pink-skinned version of the grape, which seems to have been a mutation that occurred here, was perhaps even more common than the white-skinned. Nowadays we know the variety as semillon – and the pink version is rare. (If you want to read more of the fascinating story of the grape, I wrote about it in an article in World of Fine Wine, here.)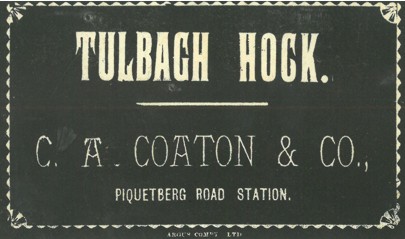 Although greengrape was becoming less of an overwhelming presence as the century drew to a finish (post-phylloxera it quickly declined to around a quarter of the total Cape vineyard), there's a good chance  that the "Tulbagh Hock" named in the third label was made from it. Here is a typical misuse of a famous European name ("hock" was widely used in England for riesling wine from the Rheingau, the name coming from the famous town and vineyards of Hochheimer). In my previous article about these old labels I quoted the abovementioned Carl von Babo's animadversions against this "useless and misleading" practice: he specifically mentions that "the name Hock is false and unjustifiable".
Anyway it's great to see this label, and Tulbagh specifically, and unusually, cited as the wine origin. At the time still, partly because of its earlier mountainous isolation from the main Cape Town market, rather little wine-farming was conducted there. In 1882, a survey gave the number of vines in Tulbagh as a little over 2.2 million, less than in the Cape peninsula, half as much as in Oudtshoorn. Incidentally, I puzzled over the "Piquetberg Road Station" given as the merchant's location. Of course, the modern spelling is Piketberg, but it took a bit of creative googling before I discovered that Piquetberg Road was renamed Gouda in 1929 – and the Gouda station was "temporarily" closed in 2015. A bit of wine-related research can take some strange turns.
Tim James is founder of Grape.co.za and contributes to various local and international wine publications. He is a taster (and associate editor) for Platter's. His book Wines of South Africa – Tradition and Revolution appeared in 2013.
Like our content?
Show your support.
Subscribe