Tim James: On Afrikaans wine labels
5
If one chose to characterise it linguistic-culturally (and why not?), the South African wine industry is overwhelmingly an Afrikaans one, with its roots emphatically Dutch. Most of the grape growers, most of the winemakers, and most of the workers are Afrikaans-speaking. As the industry emerges proudly from  a situation of not entirely unjustified cultural cringe, with wines (at least at its top end) that now need not duck their heads embarrassedly anywhere, it's inevitable and welcome that some of the more wholesome elements of its cultural history are celebrated. And as a part of that, the growing presence of Afrikaans on wine labels is a fine thing – as I remarked not long ago on this website in my nonetheless not very warm welcome for the name Duwweltjie on a nice new chenin.
Ten years ago there were remarkably few wines with Afrikaans names (apart from the occasional co-op Droë Steen or Wit Muskadel); now it seems to me the number is growing exponentially. I keep on noticing more, and am sure there are many others I haven't yet come across.
The first noticeable foray in this direction was surely that of Bartho Eksteen's preposterously and delightfully (and, it seems, very successfully) named Hermanuspietersfontein. From 2005 it not only went against the established wisdom of making winery names dead easy for Brits and Americans to pronounce, but also labelled the individual wines in Afrikaans. OK, at the beginning in terms of wine names, alongside Sauvignon Blanc, it was firstly "Die Bartho", which must have seemed alarming to those who didn't realise that there was no death-wish involved, but there was also Swartskaap (Black sheep). It took only a while for the rosé in the "tafelwyn" 1855 range to abandon its francophilia and become Bloos (Blush). Later came my favourite name of all, for the second-label of Die Arnoldus: Kleinboet. It wouldn't have worked anything like as well in English as Little Brother, could it?
I stand to be corrected (as always), but I think that the next substantial reliance on Afrikaans as the language of the South African wine label came in 2010 with the release of Eben Sadie's maiden Ouwingerdreeks. He was happy for the range to also be known as the Old Vine Series, but all the details and all the names were in Afrikaans: Treinspoor, Pofadder, Mev Kirsten (née Mrs Kirsten), etc.
That's not very long ago, but look at what we have now. I can just mention a few I've noticed recently. Like Strandveld's sparkling Skaamgesiggie  which makes Bloos that much more explicit by using the popular name of a protea – literally Shy/Blushing Little Face. Revived Mont Blois uses the names of its vineyards for its wines (on labels which on the whole rather curiously mix Afrikaans and English): Kweekkamp, Hoog en Laag, Groot Steen, Pomphuis.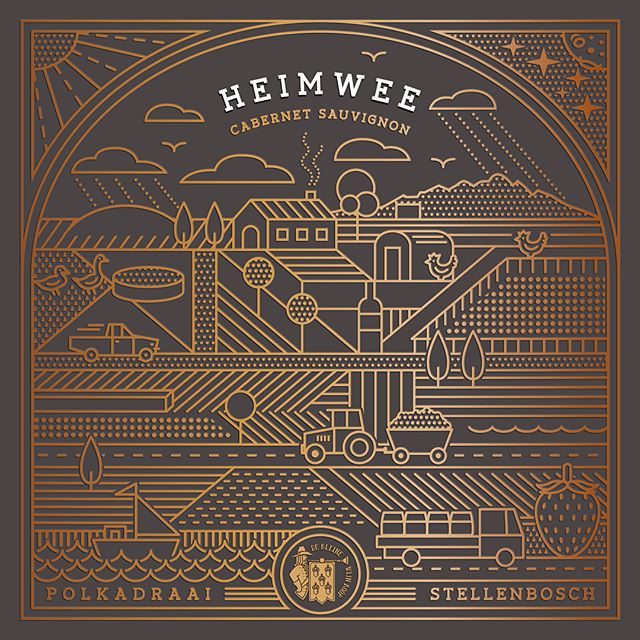 The Kleine Wijn Koöp segues from a Dutch name to Afrikaans labels – and has an Afrikaans website, which not even Hermanuspietersfontein was brave enough to do – which are brilliantly designed, what's more: like Heimwee Cabernet Sauvignon (Longing for Home), Knapse Kêrel Cab Franc (does that mean Clever Boy?), Ou Treffer Cinsaut (Old Hit), Hoendertande Grenache (Hen's Teeth). And as the own-labels from  Paul Roos Farming in Stellenbosch, there's a Filantroop (Philanthropist) and a Skoolhoof (Headmaster).
Bartho Eksteen, in his more recent own and eponymous label, of course continues the tradition. His rosé has returned to French, but charmingly adds a simple Blom (Flower) to the name. And there's Ouskool (Old School), Soetmuis (Sweet Mouse – a term of endearment?), Houtskool (Charcoal – though it also suggests a pun on the school idea), and Groepsdruk (Peer Pressure, I'm told).
Even two impeccably English-speaking youngsters, Paul Hoogwerf (who pronounces his surname in a way no Netherlander would understand) and Doug Mylrea are moved to a curious Afrikaans wine-name in their Dutch-named Maanschijn project. For their forthcoming red blend they're introducing to Afrikaans that irritating use of whole phrases: Kolonel Mostert en die Twee Souties is the name. I don't know the story behind it, or who Colonel Mustard is, but I'd guess the two "souties" are themselves. I won't go into that particular bit of translation, and why English-speaking white South Africans males are (are we still?) called Salties. Nice to have it on a label, though.
Tim James is founder of Grape.co.za and contributes to various local and international wine publications. He is a taster (and associate editor) for Platter's. His book Wines of South Africa – Tradition and Revolution appeared in 2013.
Like our content?
Show your support.
Subscribe