Tim James: Sadie goes hipster
6
Well, no, the winery hasn't exactly gone hipster – but the word was Eben's, when I mentioned to him that I'd found 2021 Soldaat, the Piekenierskloof granache, rather too light and lean for my taste (though with a lovely perfume, depth of flavour and fine tannins). "Yes", he said beaming happily, "it's too hipster!" He latter added that they have no idea why the vineyard performed as it did this year; it wasn't a choice to have this departure from the usual character of the wine. In fact, as he also told me, Soldaat has been particularly well received amongst the latest new releases, both locally and internationally – including by Christian Eedes, who recently reported on the tasting of 2021 Old Vine Series and 2020 Signature wines.
Despite Christian's reports on this website, I thought it worth while to add a few remarks on some of the wines, especially given an occasional slight difference of opinion. Partly, of course, I'm a bit hooked: I have been writing something about the Sadie releases virtually every year since 2002 (when I wrote enthusiastically about the maiden Columella for the Platter's Guide – it duly got its five stars). Last year there were no new-release tastings because of the Covid-19 pandemic, but the previous Covid year I had the line-up, tasting with winemaker Paul Jordaan in the main office at Rotsvas, the Sadie base on the Paardeberg.
This year, fortunately, things were back to normal, and the trade tasting Christian and I attended in the Sadie house (amongst a few dozen sommeliers, retailers, etc) was to be followed by events in Johannesburg and then a series of tastings at Rotsvas for some regular direct buyers. Incidentally, the wines are apparently all sold out already – bar those that will be appearing on retail shelves: I bought my own allocation more than a month ago, of course untasted as yet. Sadie accountant Beverley van Schalkwyk told me what a complicated task it is each year making the allocations as fairly as possible to local and foreign retailers and private customers – and placating those who feel badly done by.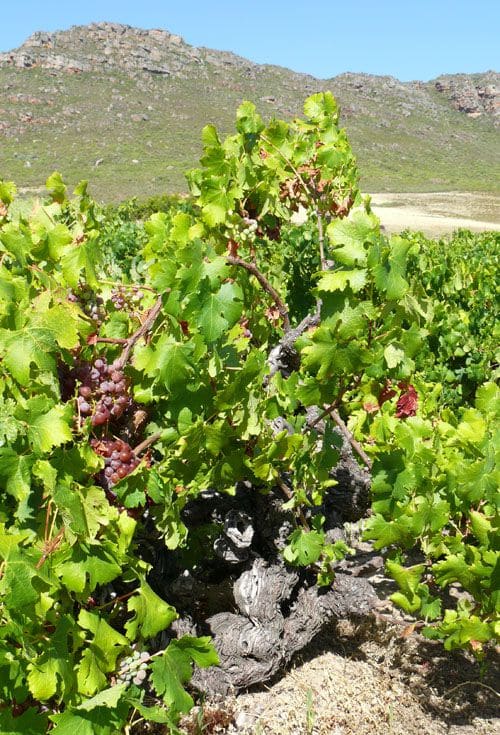 Another Sadie wine that is lighter than usual this release is 'T Voetpad, from the isolated and fascinating northern Swartland vineyard that Eben once described as being "at the gates of hell" – I once tentatively assisted at its harvest and can testify to the heat. But the vineyard was badly troubled by the drought and has needed careful nurturing, and the concern has been for its long-term health, not for one harvest. "The vines were running out of reserves in 2021," Eben told me, "and nothing would have been gained by waiting another few weeks". As it is, at 12.5% (it's usually closer to 14%), the wine is beautifully fresh, with a lovely light, lemony tannic grip. If I didn't know the vineyards and the usual wine, I'd have enjoyed it even more – but I found the green-tinged semillon notes more suited to Constantia, perhaps, than the terroir at the gates of hell, and would have liked more richness.
No trouble with ripeness on the semillon of Kokerboom or the adjacent Skurfberg chenin. I thought both of them superb, the former gorgeously rich and grippy, the latter intense, lively & succulent, peachy and stony. If I were scoring them, I'd give them each a couple more points than Christian did. As I would for Pofadder, a rare example of really good cinsaut – more interesting in all respects, I thought, than Soldaat this year, light, tight and perfectly balanced. Skerpioen Christian and I both admired a lot; as for him, Treinspoor lagged just a little behind for me, as it usually does – though I think the tannin management gets better each year; and we agreed on Mev Kirsten chenin, which, also as usual for me, is just extraordinally fine – delicate and full of tension yet with great depth and length, making Skurfberg seem just a touch superficial.
The two other truly great wines in the lineup were Columella and Palladius 2020. Each of them close to being among the best ever – the pure, rich and hugely flavourful, intense and stoney Palladius perhaps even edging out the magnificent 2017. Perhaps it's been a function of some difficult warm-country years, when there's the inherent possibility of picking and choosing exactly what goes into the two Signature wines and they are obviously more widely sourced than the other, (mostly) single-vineyard vineyards, but it has been becoming clearer to me recently just how emphatically these two wines are the pinnacle of the Sadie Family achievement. Although it is also the case now, after a long time of more careful vineyard management, that the Old Vine Series wines can now be extremely good under a wider range of vintage conditions, albeit with different expressions according to the vintage – witness Soldaat and Voetpad 2021.
An interesting point emerged when I was talking to Eben about the picking dates of those two hipsterish wines. I asked who decided on that date, given that he is (with his viticulturists) primarily working in the vineyards, with Paul Jordaan now firmly ensconced as the winemaker. Obviously, they've been working together so closely and well for a long time now, so there's not likely to be a question of conflict, but I was even a little surprised when Eben made it clear that the primary call is by Paul, who also visits the vineyards as much as he can as picking dates approach. It is Paul who makes the decisions when it comes to cellar matters (I suspect this is not widely enough recognised) – and at harvest time these decisions also involve not just optimal picking times, but also the capacity of the cool room, the crusher, etc. I asked Eben how much he himself was involved in the cellar during harvest and he says he steps in to help when pressure is high. But Paul directs. "Although obviously I'm not just a cellar hand, he trusts me….", says Eben. Well yes, I imagine he would.
Tim James is one of South Africa's leading wine commentators, contributing to various local and international wine publications. He is a taster (and associate editor) for Platter's. His book Wines of South Africa – Tradition and Revolution appeared in 2013.
Like our content?
Show your support.
Subscribe