Tim James: Some foreign bargains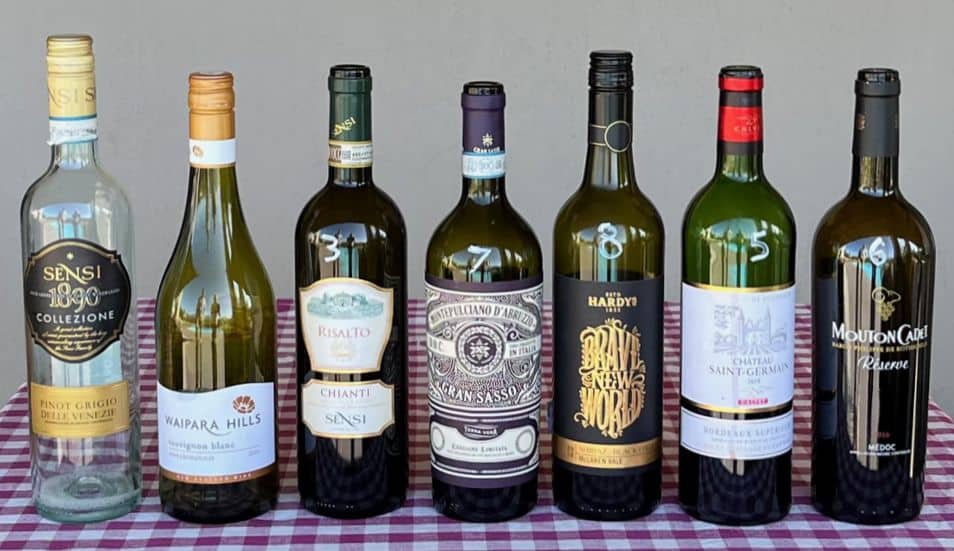 My monthly tasting group, if it is to continue helping us keep a toehold on the big wide world of non-local wine, is going to have to raise our subs. The little kitty we built up over the non-meeting days of Covid-19 has almost gone, while the rand slides and prices rise. But Chris Williams of The Foundry took this to heart and put on a tasting of seven foreign cheapies – costing in total R1113, a bit less than the eighth wine, intended as a sort of price benchmark but a sadly not very impressive 2016 from cult Chateauneuf du Pape producer Domaine de Pégau.
We tasted the wines blind, with no clue as to the purport of the tasting beyond an instruction to consider how to place the wines in terms of value. Quite apart from the usual spots of humiliation in radical misidentification, it was mostly a thoroughly pleasant and interesting experience, with many surprises when the modest price levels were revealed. The wines all came from Checkers supermarket, which I have occasionally previously mentioned as the source of some very well-priced foreign wines – including, in an article last year about well-priced imported wines, a lovely, mature German riesling (though the price has subsequently risen by a third it remains a good buy).
That wine wasn't included here, but there were two plausible whites. Sensi Pinot Grigio delle Venezie 2021, from the Veneto in north-east Italy offers something rather different from Cape wine, at R114 – very fair value. Dry and fairly light at 12.5% alcohol, yet with some richness, deliciously cut by a green acidity – a good step up from the oceans of cheap pinot grigio that have given the grape an unenviable reputation for bland dullness. Then came a Marlborough Sauvignon Blanc, a 2021 from Waipara Hills. I myself don't like the sweaty, fruity style of New Zealand sauvignon that has taken much of the world by storm (the Anglo-Saxon world at least) but this is a decent modest example. If you don't know the style, and want to discover how much better much Cape sauvignon blanc is – and scratch your head about why the New Zealand examples get vastly higher prices internationally – well, this is a good chance to do so at a surprisingly reasonable R139.
There were two Italian reds in our line-up. Another from big-producer Sensi: none of us noted it as a chianti, despite our last month's tasting having been devoted to Tuscan sangiovese. Whether that says more about the wine than us, I wouldn't swear. But chianti it was – Risalto Chianti Montalbano, from 2016 and nicely mature, still showing some appealing strawbery, raspberry fruit as well as an edge of savouriness and a good firm structure. Good to drink and, at R169, very decent value.
Gran Sasso Montepulciano d'Abruzzo 2020 is a later vintage of a wine I wrote fairly enthusiastically about in 2020, the 2018. (In a search for cheap Italian imports I'd previously written of the Gran Sasso Sangiovese 2018, also decent value.) I must say that I didn't enjoy this 2020 – I found its rather thick texture and sweet-fruitedness a bit queasy and uneasy alongside the big tannins. But at a mere R94, worth exploring if you enjoy ripely fruity wines (though this actually says that it's just 13% alcohol).
Next to another wine we had, though, the Gran Sasso is a model of elegance and restraint. Hardy's Brave New World Shiraz Black Edition 2018 from McLaren Vale is a caricature of what Australian reds were once all about (and perhaps still tend to be at this level). Sweet and ghastly. Not, in my opinion, to be put anywhere adjacent your mouth, let alone at R149. Lovely label, though.
There were two red bordeaux on offer. One can't expect all that much from this category for R169, but the Château Saint-Germain 2019, a generic Bordeaux Supérieur, was well selected from among what must be vast hectolitrages of dross, and plays along valiantly. I at least recognised it as a bordeaux, in modern ripe guise, and not without a serious edge – at least it had the dry finish that is quite hard to find in Cape blends of this type. Not at all a bad wine, though I probably wouldn't feel tempted to buy it myself.
But the other bordeaux in the line-up, the star of the tasting for me, I would buy, and warmly recommend to someone wanting a fine, classically-oriented dinner companion of the type that South Africa offers in very few examples. (I had another bordeaux of approximately this class just the other night, Ch. Les Cruzelles 2014, and it was even rather shocking how relentlessly the level went down and my spirits went up.) I'm pleased to say I easily identified this one as a Médoc of pretty classic style, clean-lined, unfruity and even with an edge of severity and something like elegance. A 2016 Mouton Cadet Réserve Médoc it was. I'd always rather turned up my nose at Mouton Cadet – the label dating, incidentally, from just before Chateau Libertas, and a very-large volume, famously easy-drinking generic bordeaux. But the Réserve range is more ambitious, from a few smaller, grander appellations. There are also, I see from googling, some other, perhaps even smarter ranges, which, if they're modestly priced, would surely be worth exploring, if one could get the chance down here at the foot of Africa. Why doesn't some enterprising importer take their nose out of the air and give it a try? Anyway, this bottle was pretty impressive to many of us at this tasting, and considered great value at R279, even if, of course, not a great wine.
As a general point, beyond noting that they've mostly been well selected, the maturity of many of these Checkers wines is curious  – I wonder if they've just been difficult to sell, or if Checkers cleverly manages to source older parcels. As far as I know, their small range of foreign wines exists more as an attracting element of prestige and interest in their wine section. I do wonder how sustainable this line is, however, as prices rise internationally, especially in rand terms. But for now, it is certainly worth exploring by wine lovers neither in the thrall of label snobbery nor believing that only the best is good enough.
Tim James is one of South Africa's leading wine commentators, contributing to various local and international wine publications. He is a taster (and associate editor) for Platter's. His book Wines of South Africa – Tradition and Revolution appeared in 2013.
Like our content?
Show your support.
Subscribe