Tim James: Some hugely impressive older sauvignon blancs from Klein Constantia
By Tim James, 17 January 2022
2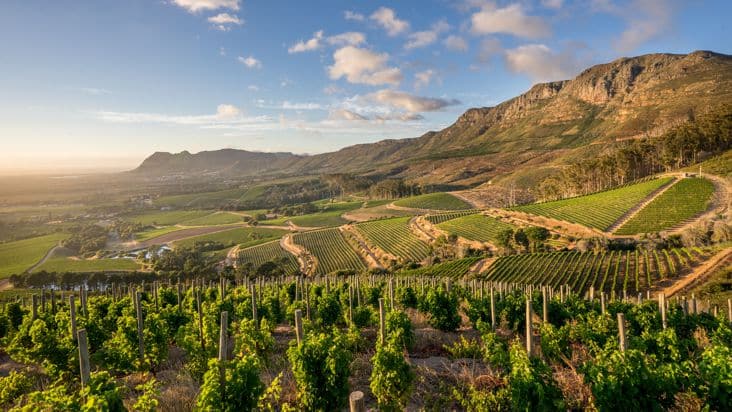 I rather hate to admit it, but my most interesting and delightfully satisfying Cape wine of the last few weeks was a sauvignon blanc. A 2010. In fact two of them were – there was also a quite remarkably lively and good 1997. I might even allow a 2021 to creep in as a third – but that wine, while very good, was too young to have had time for its callow rawness to have developed into something a bit distant from the obviousness of young sauvignon blanc.
All were from Klein Constantia – the estate wine, rather than any of the more limited-terroir wines that occasionally emerge, blended from what is now a splendid array of prime sauvignon vineyards on varied aspects and elevations (with correspondingly varied row directions, etc). It can take six weeks to take in all the harvest, which testifies to the range of conditions. Apart from Diemersdal, Klein Constantia must be the Cape estate most devoted to a range of site-expressive sauvignons, and I'd guess that no other premium-priced sauvignon (it costs R165) is made in this volume: 150 –180 thousand bottles.
Back to those older wines, which I tasted last week along with a few other media guests, after a drive round the estate with viticulturist Craig Harris and Jacqueline Harris, head of marketing and sales (and married to Craig, which allowed for quite a bit of backseat driving – no, I should say good teamwork – on our tour). The 1997, made by the late Ross Gower, who was KC's first winemaker, was a stunning surprise for me. A lovely fresh perfume, intense flavours, lemony-fresh, grippy and stony; inevitably some green notes, but these pleasingly far from pungently dominant (as they usually are; invariably so, for example, in the older sauvignons of another Constantia property, Steenberg). At 25 years, showing the rewards of age but needing no excuses as an old wine.
It was Ross's successor, Adam Mason, who made the 2010 – a truly fine, serious wine, with flinty complexity following on the pretty charm of the bouquet. Still showing some more youthful typicity with passionfruit and pyrazine hints, but also riper and richer than the 1997 – than which it had a little more residual sugar (though still just 2.8 g/l) and a higher acidity at 7.6 g/l); all in a thoroughly winning balance. I certainly can't remember when, if ever, I've tasted a better sauvignon blanc with more than a decade in the bottle. Again comparing with wines off the cooler (I think) Steenberg vineyards (see my last year's report of their sauvignons going back to 2011), these were to me eminently better drinking, without the aggressive green pungency that Steenberg fairly quickly develops. Of course it also must be pointed out that these older wines had been perfectly stored, and this was the first time they'd emerged from the parent cellar – to offer up their all with lunch under the oaks in front of the original cellar.
The older wines were intended as the prelude to two made by current winemaker (since 2012), Matt Day, and it's perhaps a pity that they had developed so well as to rather occlude the brightness of the younger vintages. But there's a new lightness of touch on the 2019, I thought, with more restraint (less fruitiness), more unassuming and elegant than I'd guess the older wines would have been at this age. The current release is 2021 (40 years in the making, as Jacqueline pointed out, and we were now in a position to understand her claim). It is, incidentally, the first to be made without any yeast inocculation at all. Again, it's subtly understated (as sauvignon goes) and finely balanced, with a lovely texture and an intensity most revealed in the length of the finish.
As I suggested above, it certainly needs time – though 25 years, or even 12, is not vital. I'd love to try it again in a decade or so (hmm… it's certain to be in a great deal better condition than I will be), and am happy to think that someone else will taste it in 25, as I was privileged to drink a glass of the 1997.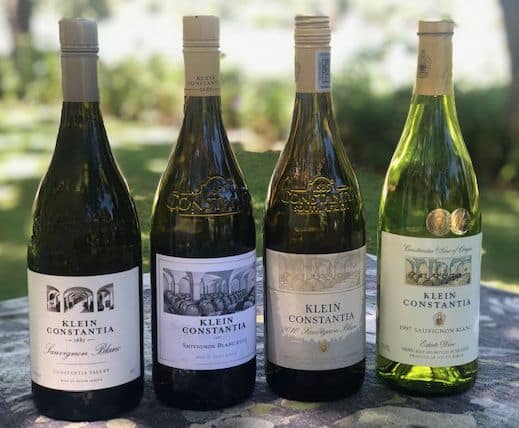 By the way, the packaging has changed quite significantly over the last decades; as the photograph shows, they havem't been able to leave it alone for long. Screwcaps came a while back – and the thread happily disappeared inside more recently; the labels have been obviously more than tweaked, and the bottle changed a few times: to two versions of the generic embossed Constantia bottle, and now to one with a specific Klein Constantia embossing – hard to see in the photo, unfortunately – which does reveal also the ever-darkening glass.
I think it worth reporting that just a few days after this tasting, I visited Klein Constantia again, to have lunch with a friend on the deck (amongst lovely greenery) of their smallish bistro-style restaurant. I was impressed to see that the wines on offer (from the estate and the sister Anwilka property in Stellenbosch) all had at least a few years on them. With the pleasant food we drank the Riesling 2017 (R395), but I later noticed that the 2005 was available for R595. The 2019 and 2020 Sauvignons were there for R230, but also 2015 (R430), and some other and/or older sauvignon bottlings, including Perdeblokke 2007 (R690) and Metis 2014. What an excellent practice, and I have no doubt, based on what I'd tasted a few days earlier, that all would be worth drinking at those rather generous prices.
Tim James is one of South Africa's leading wine commentators, contributing to various local and international wine publications. He is a taster (and associate editor) for Platter's. His book Wines of South Africa – Tradition and Revolution appeared in 2013
Help us out. If you'd like to show a little love for independent media, we'd greatly appreciate it. To make a financial contribution, click here. Invoice available upon request – contact info@winemag.co.za
Like our content?
Show your support.
Subscribe