Tim James: The pleasures of more mature sauvignon
2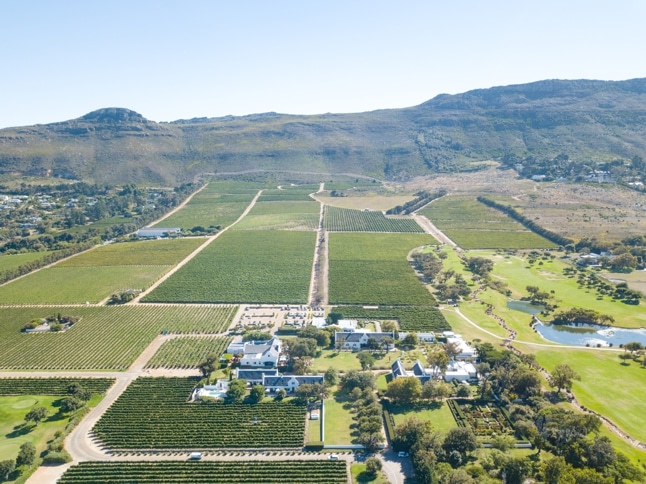 Its not all that many years since South African retailers had trouble selling a bottle of white wine other than chardonnay that was not from the latest vintage. If a bottle of – especially – sauvignon blanc was not sold by March or April of the following year it was doomed to linger on the shelves until it was sent back to the producer, or a discount took it off – giving the lucky buyer not only a bargain but generally a better bottle to drink. Nowadays, happily, we've grown sophisticated, and makers of the more ambitious sauvignons no longer have to weep at seeing their wines drunk too absurdly young.
A year can make a lot of positive difference to a bottle of decent sauvignon, and a few years even more, and its pretty rare nowadays to see a pricey bottle less than a year old. Some producers, especially in cooler areas, are managing to hold off their release for a good while longer. One such, that I tasted recently on a visit to its Elgin estate origin, is Highlands Road Sauvignon Blanc White Reserve, with the 2017 vintage still available. I'm not its only admirer, as the award stickers which plaster the bottle amply testify (no doubt the cost of entering all those competitions helps push up its price to R350-plus). It's an open, generously expressive wine, vibrantly fresh, with deeply intense fruit (plenty of citrus, a hint of blackcurrant), the subtle oaking adding to its breadth and personality. Drinking well now, but certainly with many years ahead of it for those who like a more developed character.
The current vintage of the unwooded version (R120 ex farm, reviewed by Christian here) is 2019, grassy, cool and silky – all the Highlands Road whites have a delightfully soft, lees-driven texture along with a natural firm acidity. As to producer-ageing – the now-selling 50:50 sauvignon-semillon blend, called Sine Cera (R190), is 2016, which is a real boon to winelovers (and possibly testimony to the strange reluctance of winelovers to accept the great virtues of such blends – we're not that much sophisticated!). Its character is tilted towards blackcurranty sauvignon (I also tried the impressive 2018, which at present shows more of semillon's lanolin), though less intense than the varietal wines. Departing briefly from my theme, I should note that winemaker Vanessa Simkiss also produces a succulent, grippy and balanced Chardonnay (with a touch of ripely sweet charm), and the wine which was a particular pleasure at of my tasting with her and estate owner Michael White, a beautifully fruit-filled, brightly fresh, and slightly showy Semillon 2019 with a fine future.
Back to older sauvignons. La Motte is fairly typical in releasing their top sauvignon, in the Pierneef range, at about a year. But they kindly sent me a bottle of the 2015 with the current 2020, so I was able to make a useful comparison. Both are blends of fruit from various Cape South Coast appellations, and include a little semillon for added breadth and interest. The 2020 (about R150) is a good, well balanced and lively example of cool-climate sauvignon, nicely blending the riper tropical and the greener characters, tangy and fresh. The 2015 has certainly gained savoury interest on aroma and palate, and a bit of the asparagus/green bean pungency that is often a part of cool-climate sauvignon's development. It's something I don't much care for, so, while I preferred this bottle to the younger wine, for its greater complexity, I wouldn't keep it any longer. But I would recommend holding on to the 2020 for another year or two as it moves in this direction.
Another chance to look at the potential advantages of ageing sauvignon came last week, as part of what seems to be a Constantia programme of pushing their signature variety, timed to fit in with what was international Sauvignon Blanc Day last Friday. (How these days get established I confess I have no idea, but it's clearly a northern hemisphere thing – no southerner would focus on sauvignon at the beginning of winter; but it seems we must tamely follow suit.)
Anyway, it was splendid to be offered five vintages of Steenberg The Black Swan Sauvignon Blanc: 2013, 2015, 2017, 2019 and the 2020 maiden effort of newish winemaker Elunda Basson, along with the final, 2011, vintage of the Sauvignon Blanc Reserve. The older wine was from a single, high and wind-battered vineyard that was tiring; Black Swan is largely from two of the 23 sauvignon blocks on Steenberg. I remember, at least a decade ago, going to a vertical tasting of that Reserve, and being much out of love with the older vintages – alive, but too full of that pungent asparagus character I mentioned above. And, frankly, I didn't much enjoy the younger, intensely pyrozenic vintages either.
Although I haven't grown altogether into a general sauvignon blanc aficionado, I much more appreciated this latest Steenberg vertical. That 2011 Reserve was not too pungently green, even with some prettiness, though a touch aggressive, and a very valid developed wine. But I liked all the Black Swan wines more. (Incidentally, Elunda was frank in saying that she'd selected for us the vintages that she thought were showing best.) There's texture, focus and precision on all the wines, with a substantial but fine acidity, and a stony, lemony, blackcurranty element that's common to all of them, in different degrees.
The 2020 – soon to be released at about R240 – suggests a greater ripeness and rich fruitiness than the others tasted, which is possibly due to the vintage (as well as youthfulness, of course) as much as to Elunda's influence – winemaking hasn't changed much over the last decade, it seems, but picking dates are always crucial. It's certainly a very good wine, and an exemplary instance of cool Constantia finesse (see Christian's review here).
Age brings integration of the acidity and an element of savoury development of the fruit. Unquestionably, the wines offer greater complexity and finesse after three or five years in the bottle. That's the sort of age at which I would choose for them. Some of the others present, I think, particularly admired the 2015 – but for my taste it was already a touch too developed. This is a matter of preference, and, as I say, I'm not a great lover of sauvignon, so to be less trusted than some that are. I prefer it on the slightly younger side.
I must put in a final word for the admittedly youthful wine that welcomed us to the tasting and was (convincingly) paired with the dessert at the end of the fine meal from Steenberg's Tryn restaurant: the non-vintage, bottle fermented Sparkling Sauvignon Blanc (about R130). It's certainly not the finest of the sauvignons we tasted (which included some older vintages of the other Steenberg versions), but is probably the friendliest, and I unreservedly enjoyed it – perhaps most of all, I confess.
During May, by the way, as you can see here, Steenberg sauvignon admirers can buy mixed cases of the estate's four expressions of sauvignon online and from the tasting room, at a special price.
Tim James is one of South Africa's leading wine commentators, contributing to various local and international wine publications. He is a taster (and associate editor) for Platter's. His book Wines of South Africa – Tradition and Revolution appeared in 2013
Help us out. If you'd like to show a little love for independent media, we'd greatly appreciate it. To make a financial contribution, click here. Invoice available upon request – contact info@winemag.co.za
Like our content?
Show your support.
Subscribe