Tim James: Some real problems of high world wine prices
10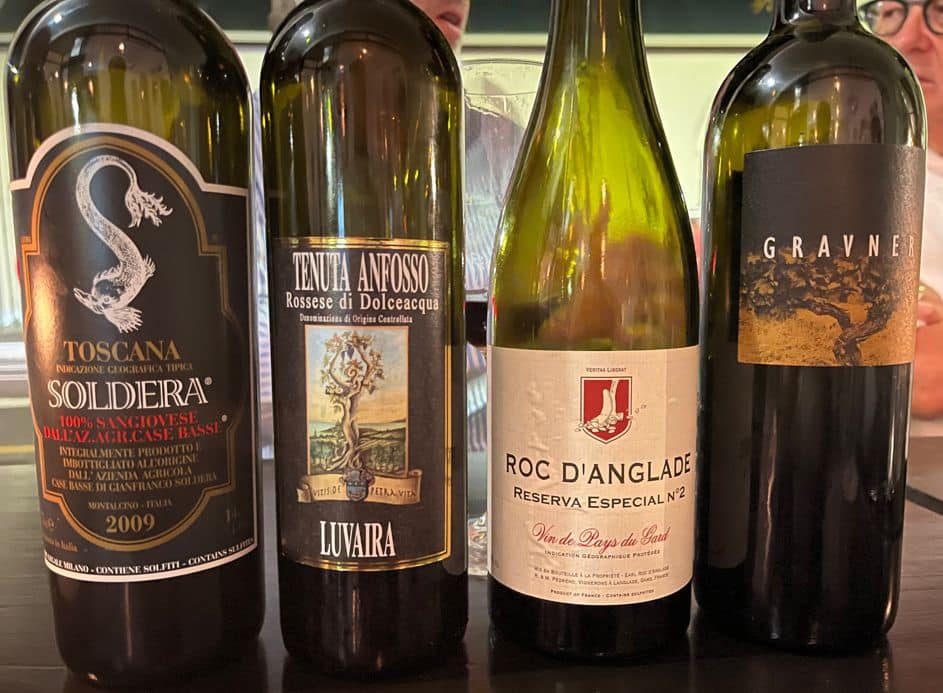 A great vinous treat last week led to some sober and sombre reflections. No need to tell the full, complicated tale of the occasion (a smallish dinner at a good Stellenbosch restaurant), but it involved a lot of generosity, particularly that of a British fine wine importer, Zubair Mohamed of Edinburgh-based Raeburn Fine Wines. Hosted by David Trafford of De Trafford Wines, and another important British importer, Simon Farr, we were drinking a small selection of the excellent wines that Zubair takes into the UK.
Zubair's infectious enthusiasm, and his and Simon's deep knowledge, could only help in our appreciation of the large handful of wines, which we drank one after the other throughout a lingering dinner – this wasn't a mere tasting, happily. The wines were, to different degrees perhaps and in their own ways, all wonderful. Again no detail, but before the worrying stuff, let me indulge myself in mentioning a few favourites.
In terms of sheer quality and delight it's hard to beat that superbly alive, suave and refined Chablis, Raveneau Montée de Tonnerre, widely recognised as one of the world's greatest chardonnays; we had the 2015, no doubt in the earliest stage of its maturity. But for fascination and suiting my taste to a T, my favourite was Gravner Ribolla 2010, made in Friuli by Josko Gravner, radical pioneer of modern "orange wine" and of Georgian kvevris (buried clay pots – see here for an account of some very good local kvevri wines); finesse as well as character, and a long-lingering finish; I suspect this wine will last forever.
The finest of the reds was certainly Soldera Case Basse Toscana IGT 2009 (the wine hasn't used the name of the famous Brunello di Montalcino terroir since the 2006 vintage, in response to the activities of the "modernisers" there – Soldera is a firm traditionalist: no new barriques or varieties other than sangiovese  involved). Magnificent, with, if I may risk sounding pretentious, the most perfectly poised tannins. Then, for sheer hedonistic pleasure combined with seriousness, Roc d'Englade Réserva Especial (this was No.2), a lovely, multi-vintage cuvée of carignan, grenache and syrah, from what is arguably the best producer in the south of France.  I visited there some two decades back, with Eben Sadie and his then partner in Priorat – and we had a great time and tasting with Rémy Pédréno.
But most of the wines we drank that night I hadn't tasted before. Most were far from commonly available, a few virtually impossible to get hold of unless you're fortunate to be on an allocation list and can afford to pay a great deal of money; and from wineries that are essentially impossible to visit unless you have the right sort of contact (who will guard the privilege jealously). It's not just money that's involved, though you'd have to pay something like R20 000 for a bottle of the Soldera, if you could find one to buy. The Raveneau isn't even listed as available for any vintage on wine-searcher.com (a little is brought into South Africa by Great Domaines, at some god-awful price, along with some other super-pricey stuff – but just try getting on the allocation list for a bottle or two).
Hence my sombre thoughts, with the delights of those wines still ringing in my tastebuds' memory. Of course, as we all know, there have always been wines that are unaffordable to most middle-class wine lovers, and the situation has got much much worse (or better, if you're a top, sought-after producer – at a lower, less urgent level the same thing happens in South Africa, though there's nothing made here that's not easily findable, really). Simon Farr remarked that evening (I can't remember his exact formulation) that the most significant thing that's happenied in the wine world in the last generation has been the phenomenal international growth of the luxury drinking/purchasing market.
But as a problem, it goes much wider and deeper than the failures of wine lovers to get to taste – let alone drink – most of the really good and great wines of the world. Or even of a more modest section of the world, like South Africa, where we know there are ever-growing limitations through access and (arguably) exorbitant pricing.
Thirty years ago, when I was belatedly starting out, and perhaps aiming to become a well-informed writer about wine, it was easy to get around all the Cape estates and be welcomed as a journalist by the winemaker and owner, and often be offered half a dozen old vintages as well as the current one. Furthermore, many very serious wines of the wider world ended up on the tables of one's richer and more generous friends, and it was not so difficult to build up, even through some of one's own purchases, a basic experience of, say, Burgundy, Bordeaux and the Mosel. I didn't buy first-growth Bordeaux or Grand Cru Burgundy, but I got to taste them sometimes and I even got to buy a few wines approaching that league (in the mid 1990s I did buy a bottle of 1981 Lafite at a restaurant for about R700 as I recall). No longer would that be possible for a young would-be wine critic. Where, then, are they meant to acquire the necessary perspective, or even a limited, parochial perspective on local wines? And if an opinion is offered on a local cabernet by a critic who doesn't know anything useful about Bordeaux or Napa, how useful can that opinion really be? We'll have to rely on an ever-smaller stock of international real experts.
In the wider world that applies too. Zubair Mahomed considers Soldera to be one of the greatest wines in the world – and he has built over many years a basis on which to make such a call. He's, let's say, middle aged; how are young people ever to gain such expertise? Even now, the small, dwindling cohort of wine writers in a wine market as important as the UK's seldom can get to taste a wide range of truly fine wine in depth. Tastings of current releases, perhaps, but seldom a revelation of what maturity can bring. There's a tiny handful of ultra-privileged critics, that's all. More importers, distributors and retailers do get the chance (though often of a fairly delimited specialisation), and their expertise is vital. But if wine lovers of the future don't want to have to rely on the not-disinterested views of the trade or the vapid gossip of social media, they're going to have a problem.
Even more problematical it seems to me is the effect of outrageous prices and non-availability on those growing and making wine. How are winemakers to learn about fine wine if they have increasingly limited chances of drinking it? Not through the occasional bottle bought by a friend, or even the possibilities of a good tasting group – and, frankly, I'd be surprised to learn that most South African winemakers (let alone viticulturists, or those offering themselves as expert critics) go to a lot of bother or expense to learn what they can about the great wines of the world.
The best and keenest of young winemakers do travel, working and visiting abroad. They can make contacts, and mingle in the fraternity of other more-or-less youthful winemakers. No doubt there's a vast amount of useful tasting from barrels. But most winemakers anywhere do not have the authority, or any kind of capacity, to go opening the older bottles in the cellar that will reveal the full potential of a fine but youthfully raw and primary wine.
It's not a problem that's unique to wine, however. Our world is, after all, one where privilege and deprivation, increasingly dependent on money, are stretching further away from any mid-point.
Tim James is one of South Africa's leading wine commentators, contributing to various local and international wine publications. He is a taster (and associate editor) for Platter's. His book Wines of South Africa – Tradition and Revolution appeared in 2013.
Like our content?
Show your support.
Subscribe