Tim James: Tasting the Ryan Mostert new releases
By Tim James, 30 August 2019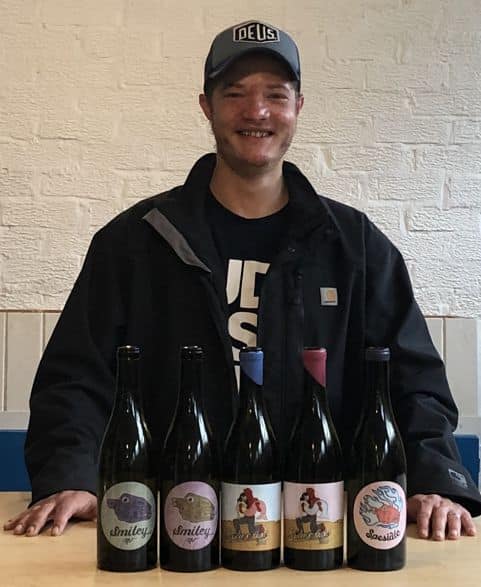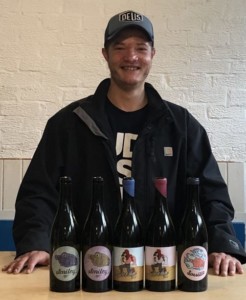 Ryan Mostert is moving from rented space in Voor-Paardeberg and his next vintage will be vinifed in a more spacious cellar in the village of Hermon. This cellar was vacated by another geeky, passionate young winemaker, JH "Stompie" Meyer, who's moved on to establish his own farm and winery in Piekenierskloof. Hermon is, Ryan says ruefully, just on the "wrong" side of the Wine of Origin Swartland border. So he continues to hover on the edge of the source of his grapes for Terracura, Smiley and Silvervis – but so far hasn't broken his way in….
Ryan and totally-involved wife Samantha recently released their latest Smiley and Silwervis wines – from grapes that were picked, as Ryan said, when the vineyards were in "the claws of the drought". Drought, Ryan pointed out, teaches increased respect for vines and grapes (a not uncommon refrain in the Swartland these days). In fact, the Smiley multi-vintage wines make a brilliant picture of the Swartland drought years, both of them from grapes from the 2016-2019 vintages – pretty equally so in the case of the Smiley White, but predominantly 2017 and 2018 in the case of the Red.
The Smiley and Silwervis wines make an interesting contrast in approach, in fact: The former stress winemaking (somewhat experimental), the latter, being single-vineyard (not to mention single-vintage) wines, are intended more as an expression of vineyard and vintage origin.
It's hard not to think of Ryan having fun in assembling the Smileys (though remember that the name doesn't come from anything more delightful than the roasted sheep head depicted on the labels – labels which more than just I, I know, find rather offputting!). The Smiley Red 4 (it can't have a vintage, of course, so the number refers to the fact that this is the fourth iteration, as it were) is made up of a number of different parcels from vineyards around the Swartland, including (it seems to depend on Ryan's mood exactly what he highlights) cinsaut, tinta barroca, mourvèdre, perhaps syrah, perhaps carignan, all whole-bunch fermented. The point is that it is very good – rather gorgeous, with a fine wildness and a fresh purity of fruit, dry and with a subtly austere element. Ryan speaks also of "rusticity", and I know what he means.
Smiley White 5 is rather more geeky, though it struck me as being a little less funky than some earlier editions. As Ryan says, "it's complicated to make, age, blend and bottle", the latest assembled from 19 different chenin wines. They come from many different Swartland vineyards and are made in various ways, including simple skin contact, biological ageing under flor (as in Jura and Jerez). The result is something unique – savoury, textured, balancing the intellectual and the hedonistic. Good for sipping, I reckon this would be especially excellent with a whole range of foods. Both Smileys are around R175, which is good value for wines as interesting, characterful and eminently drinkable as these.
If the flor character is something you enjoy, Ryan and Samantha have also released a small batch of a one-off 2017 wine in their variable Speciale label, mostly from flor wine, but with 20% fresh chenin. It's very dry, salty, a touch oxidative and volatile, quite acidic – and, probably needless to add, fascinating.
The two Silwervis 2017s are, by contrast, terroir-driven, and very good examples of Paardeberg wines. Silwervis Chenin Blanc, off a 1964-planted Siebritskloof vineyard, has the density and concentration found in many of the low-yield 2017s, its power balanced by the freshness and brightness of the pure fruit, with a serious acidity and stony savouriness giving an austere edge to the generosity. Approaching the top end of chenin prices, at about R395, as with the red.
Silwervis Cinsault comes off the seam of shale on the granitic Paardeberg that also gives brilliant chenins to David & Nadia. The structured soil gives a wine that is more tannic, deeper-fruited than most cinsauts, without foregoing the full aromatic nose. A serious, ageworthy wine that also has obvious charm. Wholebunch, natural fermentation of course, and then, like the Chenin, transferred to a concrete egg for a year followed by another year in stainless steel. This comparatively straightforward, leisurely progression gives Ryan time to have fun with all the Smiley components. Indeed, there are few winemakers who appear to have quite as much excitement and joy in winemaking as he does.
Tim James is one of South Africa's leading wine commentators, contributing to various local and international wine publications. He is a taster (and associate editor) for Platter's. His book Wines of South Africa – Tradition and Revolution appeared in 2013.
Like our content?
Show your support.
Subscribe