Jordan Timepiece maiden releases
Timepiece from Jordan in Stellenbosch is a new collection of single-variety wines from the property's oldest vineyards. First to be released is a Sauvignon Blanc 2020 and Chenin Blanc 2019 – these from vineyards planted in 1983 by Ted Jordan, father of current proprietor Gary, the logo on the label penned in Ted's hand. A Riesling will join the range soon while a Cabernet Sauvignon vineyard has also been registered. Tasting notes and ratings for the initial releases as follows:
Timepiece Chenin Blanc 2019
Price: R360
From a south-facing vineyard 195m above sea level. 78% fermented and matured for eight months in older 228-litre barrels, 22% in clay amphorae. A pronounced herbal, almost minty note precedes lime and white peach plus some leesy complexity on the nose while the palate shows dense fruit offset by bright acidity before a saline finish. There's good depth of flavour here but it has to be said that this quite a particular and unusual rendition of the grape.
CE's rating: 91/100.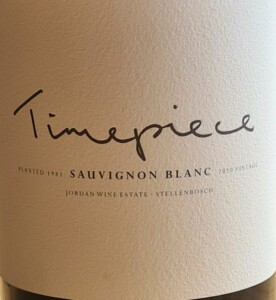 Timepiece Sauvignon Blanc 2020
Price: R360
From a south-facing vineyard 226m above sea level. 67%% fermented and matured for six months in clay amphorae, 33% in older 228-litre French oak barrels. Lime, lemon, peach and dried herbs as well as some honey and some leesy complexity on nose while the palate has a nice presence and directness about it – good weight and fresh acidity before a long, savoury finish. A substantial and rewarding wine.
CE's rating: 93/100.
Check out our South African wine ratings database.