Paul Clüver Estate Chardonnay 2019
Paul Clüver of Paul Clüver Family Wines in Elgin relates that Chardonnay is particularly prone to delayed foliation and, in turn, uneven fruit set, something that is exacerbated by mild winters. "The last 10 years have been 0.2˚C warmer than the long-term average but what is even more of concern is that we're seeing cooler summers and warmer winters. We're getting erratic rainfall, hail and horrible wind in the lead-up to harvest – "climate change" is definitely a much more appropriate term than "global warming".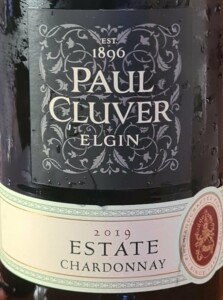 Clüver was showing the current-release Estate Chardonnay 2019 next to the 2006, 2009, 2017 and 2018 vintages, an extremely useful exercise given the on-going debate as to when modern SA wines drink best.
The 2006 was very advanced, amber in colour and nutty in flavour; the 2009, closed under screwcap, was impressive if very reductive; the 2017 and 2018 are both drinking very well, although clearly 2017 is now emerging as the more profound vintage; and the 2019 is still closed and even a little unresolved. It rated 89 in last year's category report sponsored by Prescient, which is undoubtedly a bit harsh, but this needs another year or two to show at its best (price: R300 a bottle).
Offering amazing quality relative to price, meanwhile, is the Village Chardonnay 2020, which placed Top 10 with a rating of 94 in last year's category report and sells for R120 a bottle. Served as a welcome drink at this week's vertical tasting, it's looking absolutely smashing.
Check out our South African wine ratings database.
Like our content?
Show your support.
Subscribe