Recipe: Beef Wellington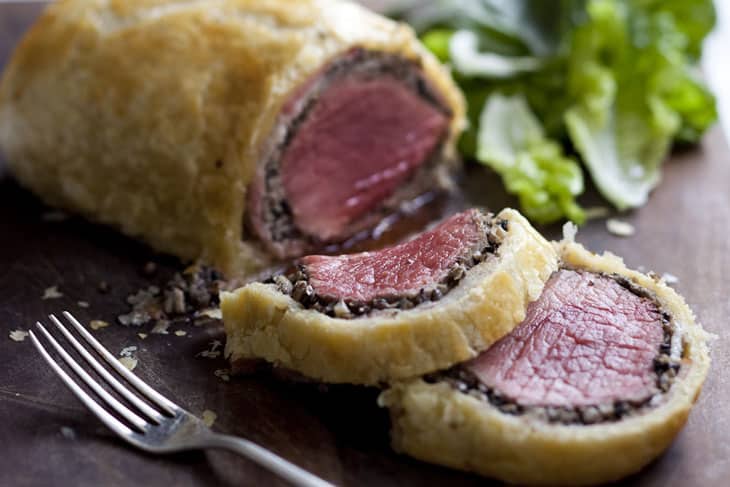 A classic and decadent dinner party recipe.
Yield
This recipe serves 4 people.
Beef Wellington recipe ingredients
800g – 1kg beef fillet
salt and freshly ground pepper
2 tbsp (30ml) olive oil
1 onion, finely chopped
2 cloves of garlic, crushed
2 sprigs thyme
500g variety of mushrooms, finely chopped
8 slices (125g) streaky bacon
250g puff pastry
1 egg, lightly beaten
Cooking method
Pre-heat oven to 200°C.
Season beef fillet with salt and freshly ground pepper.
Heat 1 tbsp olive oil in a frying pan and brown fillet to seal well. Remove and set aside.
Heat the remaining oil in the same frying pan and add onions, garlic, thyme and mushrooms, stirring continuously until all the moisture has evaporated and mushrooms are dry. Season to taste.
Place a large piece of plastic wrap on a board and place bacon slices neatly next to one another on the plastic wrap. Spread mushroom mixture over bacon and place fillet in the middle. Roll the fillet tightly in the bacon, using the plastic to help secure. Leave to rest in fridge for 30 minutes.
Roll out puff pastry into a neat rectangle on a lightly floured surface. Remove fillet from the plastic and place in middle of pastry. Roll up into a sausage shape, brush pastry with egg and place in the oven for about 30 minutes or until pastry is golden brown and puffed.
Remove from oven and allow to rest for 10 minutes before slicing into rounds.
Wine pairing
Beef Wellington is less robustly flavoured than a steak or rib roast of beef, other key ingredients such as the mushrooms and pastry offset the flavour of the meat. Look for a medium-bodied red with not too much tannic grip such as a Merlot-dominated Bordeaux-style blend.
Like our content?
Show your support.
Subscribe