Recipe: Biriyani with chicken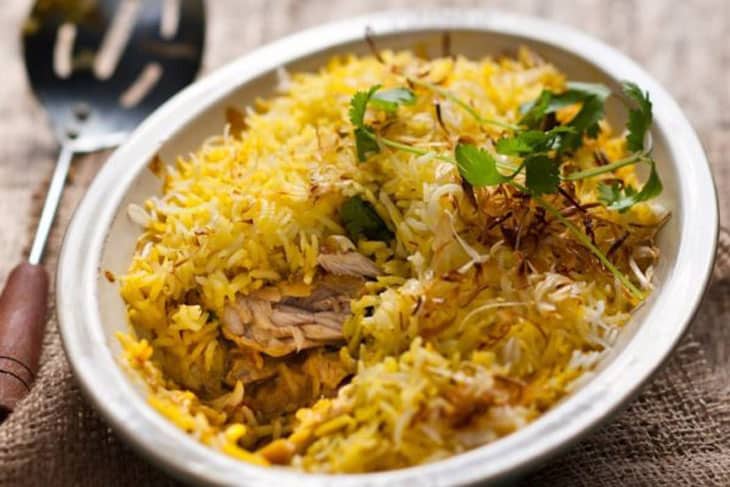 A flavourful Biriyani that's great for weekday nights.
Yield
This recipe serves 4 people.
Biriyani recipe ingredients
400g Basmati rice, well rinsed
2 cinnamon sticks
6 cardamom pods
2 cloves
olive oil for frying
2 onions, finely sliced
4 cloves of garlic, crushed
1 knob ginger, grated
1 tbsp (15ml) turmeric
2 tsp (10ml) ground cumin
1 tbsp (15ml) ground coriander
1 red chilli, deseeded and finely sliced
6-8 chicken pieces
3 tomatoes, roughly chopped
1 ½ cups (375ml) Greek yoghurt
15g fresh coriander
½ cup (125ml) milk
few strands saffron
salt and freshly ground black pepper
Cooking method
Place rice into a pot together with 1 cinnamon stick, 2 cardamom pods and the cloves. Cover with enough cold water to come about 1cm above the top of the rice. Bring water to the boil and par-cook the rice for about 5 minutes. (Rice will carry on cooking later).
Heat a little oil in a large frying pan and sauté half the onions, all the garlic, ginger, turmeric, cumin, coriander, chilli and the remaining cinnamon and cardamom pods, until golden brown. Add tomatoes and fry for a further 5 minutes. Add chicken pieces and sear until well browned. Pour in the yoghurt and allow to cook gently for about 20-25 minutes or until chicken is almost cooked. Season with salt and pepper.
To assemble
Pour a little oil in a heavy bottom pan. Layer the bottom with a little rice, followed by chicken and chopped coriander. Repeat the layers with rice being the top most layer.
Heat a pan with 2 Tbsp oil and fry remaining onions until crispy. Remove and set aside.
Warm milk with the saffron and pour over biriyani.
Top with the crispy onions, cover with a lid and cook on a low heat for about 20 minutes or until rice is cooked. Serve with chutney and sambals.
Wine pairing
Beer is probably best suited with biriyani but a Chardonnay or wooded Chenin Blanc will also work well – both will play a conciliatory role with this full-flavoured dish having both sufficient texture and freshness.
Like our content?
Show your support.
Subscribe