Recipe: Cassoulet with pork sausage & haricot beans
1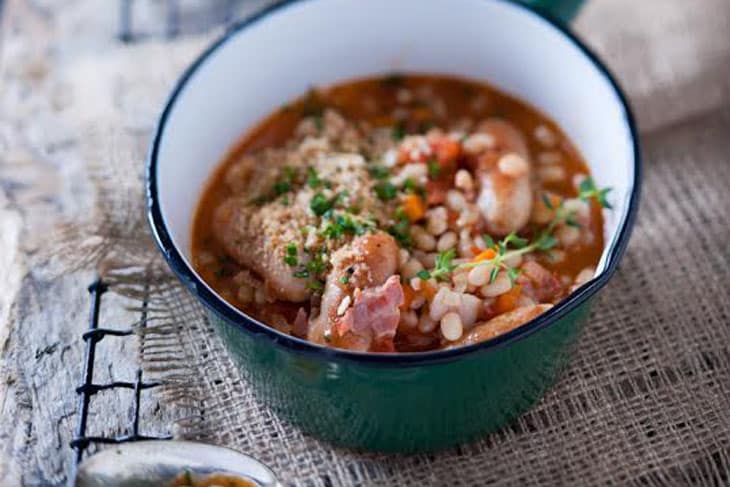 A cheat version of this classic French stew.
Yield
This recipe serves 4 people.
Cassoulet recipe ingredients
400g dried haricot beans, soaked overnight
1 tbsp (15ml) olive oil
125g bacon, chopped
3 garlic cloves, crushed
1 onion, finely chopped
1 celery, finely chopped
1 carrot, peeled and finely chopped
250g pork chipolates
4 x tomatoes, chopped
1 cup (250ml) chicken stock
2 sprigs thyme
10g fresh parsley, chopped
¼ cup (60ml) white wine
¼ cup (60ml) fresh breadcrumbs
Cooking method
Dried haricot beans
Drain haricot beans and rinse well with cold water.
Place beans in a small saucepan and cover with water, bring to the boil and then reduce heat to a simmer, allowing the beans to cook for about an hour or until tender. Add more water if necessary to keep the beans covered.
Remove the beans from the heat once cooked, drain and set aside until needed.
Prepare the stew
Preheat oven to 180°C.
Heat olive oil in a casserole pan over medium heat and fry bacon, garlic, onion, celery and carrots, until soft and translucent. Add sausages and fry for a few more minutes or until golden brown. Add wine and simmer for a few minutes before adding stock, tomatoes, thyme and beans. Simmer over medium heat for about 30 minutes.
Sprinkle top with breadcrumbs and bake for 20 minutes or until crumbs are crisp and golden.
Sprinkle chopped parsley and serve immediately.
Wine pairing
What this dish needs is a young, intensely fruity red with a touch of richness cutting acidity – think Cinsaut, Grenache, or new-wave Pinotage.
Like our content?
Show your support.
Subscribe