SA wine history: Crimes and misdemeanours in the Helderberg
1
'I do not think this wine can be bettered at the Cape today,' wrote C de Bosdari about Alto Rouge some 70 years ago – and you can read more about the 'excellent model' of this much-admired wine here, in an article offering just a small taste of early wine history towards the end.
To recap:
Until 1919, Alto was part of a larger farm, Groenerivier, which also incorporated Webersburg next door. Granted to the wagonmaker Abraham Bastiaansz Pijl on 20 November 1693, it originally comprised 59 morgen and 221 square roods, and it stayed in his hands for almost exactly a decade. On 28 September 1703, however, Pijl made his first suicide attempt – throwing himself into the Eerste River – and when this failed, he slit his own throat, succumbing to his injuries only after telling the surgeon, Jean Prieur du Plessis, that his wife had driven him to it: 'Mijn vrouw is er de oorsaak…'
Needless to say, I had to find out a bit more about her.
Cornelia Claasen was the daughter of Cornelis Claasen from Utrecht (known as Kees de Boer) and Catharina van Malabar, an Indian slave woman who had arrived at the Cape via Batavia in 1662, was baptised as a 36-year-old on 29 October 1673, and was manumitted sometime before 15 March 1676, the day on which she married Cornelis.
Cornelia was their second child, baptised on 18 November 1674, which means she was born into slavery before her mother was freed. She married Pijl before their first child was baptised on 15 February 1690, and they went on to baptise seven children together.
It's intriguing to note that an eighth child, Hendrik, was baptised on 14 October 1703, only a week or two after Pijl's death, with one genealogy website listing the father as 'unknown'. It seems Pijl must have had his own suspicions…
Certainly, by 1705 Cornelia was in a relationship with Richardùs Adolphùs (also known as Regardus Adolphz Rigt or Adolf van Tonderen) who came from Tønder in Schleswig, Southern Denmark. Their son Adolfùs Adolphùs was baptised on 20 December 1705 and they got married on 17 April 1707, by which time she was already pregnant with their second child, Agatha, baptised on 3 July 1707, followed by Nicholas on 5 May 1709 and Wendel on 5 Aug 1711.
The Pijl/Adolphùs family lived at Groenerivier and we know they produced wine because on 23 September 1713, the 29-year-old free black Isaac Pietersz was found guilty of stealing wine from them. His sentence was to be tied to a pole and flogged, then banished to Robben Island to work unchained but without compensation for 12 years.
It might seem a particularly harsh punishment for the theft of some wine (even good wine!), but there is more to this story than meets the eye, involving other members of Cornelia's family who lived nearby. Her mother, Catharina van Malabar, had married her second husband, a German named Andries Voormeester, on 31 July 1688 and they had lived next door to Groenerivier at Bonterivier (Rust en Vrede today) since 1696.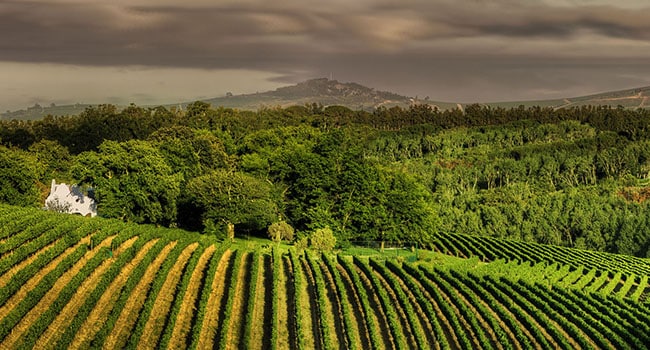 Cornelia's sister Maria (baptised 27 October 1678) was married to Gerrit Willemsz who had a farm south-west of Brakelsdal (which is Annandale today). This marriage seems to have been stable (resulting in the birth of six children) until the appearance of Isaac Pietersz, who had been freed from slavery as a child but, instead of assimilating into 'respectable' society (like the Colijns of Constantia, for example), he was now regarded as a vagabond and troublemaker (deugniet).
It's hard to imagine what Maria saw in him, but in 1709 she allowed him to move in, and when her husband complained that this was unbearable, Pietersz dragged him out of his own house by the hair. While the now-homeless Willemsz had to rely on the charity of other colonists, Pietersz appointed himself as 'meester en voogt' (master and guardian) and his 'seer groote familiaritijt' with Maria resulted in two 'onegte Bruijne kinderen' being born: Willem, baptised 10 November 1709, and Matteus, baptised 14 June 1711. A third child, Geertruijt, was baptised on 25 December 1712.
It seems Pietersz was working for Maria and Cornelia's elderly stepfather, Andries Voormeester, at Bonterivier (Rust en Vrede) – but this was not a happy working relationship either. At the trial for the wine theft, Voormeester testified that the accused had on one occasion, the previous year, grabbed him and thrown him into the fire merely because he had refused to give him wine to drink.
Good stuff, that Helderberg wine!
Of course, it wasn't merely 'het steelen van wijn' for which Isaacs was eventually sentenced to 12 years on Robben Island but also 'diverse quaataardigheeden' that included the assault on his lover's stepfather.
And it goes without saying that there was no reconciliation for Maria and Gerrit Willemsz. He later found comfort in the arms of Anna van Wijk, with whom he seems to have had three children: Gerrit (baptised 2 May 1717), Helena (baptised 9 October 1718) and Jeremias (baptised 17 November 1720). Presumably Jeremias died in infancy, but Gerrit and Helena were subsequently adopted by the man their mother married on 6 February 1724, Isaac Nieuwoudt, who gave them his surname.
In other words, all Nieuwoudts genealogically descended from Gerrit Nieuwoudt are actually, biologically, descended from Gerrit Willemsz – just like the Bothas who are actually, biologically, descended from Ferdinandus Appel rather than Friedrich Both of Ken Forrester Vineyards fame.
As fate would have it, Both's daughter Catrijna moved to Groenerivier on 8 October 1718, when the farm was transferred to her husband, Hendrik Frederik Klopper. But that's a story for another day.
Joanne Gibson has been a journalist, specialising in wine, for over two decades. She holds a Level 4 Diploma from the Wine & Spirit Education Trust and has won both the Du Toitskloof and Franschhoek Literary Festival Wine Writer of the Year awards, not to mention being shortlisted four times in the Louis Roederer International Wine Writers' Awards. As a sought-after freelance writer and copy editor, her passion is digging up nuggets of SA wine history.
Attention: Articles like this take time and effort to create. We need your support to make our work possible. To make a financial contribution, click here. Invoice available upon request – contact info@winemag.co.za
Like our content?
Show your support.
Subscribe