SA wine history: Did Napoleon drink Citrusdal wine? (Part One)
A media release announcing that today is International Grenache Day prompted me to do a little digging into a couple of admittedly unlikely but nonetheless persistent claims – firstly that grenache was planted in the Piekenierskloof in the 1700s, and secondly, that wine from the area was shipped to Napoleon Bonaparte while in exile on St Helena between 1815 and 1821.
Tim James has previously dismissed the Napoleon claim here (while remaining open to being proved wrong) but I couldn't resist investigating further. For starters, Tim's dismissal of the claim made in a 20 October 1970 Die Burger article was based, to a certain extent, on the fact that its unidentified author referred to Citrusdal wine as 'chianti' and therefore couldn't have known much about wine.
As it turns out, however, one of the first wines produced by the Citrusdal Co-operative after its establishment in 1958 was named 'Chianti'. The brainchild of Hermann 'Oubaas' Wolff, it was usually a blend of grenache and cinsault, with small amounts of other varieties included from time to time. 'Resurrected after several years' in 1989, according to that year's Platter's guide, the 'saucily named' Chianti was produced under the Goue Vallei label right up until 2006, with the 2007 Platter's describing the latest 'unwooded grenache/cinsault' blend as an 'appealing everyday red'.
'That chianti was a big deal,' says Jan 'Boland' Coetzee who even shows me an image of the special 'Kapteins Chianti' bottled to celebrate the Currie Cup victory of the Blue Bulls rugby team in 1991, with Naas Botha, Thys Lourens, Wynand Claassen and Burger Geldenhuys rendered on the label (by the artist Mynderd Vosloo, reveals the 1992 Platter's).
Cape Chianti aside, the important point is that it's Coetzee making the ancient grenache and Napoleon claims – the winemaker who put Kanonkop on the map in the 1970s, who established his own vineyards at Vriesenhof in the 1980s, and who received this year's 1659 Medal of Honour for his 'profound contribution to the South African wine industry'.
In short, he's a legend. His claims can't easily be dismissed.
Coetzee has sourced old-vine grenache from the Piekenierskloof for decades. He says his ancestors first moved to the area in the 1680s and his relatives still farm there. 'When I saw those big old Piekenierskloof vines, planted on their own rootstock because it's so bladdy hot there that no bugs can survive in the soil, I spoke to some descendants of the old families. My friend's wife said her great-granddad had told her that grenache was definitely first planted there in 1729.'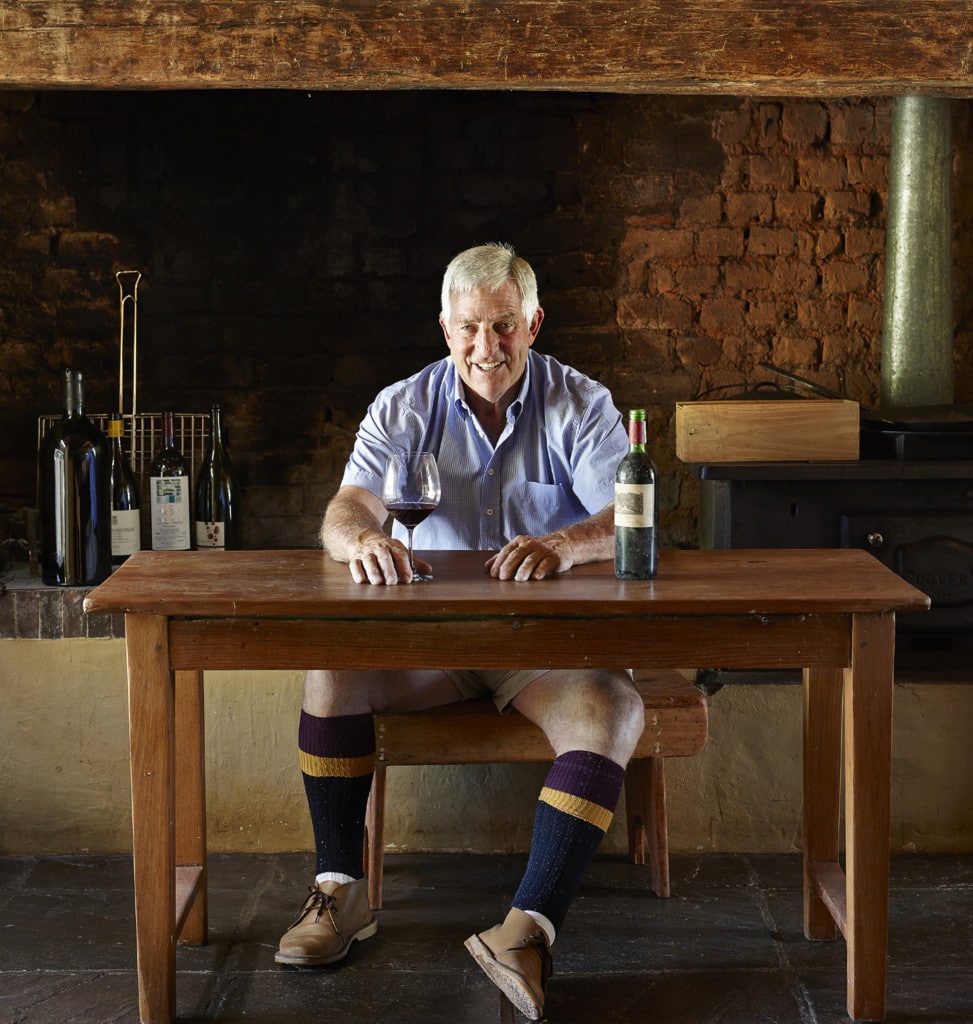 Needless to say, the oldest grenache vines still growing in the Piekenierskloof today were 'only' planted in the 1960s (with a field blend of grenache and cinsault having been planted at Môrewag farm in 1957). According to the Old Vine Project, in fact, there are currently only 11.1ha of heritage-certified grenache vineyards there! Given how well grenache thrives in the area, and how resilient it is, I ask Coetzee why there aren't a few considerably older vineyards to be found.
'When the KWV was formed in 1918, many of the farmers in the area replaced their vines with citrus. They didn't want to be controlled by outsiders,' he says.
That would certainly explain why old vines were uprooted, but the original question remains: when was it first planted here? For that matter, when did it arrive in South Africa to begin with?
One theory is that James Busby, known as the father of Australian wine, brought grenache with him in 1832 when he stopped at the Cape en route to New South Wales after his 'Tour, Through Some of the Vineyards of Spain and France' in 1831. However it seems that the cuttings he'd collected had already been shipped back to Australia ahead of him, carefully packed in a mix of moss, sand and soil. 'Of these, 363 survived the journey and were planted in the Sydney botanic gardens,' writes Dr Jamie Goode here. 'Grenache was one of these survivors.'
It doesn't sound to me as though Busby would have parted with any of his precious grenache cuttings at the Cape; if anything he and his predecessors had always been more eager to take vines from the Cape. As far back as 1787, when the First Fleet had called at the Cape, David Collins (future judge-advocate of New South Wales) had been tasked with acquiring vines among 'the rarest and the best of every species, both in plant and seed'. There is no specific record of what vine cuttings Collins took, but those shipped by horticulturist George Suttor in 1800 included 'Tokay, White Frontignac, White Muscadine, Black Frontignac, Constantia and Muscat of Alexandria'.
Coetzee is adamant that grenache was already here by then; that it probably came to the Cape with the Huguenots – and certainly it was proved by Professor AI Perold way back in 1907 that the garnacha he'd imported from Rioja, Spain, was similar not only to the grenache noir of Montpellier in France (a Huguenot stronghold up until the revocation of the Edict of Nantes in 1685) but also to the already long-established South African cultivar.
Going back to Busby's grenache for a moment, though, it's fascinating to note his description of the grape: 'Black skin, very thick, but yielding less colour than that of [Carignan]. This grape by itself would yield a sweet wine.'
Would the South African grenache wines of yesterday have tended to be sweet, I wonder?
'I think it was always a mix of sweet and dry,' says Coetzee. 'Not so long ago, I drank a 1907 sweet wine made by my great-granddad. It was still perfect, made from cinsault.'
Unfortunately the only 'proof' Coetzee can show me of Napoleon having drunk Citrusdal wine is a copy of that hoary old Die Burger article, which states it as fact (without providing evidence) while backing up the theory about old vines being uprooted in the KWV era out of 'koppigheid' (stubbornness).
I decide to approach the story from a different angle – by closely scrutinising a record of the wine allowance for Napoleon (and his entourage) while 'imprisoned' at Longwood House on St Helena. Dated 3 February 1820, the document (sold on auction in 2015) records that the household's daily wine allocation included a bottle of Champagne, 10 bottles of claret, half a bottle of Madeira, three bottles of 'Vin de Grave', a bottle of 'Tenerife' and 31 bottles of 'Cape Wine'.
In addition, Napoleon's monthly allowance included 14 bottles of 'Constantia' (read more on his partiality to Constantia wine here), two to four bottles of 'Malaga', two of 'Aliquant', four of 'Lunelle' and 12 bottles of Cognac.
Listed directly above the Constantia, the Aliquant now grabs my attention, because 'alicante' was/is a synonym for grenache (alicante bouschet having only been created in 1866 when Henri Bouschet crossed grenache with petit bouschet). Furthermore, the comment alongside the listing notes that the Aliquant, Constantia and Malaga were the result of a special application for (wait for it) sweet wines!
Is it possible? Is there even a remote chance that Napoleon's Aliquant could have been a sweet grenache from Citrusdal – listed, like the Constantia, separately from the generic Cape Wine?
Probably not, given that Spain's Alicante DOP (Denominación de Origen Protegida) was historically renowned for the sweet wines known as Fondillón (produced in an oxidised 'rancio' style from overripe Monastrell grapes).
Just as I'm about to call it quits, though, I receive a message. A very interesting message. There's more to this story after all, it seems. But you'll have to wait until next time because it's time for me to have a glass of Vriesenhof Grenache 2018 (WO Piekenierskloof, R350 ex-cellar).
Joanne Gibson has been a journalist, specialising in wine, for over two decades. She holds a Level 4 Diploma from the Wine & Spirit Education Trust and has won both the Du Toitskloof and Franschhoek Literary Festival Wine Writer of the Year awards, not to mention being shortlisted four times in the Louis Roederer International Wine Writers' Awards. As a sought-after freelance writer and copy editor, her passion is digging up nuggets of SA wine history.
Attention: Articles like this take time and effort to create. We need your support to make our work possible. To make a financial contribution, click here. Invoice available upon request – contact info@winemag.co.za