SA wine history: Wine routes and diversions
3
It's been quite a while since I was a proper wine tourist, anonymously exploring a route for the sheer joy of it. Mostly this is because my job over almost two decades has been to arrive announced for wine tastings and winemaker interviews; these days it's also partly because any weekend suggestion to visit a wine farm for 'fun' is met with agonised groans from my young teens (though it's the drive rather than the destination that dismays them).
This realization, as well as a resolution to remedy the situation, has been prompted by the 50th anniversary celebrations of Stellenbosch Wine Routes this week. Currently comprised of five sub-routes with over 120 wine and grape producer members offering diverse wine tourism experiences, surely among the best in the world, it's hard to imagine that until 1971 Stellenbosch had no organised network of wine farms offering cellar door tastings, let alone light meals or activities.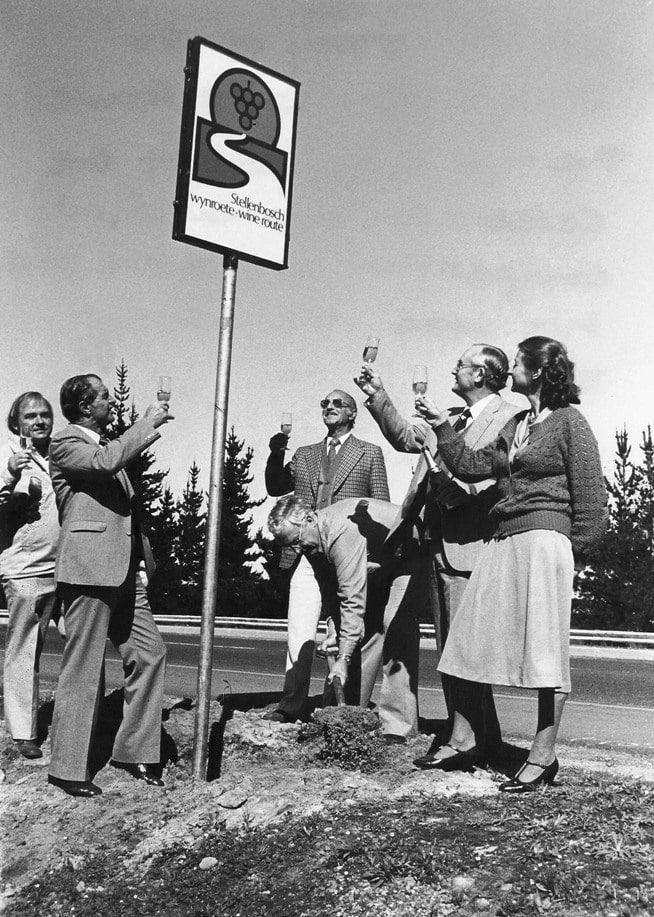 Of course, that's not to say that Stellenbosch hasn't always charmed visitors. An early one was the German astronomer and surveyor, Peter Kolbe, who lived at the Cape from 1705 to 1713 and noted that the 'colony' of Stellenbosch was divided into four parts: 'One bears the Name of the Colony, Stellenbosch: Another is called Mottergate: A Third is known by the Name of Hottentots Holland: The Fourth is called Bottelary.'
From south to north, he wrote: 'Hottentot Holland is by much the most fertile, commodious and pleasant Part of the Stellenbosch Colony. The Soil is every where mighty rich, and yields in Abundance whatever is sown or planted in it. From the large Corn-fields and spacious Vineyards and Gardens which [disgraced governor] Adrian Van der Stel enjoy'd here, he drew an immense yearly Profit.'
He said the name 'Mottergate' (Moddergat) derived its name from the mud which remained after heavy rains, rendering the roads impassable. 'The Lands here are very fertile; the Houses numerous and beautiful; and the whole Quarter as nobly distinguish'd by the Productions of Art and Nature, as any other in all the Colonies.'
In his opinion, the Stellenbosch division was 'altogether as fertile, pleasant and commodious' as Hottentots Holland. 'The Valleys of this Quarter are divided into Corn-Fields, Vineyards and Gardens; all of 'em so charming to the Eye, that it is never sated with gazing on 'em… Several fine Estates are situate on the Stellenbosch River, vying with each other for Beauty and Plenty. In short, the whole Quarter is in the most flourishing Condition; and hardly can either Art or Nature be wish'd to do more than they have done already to render it commodious and beautiful.'
Bottelary was the most northerly part: 'The Mountain separating this quarter from the Drakenstein Colony, is call'd the Horse-Mountain, because it was formerly a great Haunt of Wild Horses. And this is the only Place in all the Bottelary that can, I think, with any Propriety be call'd a Mountain. There is, indeed, another Place in this Quarter, call'd the Jossen Mountain, from one Jost, who first dwelt on it: But it is so low, that it cannot justly be ranked among Mountains. This Jossen Mountain is cover'd with fine Pasture-Ground and the most fruitful Fields almost up to the Summit… Upon the Jossen Mountain are likewise several fine Vineyards and Orchards, which bring a considerable yearly Profit to the Owners.'
Present-day owners of Joostenberg Wines are, of course, the Myburgh family whose hospitality knows no bounds at their Klein Joostenberg bistro and deli, located just south of the N1 (and therefore presumably deemed a sufficiently 'Stellenbosch' source of many delicious goodies included in Stellenbosch Wine Routes' 50th anniversary media drop). The Myburghs' winery and organic vineyards, however, are situated just north of the N1, very much in the southwest corner of less-heralded Paarl…
Boundaries may have changed over the centuries, but most travellers to the Cape paid a visit to Stellenbosch. 'Strangers,' wrote the German physician, botanist and zoologist Hinrich Lichtenstein in the very early 1800s, 'seldom fail to visit Stellenbosch; and people of property at the Cape Town also, in the fine season of the year, often make parties of pleasure to this fertile spot.'
Lichtenstein particularly enjoyed his own 'little excursion' to Hottentots-Holland where he said 'several large farms exceeded infertility, and in their pleasance appearance, any we had yet seen in the colony.' He found the wine to be 'most excellent' and claimed that 'many sorts, when eight of ten years old, are preferred by connoisseurs to Constantia'. At Vergelegen, he admired the eight or ten camphor trees that had been planted by Willem Adriaan van der Stel a century previously: 'But, alas! they seem declining with old age…' (How amazed he would be to see the so-called 'Big Five' still standing, over 220 years later!)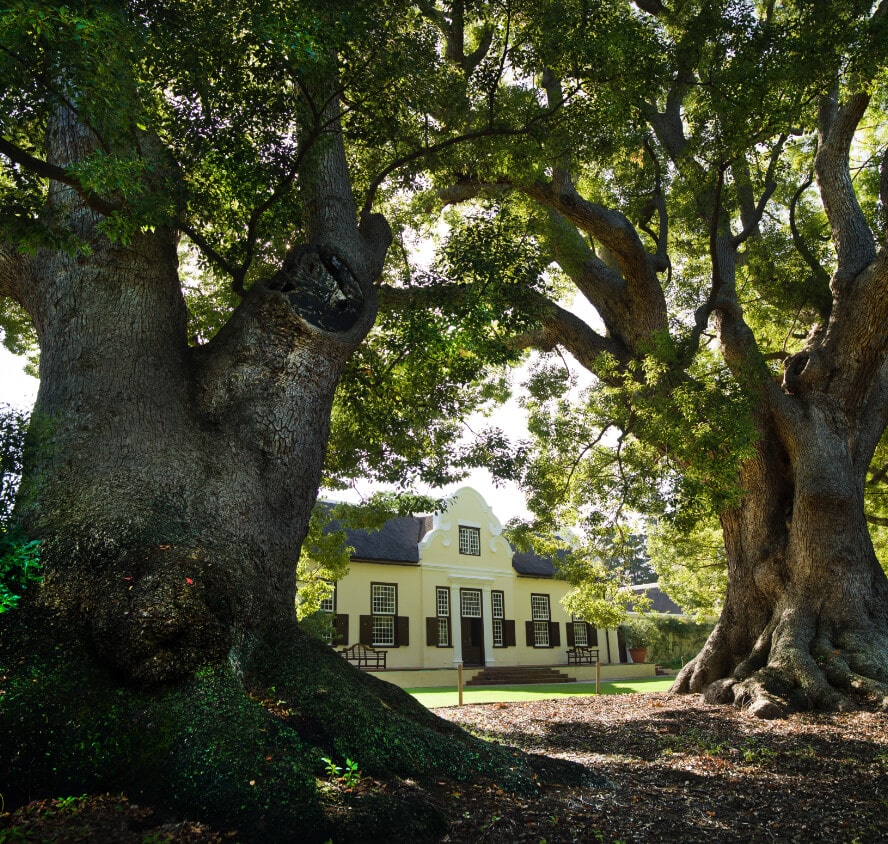 So popular was Stellenbosch as a destination, noted Lichtenstein, that some Stellenbosch locals offered accommodation to strangers: 'People frequenting these houses are not, however, received in the same manner as at inns in Europe; they are treated rather as guests; that is to say, they do not call for things, and pay for everything singly, but live with the family after their fashion, and pay at their departure so much by the day. The general price is three dollars a day for each person, and for this sum, they are well supplied with everything, European wines excepted; these, if required, are paid for separately. An Englishman, by name Caldwell, a jovial, well-behaved man, and a Hessian, by name Wolfrum, keeps the best houses of this description. Both are surrounded by agreeable families, with whose society the guests cannot fail to be pleased.'
A little googling reveals that Caldwell wasn't English but Scottish: he was William Caldwell, he arrived at the Cape on 26 January 1796, and he married Catharina Hendrina Bletterman less than three weeks later, on 14 February 1796. By August 1800 he had a warehouse at 25 Shortmarket Street and in January 1802 he moved to 32 Berg Street and opened a hotel – experience which no doubt stood him in good stead for his move to Stellenbosch in October 1803, when he started offering board and lodgings at the above-mentioned Marthinus Wolfferum's house. In April 1806 he was appointed Postmaster of Cape Town, and in January 1812 he was appointed Wine Taster for all Cape wines (!), moving back to Cape Town and selling his house in Stellenbosch. He died in January 1816, by which time his wife had been the postmistress of Stellenbosch for a few years – a post she would hold until 1846, three decades after her husband's death, very much in her own right.
Such are the interesting discoveries one makes while meandering through old records, just as wine tourists hope to stumble on hidden gems during their travels. The drive really is more rewarding than the destination sometimes, but how on earth do I convince my children of this?
Bibliography
Kolbe, Peter (translated by Guido Medley): The Present State of the Cape of Good Hope, Vol II, Containing the Natural History of the Cape, London, 1731
Lichtenstein, Henry: Travels in Southern Africa, in the Years 1803, 1804, 1805, and 1806, translated from the original German by Anne Plumptre, Henry Colburn, London, 1812
Joanne Gibson has been a journalist, specialising in wine, for over two decades. She holds a Level 4 Diploma from the Wine & Spirit Education Trust and has won both the Du Toitskloof and Franschhoek Literary Festival Wine Writer of the Year awards, not to mention being shortlisted four times in the Louis Roederer International Wine Writers' Awards. As a sought-after freelance writer and copy editor, her passion is digging up nuggets of SA wine history.
Help us out. If you'd like to show a little love for independent media, we'd greatly appreciate it. To make a financial contribution, click here. Invoice available upon request – contact info@winemag.co.za
Like our content?
Show your support.
Subscribe