Tim James: A new wine and other Sadie releases
1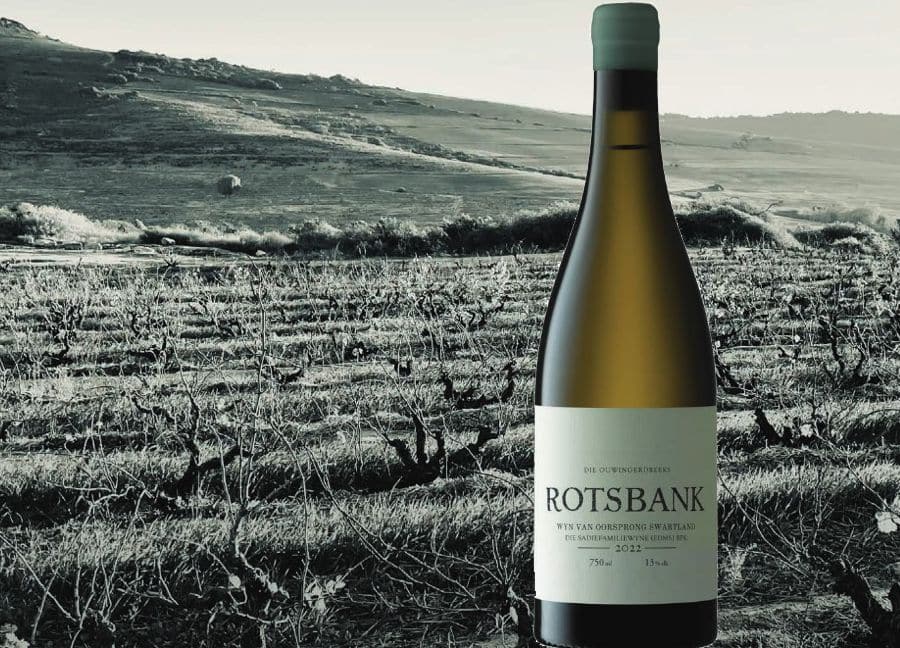 There were six wines in the 280 boxed sets of Sadie Family Wines' Ouwingerdreeks 2009, with labels featuring drawings especially made by William Kentridge. Not six standard bottles, as one was a half-bottle of a sweet muscat called Eselshoek (from the same vineyard that supplied 'T Voetpad), which soon disappeared from the range to no-one's real lamentation. Incidentally, that might make for a good wine trivia question, along with one about the first vintage of a Sadie wine called Palladius (a one-off 2000 red; even shorter-lived). Another wine trivia question of admittedly less import could ask who designed those initial Kentridge labels – the answer (probably never mentioned in print before) is, strangely enough, me.
The number of Old Vineyard Series wines soon swelled, despite the early deletion of Eselshoek, with the addition of Treinspoor, Soldaat and Skerpioen. But it took more than another decade, until now, for another wine to join the range – rather ironically, the first Swartland chenin blanc. It's called Rotsbank, the name linking nicely to that of the Sadie farm on the Paardeberg, Rotsvas, where the vineyard is. This is, in fact, the first Sadie Family wine from a Sadie-owned vineyard, which is pretty significant in itself. (See here for my account of the farm's enlargement and acquisition of the vineyard.)
Rotsbank Chenin Blanc 2022 is being released about now, along with the other Ouwingerdreeks 2022s and the 2021 Columella and Palladius. I'd tasted it from cement last year, but it was good to have it in bottle at a small trade tasting held on the farm recently (I wrote expansively about the 'T Voetpad 2022 last week, here.) So there are now three chenins in the range, and the good news is that they are not only all good, but really distinct – something that doesn't always apply when producers offer more than one chenin.
The 2022 vintage was a difficult one, especially in hot areas for varieties that didn't escape the heat spikes that significantly cut acid levels. Most producers who generally avoid adding acid will have been more or less obliged to have done so last year, even if they are reluctant to admit it (Eben and winemaker Paul Jordaan speak of a tiny degree of acidification in a few instances). In fact, the serious 2022 Swartland whites I've tasted so far have nearly all been great, only very few rendered a bit softly flat – probably because no acid adjustment was made.
For the Ouwingerdreeks wines it was a "dry and desolate" vintage, says Eben, one that, at least partly because of some earlier picking, resulted in generally the lowest-ever levels of alcohol across the range. All are between 13% (Skurfberg and Rotsbank) and 13.6% alcohol (Mev. Kirsten). Eben argues that "great sites have wider windows of expression capacities", but gave particular praise to the work of his viticulturist Morné Steyn and the team he's built up. Certainly all these wines – while many of them show a particularly early drinkability – are all well balanced, sufficiently ripely fruited, and of excellent quality; wines of elegance and finesse. Curiously, there is a general tendency to citrus notes, and to a slight phenolic expression, even amongst the whites. Whether it will be a particularly long-lived vintage I can't say; I'd guess possibly not, but we don't have enough experience to make a reliable call.
As to those chenins. Skurfberg has a core of lovely full, sweet ripe fruit (peach, pear, apple etc) in its citrusy shell and tannic hint. Persistent and elegant. Rotsbank – meaning "rock shelf' and so called for the rock beneath the very shallow soil, with cracks into which many roots have apparently penetrated – is less obviously about fruit. The lingering sweet fruit essence is there, but a herbal, scrubby note is more apparent, with a flinty-earthy character, and there's plenty of grip and a bright vitality. A fantastic and welcome addition to the range. And Mev. Kirsten… I confess I might have decided in advance that this would be perhaps my favourite white of the tasting as usual, and it did seem to me quite magical: great purity or aroma and flavour, with an intensity and volume that comes across as near-weightless – refined, precise, delicate, tense.
'T Voetpad 2022 I wrote about before. Skerpioen, the West Coast blend of chenin and palomino off chalky soil, perhaps lacks the bite it sometimes shows, but is succulent and stonily grippy. Ripe pineapple notes along with citrus, all in balance and very satisfying. Kokerboom is more angular, perhaps, tightly tannic and seeming particularly youthful. Plenty of semillon lanolin, with the lemony citrus shading into a riper tangerine on the finish.
The three reds are particularly attractive this year. I didn't much care for the hipsterish lightness of the previous Soldaat (Piekenierskloof grenache), but the rather darker-coloured 2022 is wonderfully delicious, and it was hard to resist swallowing all of my tasting portion. As I recall, I didn't succeed. It's extraordinarily perfumed, light and energetic, with depth and length, the tannins soft but firm enough. Pofadder continues to be one of the best arguments that cinsault can make serious wines outside being a great contributor to blends. Though less complex than Soldaat, it has depth and structure and a bright acidity. Still a bit raw, it seemed to me, needing time to attain the remarkable drinkability of Soldaat. Treinspoor, with more perfume than usual, continues on its lighter, more elegant trajectory, still with tinta barocca's big tannins but these in more muted form nowadays – lovely tannins they are, in fact, I must admit. "Tinta is 'n ding", says Eben, and probably he's right to push the grape's claims as he does. Though less harmonious than the other reds, in youth at least, it is arguably more profound, characterful and ageworthy.
I realise I do look forward to another addition to the Ouwingerdreeks: pinotage, if Eben could find a suitable vineyard, would be great. Incidentally, along with alcohols and acidities being mostly down across the range, volumes are also down. Prices are not, though they remain very much lower than they could be – hence the fairly short supply of many of wines.
Also released around now are the 2021 vintages of Columella and Palladius. I sometimes guiltily feel that these are such approaches to perfection and, as widely-sourced blends, much less susceptible to vintage vagaries, that they are that bit less exciting to encounter for the first time than the more changeable wines from (mostly) single vineyards. Palladius is now from 11 varieties and 17 vineyards, so there's lots of room to play and achieve the  complex intensity that makes it hard for me to write any notes approaching adequacy. Lamely, I will say that it's tight, focused, stony and altogether magisterial and splendid.
Columella is less obviously perfumed than the Ouwingerdreeks reds, but more obviously complex – spicy, fruity, savoury – with an extraordinarily subtle power. A bit wild, a bit tamed. Gorgeous texture.  All of the six varieties off ten vineyards and many soil types pull together; all is in fine balance, but greater, profounder harmony will come. No, after all, this wine is in no way less exciting; it's perhaps the most exciting of all.
Tim James is one of South Africa's leading wine commentators, contributing to various local and international wine publications. He is a taster (and associate editor) for Platter's. His book Wines of South Africa – Tradition and Revolution appeared in 2013.
Like our content?
Show your support.
Subscribe