Tim James: The appeal of Voor Paardeberg
By Tim James, 16 November 2020
If there is a South African wine ward with, pro rata, a more, and more varied, international presence than Paarl's Voor Paardeberg, I don't know it. Leaving the R45 and driving along the road skirting the gentle lower southern slopes of that sprawling granitic lump known as the Paardeberg, you first find Doran Vineyards, a partnership between the very local André Badenhorst and Irishman Edward Doran. (Nearby Taillard is being sold, so who knows there.) A little farther along is Vondeling, owned by a British partnership, with locally-based Julian Johnsen the prime mover; then, based at Sonop, the large Swiss-owned venture Jacques Germanier (though I have heard that Sonop has been sold to a local concern); next up is the historic Start van Paardeberg farm owned by the unmistakeably English James Reid, Operations Director at Accolade and partner of Chris Williams in The Foundry, which is now based there; and then we find Slent farm, home of Ayama Wines and of Michela and Attilio Dalpiaz, as Italian as their names.
That sounds very promising and interesting, surely – and the delivery is indeed impressive. The wines of the estates are overwhelmingly marketed under the ward name, itself something fairly rare in the Cape – the sad side of it is that it is no doubt prompted not only by proud self-assertion but also by a wish to avoid the larger, better known appellation, Paarl, whose image (as I discussed recently) is somewhat floundering. And that would be true also of many wines coming from other Voor Paardeberg grape-growers and sold to significant wineries elsewhere, from Ahrens via Momento to Radford Dale.
However, as Chris Williams of The Foundry suggested to me when I remarked on the general high quality of wines from Voor Paardeberg (his Grenache Blanc is one of the best known, even if many admirers haven't noted its origin), there does seem to be also something distinctive about the ward's wines, and this is something that will, hopefully, be increasingly brought out in years to come.
The quality was clear to me on my visit last week to two of the Voor Paardeberg estates, Vondeling and Ayama (my first time at the latter). In fact, time being limited, at both places I tasted only their grander wines, as well as touring the vineyards; both also have entry-level wines with good reputations.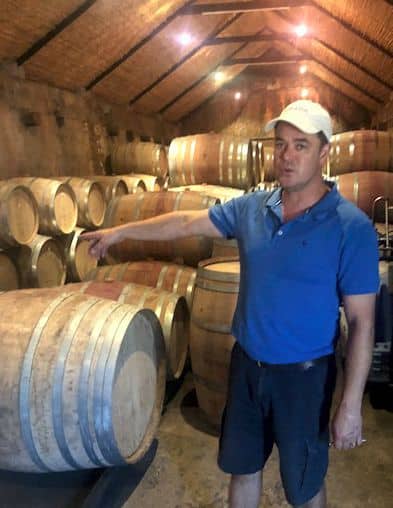 Vondeling is probably best known for its to Babiana blend of chenin, viognier, grenache blanc and Roussanne – always very good, and capable of rising to genuine excellence, as it does in the exquisite 2019, to be released shortly, with even more finesse and delicacy than the 2018 (a fine bargain at R230 ex farm – much less for Wine Club members). Also available soon, the new single-vineyard Bowwood Chenin Blanc 2019 is a little less impressive – forward, grippy and notably chalky; it seems very young and will probably blossom. Rurale is a méthode ancestrale, bubbly – in fact the Cape's first version of what is now a rather trendy style. The 2016 is appealing, with some leesy maturity and sweet appley flavours and a crispness fairly successfully struggling against the residual sugar sweetness. If you're willing to stray from MCC, the rather rustic charm is undeniable ("every year is an adventure" says winemaker Matthew Copeland, perhaps revealingly).
The Vondeling reds are generally ripe, full-fruited & rich in style, this generosity balanced by a firm structure. The Bowwood Pinotage 2017 and the shiraz-based Monsonia 2016 have a little sweetness on the finish, but are very well structured. Cabernet does perhaps surprisingly well in the Voor Paardeberg. The Barrel Select version (2018, R160) has good cedary dryness and a clean freshness and firm tannic structure to control the richness, and the pricey (R855) Philosophie 2015 Bordeaux-style blend takes this form and depth to a higher, more intense and impressive level.
Vondeling is doing a lot of work in its vineyards, with a lot of pulling out and replanting (though a new grove of almond trees takes advantage of the comparatively plentiful supply of water on this side of the Paardeberg, one of the main differences from the Swartland-side kloofs). And extensive vineyard work is also very apparent at Ayama, where Attilio Dalpiaz is putting great and considered effort into retraining vines, to maintain quality while improving the yields of mature vines. It's also worth noting that both of these substantial estates are also devoted to preserving the integrity of the chunks of mountain that they own, and the owners seem as proud of their unique flowering plants and captured film of playing leopard cubs as of their wines.
With Attilio amongst Ayama's vines, in the cellar Michela rules (she had plenty of winemaking experience in her native Friuli). The great attraction here is the Vermentino – the white grape that they introduced to the Cape from Italy. Getting it through quarantine and into the ground was a long process, begun not long after Attilio and Michela bought the farm in 2004 (the story told on the informative Ayama website). But worth the effort, especially as the aromatic and flavour character of the wines offers something different from anything else grown here. First vintage was 2016 and I tasted the three subsequent vintages – the 2017 showing bottle development but still fresh and aromatic, the 2019 revealing a greater intensity, I thought, perhaps thanks to the maturing vines; all of them made to respond to different vintage conditions. Incidentally, the unusual label image derives directly from the pattern made in the foam created on top of the maturing vermentino must.
A red partner to the Vermentino since 2017 is the Carignan, also old-oaked – light-feeling and charmingly pretty, though ripe and not without power. Also notable are a subtly unfruity, fresh and bright Chenin Blanc, and a firm unoaked Pinotage which stylistically falls happily rather closer to the light, new-wave versions than more old-fashioned, extracted and sweetly powerful ones.
There's clearly a real dynamism in Voor Paardeberg these days and it should be better known than it probably is. The leading producers are already addressing this, I believe and will be working together (including some from the Swartland side of the Paardeberg) to help develop the character and the reputation of the area, which undoubtedly has much to offer winelovers and wineland-tourists.
Tim James is one of South Africa's leading wine commentators, contributing to various local and international wine publications. He is a taster (and associate editor) for Platter's. His book Wines of South Africa – Tradition and Revolution appeared in 2013
Attention: Articles like this take time and effort to create. We need your support to make our work possible. To make a financial contribution, click here. Invoice available upon request – contact info@winemag.co.za
Like our content?
Show your support.
Subscribe