Tim James: Vinous adventures on the Cape South Coast
By Tim James, 12 September 2023
2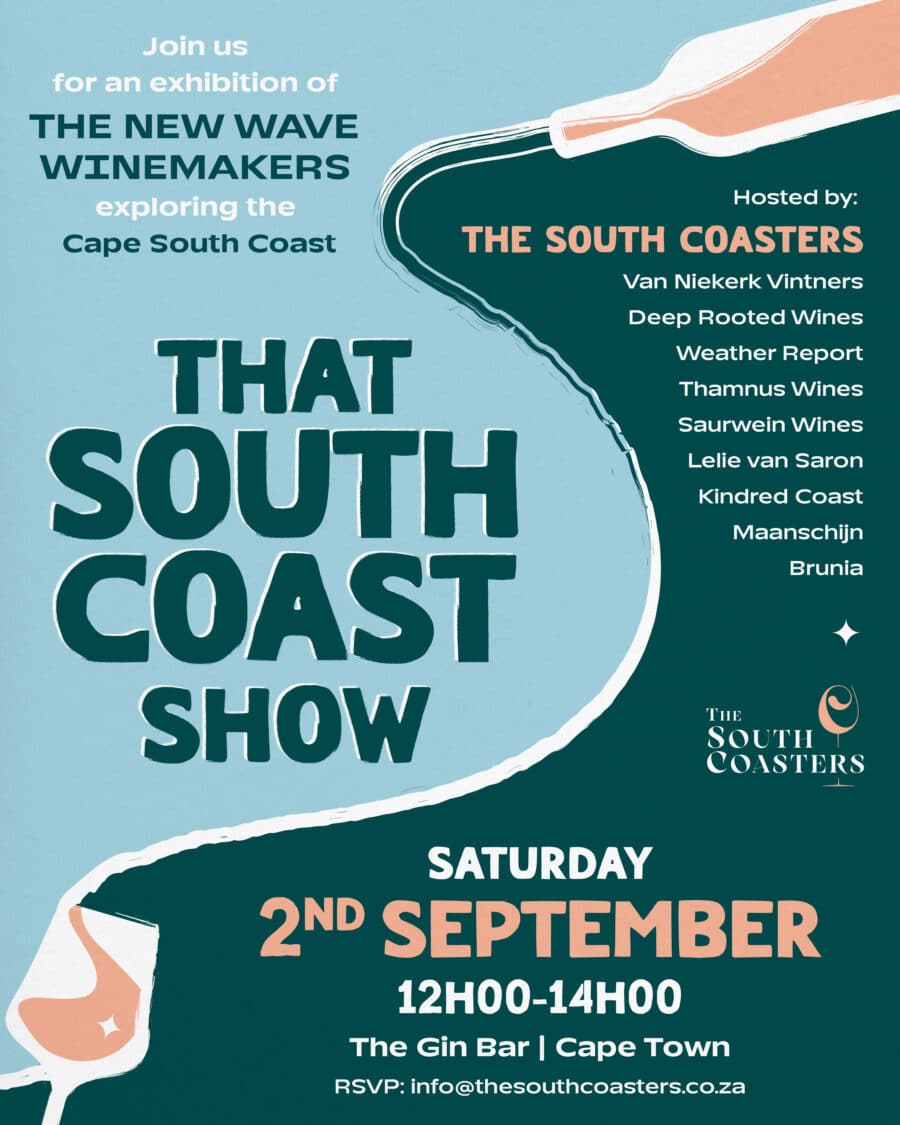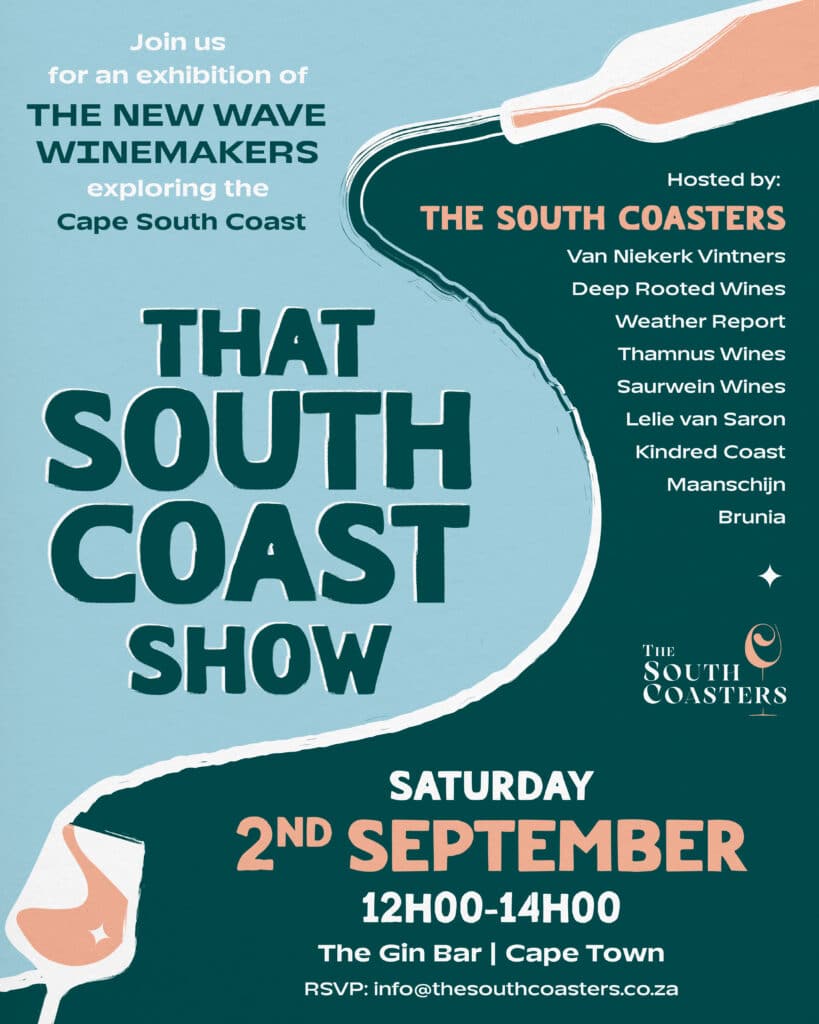 Armed mostly with a sense of duty, I arrived at the tasting put on recently in Cape Town by the South Coasters feeling somewhat jaded by three months of tasting for Platter's (working through in that time, I suppose, the number of wines that Tim Atkin whizzes through in a few days). A few hours later, I left feeling rather exhilarated. It was all a bit like the earlyish days of the revolutionary Swartland: a bunch of (mostly) young winemakers, enthusiastic, ambitious, and hungry, excited about their explorations of their rediscovered landscape, and making generally interesting, original and rather good wines. The whole world ahead of them.
At their inaugural joint tasting a year ago, there were eight members of this group (their introductory website here). This year two comparatively well-established producers have joined the ranks. Firstly, Saurwein, following the move of Jessica Saurwein and family to a farm near Stanford (she, being ill, had husband Roland Peens showing her two fine pinot noirs, Om and Nom, and the Chi Riesling; the pinots, incidentally, the priciest wines in the room). The second new member, but sadly more completely absent at this event, is Charla Haasbroek Wines – Charla (Bosman) is also winemaker at Sijnn, making her the farthest-flung member of this group, most of whom are scattered across the Walker Bay district.
One of the many things about the wines on show that pleased me (and I can't mention them all here) was the méthode ancestrale / pétillant naturel bubblies. It's a category I'm rather hesitant about, generally finding them a bit too unpredictable, rustic and unpolished (probably that's why many people value them, of course) and too often sweetish. With this method of bubbly-making, it's hard to calculate the final residual sugar across the whole bottling, but the South Coasters seem to have the whole pet-nat process well controlled. Natasha Williams has one in her Jade range and there's one in another introductory-level range, Maanschin's Brunch Club; both dry and delicious. Deep Rooted Wine's Free the Bubble version, fragrant, appley & bone-dry, emphatically clinched my resistant conversion to the possible joys of this style.
It's no doubt a sign of the early state of their journeys that many of these winemakers have "day jobs" alongside their own labels. Both Albert van Niekerk of Van Niekerk Vintners (with the pure-fruited, light and elegant grenache called Rebellie, and the softly textured, fresh Sonwater from chenin with clairette to add to the brightness – and to its connection with the famous and rather sweeter Lieberstein of the 1970s) and Chris Keet of Weather Report are based at Gabriëlskloof, and make their wines there
Chris Keet is actually a viticulturist there. As for his Weather Report wines, specialising in cab franc, they epitomise the excitement of this grouping in that they seem to get better with each vintage. His wholebunch-fermented top wine, Flight Farm 2021 from Elgin, has scrubby, dried-herb notes, as does the more widely sourced Atlas, but this is more intense, deep and focused, with a firm structure. A welcome and interestingly different contribution to the ever-growing and useful category of Cape cab franc.
Also with a day job, but hers has now moved from Bosman to Hasher in the Hemel-en-Aarde, is that elegant winemaker with a light touch, Natasha Williams. Her Lelie van Saron Chardonnay 2022 and Syrah 2020 are drinking beautifully, though still youthful, and particularly worth looking out for as they are well priced for the quality (under R300 retail). Another well-balanced chard, and a pinot, come from PJ Geyer (with wider-ranging experience behind him than most of the younger members of the group) under the Thamnus Wines label, based just beyond Hemel-en-Aarde Ridge. And much further beyond Hemel-en-Aarde, is a pinot from Brunia in the Sondagskloof – albeit not quite up to his Syrah (no example of this at the tasting)
Then there's more from Mark Stephens's Deep Rooted Wines. As well as that pet-nat, there's also an old-oaked sauvignon blanc, Journey to the Centre of the Universe – a fine wine that's perfect for those who don't usually really enjoy sauvignon. (See here for Christian Eedes's review of his current releases.) Wade Sander at Brunia has made another such characterful and "different" sauvignon, textured & nutty after extensive ageing in barrel – it worked for Andrea Mullineux's Leeu Passant Radicales Libres chardonnay when Wade worked there and, unlikely as it might seem, it works for this sauvignon. The standard Brunia Sauvignon Blanc (2022 on show) also revels in "untypicity", if not quite as deeply.
And yet another great use of sauvignon comes in the Manschijn Herbarium Cape White 2022, where it's blended with chenin, semillon and chardonnay. Jumping to the Herbarium Cape Red,  I confess that in my recent musings on new-wave pinotage, I'd forgotten about this pinotage-based blend, the 2022 with mourvèdre and syrah. It's gorgeous perfumed, but much much more than charming, with deep fruit, a firm structure and lingering dry finish; not too light at all. (See here for Christian's enthusiastic review.)
My final brief mention is for another White and Red pairing, the Kindred Coast couple from Hermanus-based Stu Botma, which impressed me even more this year than last. They are from vineyards close to the sea and, he says "an ode to the ocean and its maritime influence". Especially the Captured Reflections White Blend, which "tells a story of place". Again, sauvignon blanc is triumphantly (just) in the lead , with traditional semillon and also an untraditional 8% of viognier (adding more breadth and texture than aroma or flavour, I think) and a positively revolutionary dollop of nouvelle (responsible for the bit of phenolic grip says Stu). The Red Blend is less about place, he says, than about, precisely, achieving a satisfactorily expressive blend. An unusual one in that mourvèdre is in the lead (45%), with grenache & syrah. There's perfume and flavour but I particularly enjoyed a streak of elegant severity to the dry, fine, tannic structure.
That pair of wines should be under R200 retail, perhaps leading the bargains still coming from the Cape South Coast. Again, I'm reminded of the earlier days of the Swartland revolution…. These young men and women should go far, and bring some new renown to the Cape South Coast: they might well also (at least some of them; I hope all of them) become greatly successful and rich in their middle age. And perhaps even occasionally a touch blasé and arrogant in their success. But for now, I can enjoy the sense of adventure and excitement, the excellence of their wines and, in many cases, the prices too.
Tim James is one of South Africa's leading wine commentators, contributing to various local and international wine publications. He is a taster (and associate editor) for Platter's. His book Wines of South Africa – Tradition and Revolution appeared in 2013.
Like our content?
Show your support.
Subscribe