Tim James: The new-wave South Coasters step forward
By Tim James, 10 October 2022
1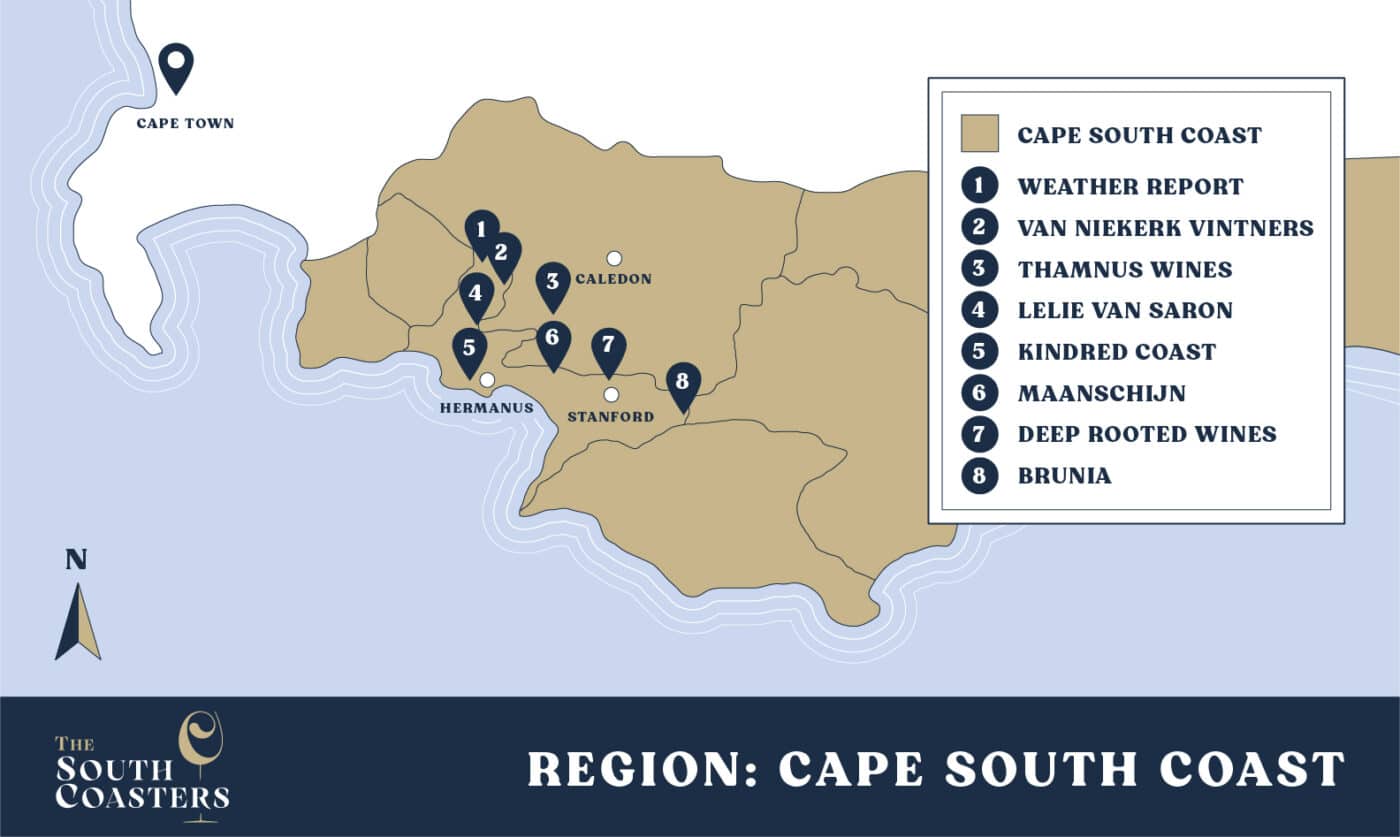 The buzz in the room, the quality of the wine, the solidarity of the (mostly) youthful winemakers, and their obvious shared confidence, pleasure and excitement in what they were doing reminded me of the early days of Swartland Independent Producers – before those guys started getting old and successful and rich and their great joint project apparently withered away.
This was the inaugural tasting of a group (at present eight producers) calling itself the South Coasters, a name with the eminent usefulness of indicating where they come from. Some of them had taken part in another inaugural tasting I attended last November – that of the Stanford Wine Route – but I gather that this new group is now going to be the focus of their marketing energies. Absent this time were, notably, the more establishment Raka and Boschrivier, and there were a few newcomers. The tasting was held in central Cape Town, just before the start of Cape Wine, and seemed to have successfully swept up many of the local and foreign attendees at the major function. I should think the event did the South Coasters a lot of good.
For there's clearly something new bubbling away in the hitherto lesser-known parts of the southern Overberg (mostly the Walker Bay district), . It looks to me as though it's going to be very productive of interesting and high quality wine. It's abundantly clear that there is plenty of good terroir here, with the benefit of a comparatively cool climate. There's energy and passion, a lot of skill, and a determination to make wines that reflect their origins.
The South Coasters I've known longest are the energetic Paul Hoogwerf and Doug Mylrea, the boys from Maanschijn. They started off – rather bumptiously, perhaps – in 2017, and I've liked their light, fresh, honest wines more each vintage since then. Now, I reckon, they've properly settled down with a sensible but still still exciting vision, and a handful of totally desirable wines. Their slightly more modest range, called the Brunch Club, is now also available locally, which it hasn't always been. 
There's a Méthode Ancestrale 2022, from the organically farmed sauvignon blanc block on their family-owned piece of land just outside Hermanus. Very nice, flavourful and fresh, though just a touch too sweet for me (as so many pet-nats tend to be, given the difficulty in controlling the fermentation). I prefer the Brunch Club Dry White, from the same sauvignon block, half the grapes on their skins for three weeks. A successful, subtle and interesting wine at 11.5% alcohol. The riper and richer Cape White 2021, in the touch pricier Herbarium range (R230 vs R200), also has sauvignon – along with chenin, semillon and some muscat: an original, lively wine with a deliciously fruity, succulent acidity as well as savoury depths. Believe it or not, there's a touch of sauvignon even in the Brunch Club Dry Red, though rather more syrah and grenache. Fresh, dry and utterly delicious. As is the Herbarium red, which has more than half pinotage, along with syrah, mourvèdre and grenache. An excellent example of the new wave approach to pinotage, even more welcome in those ranks because it is a blend, somewhat rarer than straight pinotage in a light, fragrant style; this one beautifully dry and attractive, at 12.5% alc.
If Maanschin does interesting and untypical things with sauvignon blanc, so too do two other Cape Coasters. I wrote recently (and enthusiastically) about Brunia, so I won't say much here about their version from Sondagskloof, or their other wines – except to say that the Syrah was probably the finest red wine in this tasting, which is saying a lot, given the company.
The other brilliantly different sauvignon here was Journey to the Centre of the Universe Blanc Fumé 2021, under Mark Stephens's Deep Rooted label: elegant, dry and stonily subduing sauvignon's exuberance. I greatly admired Mark's natural-feeling wines before, and this tasting confirmed it, starting with the wonderfully dry and fragrant méthode ancestrale called Free the Bubble. The carbonic-fermented verdelho, Touch Me 2022, also has a stony element, a tannic edge from the 16-day skin contact, and the fine texture that the name calls attention to. Somehow I missed tasting the red, a cooler-climate syrah called Before the Dawn, but can almost imagine it, having so enjoyed the character of his whites. Mark is a consultant "regenerative viticulturist" as well as a winemaker and one can only hope his influence spreads widely.
There are two winemakers in this group who have day jobs at the Gabriëlskloof cellar near Bot River, which is where they make their wines and where I first tasted them a few years back. Viticulturist Chris Keet concentrates on cabernet franc for his Weather Report wines. Atlas 2020 is a step-up on the already-good 2019. A wholebunch component adds to the texture, as Chris says, and to the considerable charm I would add. But it's also well constructed and firm as well as elegantly light-feeling. A great pleasure.
Albert van Niekerk (who works with Crystallum and Thorne & Daughters) has a red and a white in his Van Niekerk Vintners label.  Rebellie 2020 is an almost pinot-like grenache with interest as well as charm, light but substantial with informing tannins. Usefully in the sort of light-red space occupied by Sijnn Saignée, for example. Sonwater 2021 is a fresh, balanced wine from chenin with 10% clairette, modelled, Albert says, on the old Liebersteins – though dry and less simply fruity, one should note.
Completely new to me is Kindred Coast, which has Stuart Botma for "Director of Fermentation", as his business card has it, with wines called Captured Reflections – from vineyards in the region 25 km or less from the coast. A forwardly aromatic white and a light red from mourvèdre, grenache and syrah with lovely pure fruit on the nose, some gently informing tannins, but not a great deal of depth.
Also new is Thamnus, an estate between Hemel-en-Aarde Ridge and Caledon and sharing the Hemel-en-Aarde focus on chardonnay and pinot. Winemaker is PJ Geyer – whom I last met a few decades back when he was winemaker for Alain Moueix's lamented Ingwe. His Chardonnay 2021 is forward and generously proportioned, though fresh and lively; the Pinot Noir is lighter, brighter and fruity. Two wines representing, perhaps, the only new oak barrels at this tasting! And another label to watch.
And now only Lelie van Saron to mention. I wrote about Natasha Williams's own label a year back – hers is a great story but her wines deserve the story. The grapes are from Bosman vinayards in the Hemel-en-Aarde, where Natasha is winemaker. The excellent Chardonnay 2021, dry and stony but with a rich core of sweet fruit, is perhaps the Lelie star, but the Syrah 2020 is also well worth looking out for. Natasha now also has a label called Jade, and offered here a very successful, dry méthode ancestrale from chardonnay and – rare, this – pinot blanc.
I must say, I left this tasting feeling better disposed to pet-nat than I have felt before. Coupled with my greatly enjoying three sauvignon blancs … there's clearly plenty going for the new-wave Cape South Coast. I suppose we knew that already – but this group of winegrowers is offering a fresh perspective on it. May they thrive.
Tim James is one of South Africa's leading wine commentators, contributing to various local and international wine publications. He is a taster (and associate editor) for Platter's. His book Wines of South Africa – Tradition and Revolution appeared in 2013.
Like our content?
Show your support.
Subscribe