Dried Spaghetti and Tinned Fish for Lockdown
4
A very good friend of mine has been emailing a group of us recipes every day. She calls the project "Recipe4Disaster". So far, we've had 14 themed emails, each employing "storecupboard ingredients".
But my friend is a chef. To some chefs – have you noticed? – "storecupboard ingredients" are things like wonton wrappers, smoked paprika and dried forest mushrooms. Not my friend; she makes beautiful breads, soups and cakes with things like lemons, handfuls of dry lentils and ageing yoghurt. My favourite ingredient so far was "one very red, starting-to-wrinkle tomato".
I've even had a mention. She's shared a few recipes from Star Fish, my book about sustainable fish. It gave me the idea to share some recipes with you. These all use tinned fish and dried spaghetti. As the weather turns cooler, I think we'll all appreciate an easy, umami-rich comfort supper – along with a glass of wine.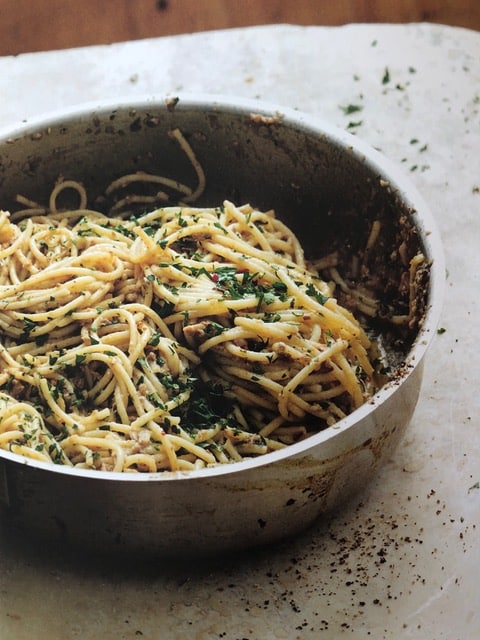 The Best, Easiest, Southern Italian Pasta Sauce
There are very few ingredients here, but I urge you to leave nothing out. The chilli flakes give the dish its essential heat and depth and the chopped parsley gives it a deep green freshness. This recipe serves two.
¼ pack dried spaghetti (preferably Barilla no 5)
1 (120g) tin of sardines in oil, mashed
4 anchovies, chopped up
2 generous pinches of chilli flakes (or more, if you like)
2 tablespoons (or more) chopped, flat leaf parsley
Put the spaghetti on to cook while preparing the sauce. In an another pan, over a low heat, put the mashed sardines, with the anchovies and chilli flakes. Add a splash of the warm pasta water and mix. Add another splash of water until the mixture becomes slightly creamy and then make sure its all warmed through. Drain the cooked spaghetti and add to the fish with 1 tablespoon (half) of the chopped parsley. Mix it all up, taste and add S&P as needed, perhaps even a squeeze of lemon. Serve in two warm bowls and scatter with the remaining chopped parsley.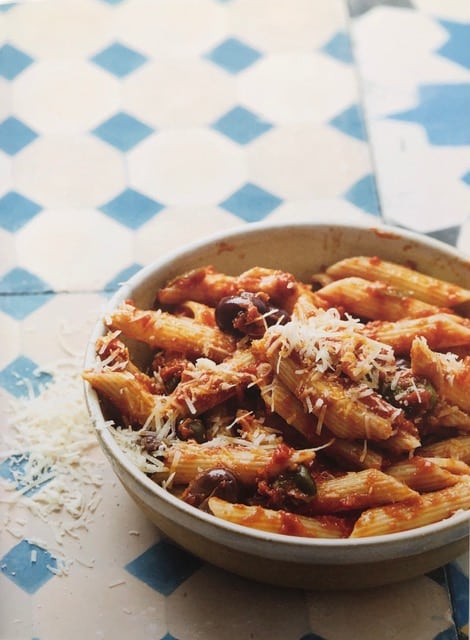 Spaghetti Puttanesca
Puttanesca sauce, as everyone by now knows, means "Whore's sauce". Perhaps this is what you get if you've somehow manoeuvred to stay past your paid-for hour: the replenishing comfort of the spaghetti, the sting of the chilli and the triumvirate of salt – anchovies, capers and olives – to restore your fluid balance. It doesn't hurt that it's a licky, salty, slurpy, burny dish; it adds to the sexiness. This sauce is so delicious it banishes high salt concerns. It serves three to four.
1 tin chopped tinned tomatoes
8 – 10 anchovy fillets
8 – 10 black or calamata olives
1 tbsp capers
1 fresh chilli, deseeded and thinly sliced
1 garlic clove, crushed
2/3 pack spaghetti (preferably Barilla no 5)
Tip the tinned tomatoes into a jug and blitz with a stick blender until smooth. Cover the bottom of a non-stick frying pan with oil and set on a medium heat.
Meanwhile, boil the kettle then get a big pot of salted, oiled boiling water on the go. Add the pasta.
Add the chilli and garlic to the pan. Fry very briefly then add the tomato. Now let the sauce gently reduce as the pasta cooks. Stir it frequently.
Put a small handful, about a tablespoon, of capers on a board. Now stone a similar volume of olives: a small handful, or about 8 – 10 olives. If you press your thumb onto an olive the skin will split and you should be able to remove the stone easily. Place the anchovies on the same board. You should have three similar-sized piles. Now add the three piles to the sauce. Stir, then season with pepper. Serve on the cooked pasta.
Anchovy Pasta
Ingredients-wise, there is overlap here with the previous two recipes. All three make use of chilli, garlic and anchovies. But there is a difference here. This recipe celebrates anchovies in their own right. It serves two.
200g spaghetti (preferably Barilla no 5)
3 tbsp extra virgin olive oil
6 – 10 anchovy fillets, depending on you
1 red chilli, deseeded and finely chopped (or a pinch of chilli flakes)
2 cloves garlic, sliced thinly (or 1 tbsp garlic from a tub)
salt and freshly ground black pepper
Start by adding the spaghetti to a pot of fast-boiling, salted water.
Now heat the oil gently in a small, non-stick frying pan. If you are mad for anchovies, add some oil from the tin. When the oil is hot, add the anchovies and chilli. Crush the anchovies gently so they "melt" into the oil. After two minutes or so add the garlic. Cook for less than a minute. Don't allow the garlic to colour.
Drain the pasta, then toss it with the contents of the pan. Serve with an additional swirl of your best extra virgin olive oil and a good grinding of pepper.
The current virtue of using storecupboard ingredients is that it keeps you indoors and away from the shops for a third or fourth day. In the case of the recipes above, the added virtues are the health properties of oily fish. They contain high levels of Omega-3 fatty acids and Vitamin B-12, for instance. In terms of sustainability, Star Fish gives tinned fish high marks. Cold water fish like Sardines, Pilchards, Cape Horse Mackerel and Herring reproduce fast and in great numbers. The method of capture does not damage the ocean: shoals of silvery fish are caught mid-water. The recipes above lose points because of air miles. There is such a thing as the Cape Anchovy, but all our tinned anchovies are imported.
Daisy Jones has been writing reviews of Cape Town restaurants for over ten years. Star Fish (Quivertree, 2014) won Sunday Times Cookbook of the Year and 702 Best Cookbook of the Year. Four years after the book's publication, WantedOnline named Star Fish one of its top five SA cookbooks for Christmas.
Like our content?
Show your support.
Subscribe