Chefs Warehouse Winebar & Pinchos, Cape Town
The cheese plate arrives: It's the size of a tabletop, a great slab of dark slate scattered with grapes, figs, a chalky white cheese, another the colour of a convent candle… there are shavings of manchego, homemade crackers, bread and two different quince preserves. It's laughably big, but it looks like a Dutch still life so we ooh and aah appreciatively. My dessert arrives moments later: it could fit in the palm of my hand.
It might be able to fit on the paw of a kitten, or under the wing of a small bird. It is the tiniest dessert I have ever seen, and I am outraged. I do not love squashed-up-together-and-teeny anything – especially when my husband is being fed like a Medieval king at a victory feast.
We are at Pinchos, where the original Chefs Warehouse used to be. The food is "sumptuous Spanish… tapas-style", according to the website. We have enjoyed our savoury "apertivos" and "pinchos" and now we are indulging in "postres", the sweet course.
I push a teaspoon past the piled-up berries, mini-meringues and honeycomb shards. I'm trying to get the sherry cream. That's why I ordered this dessert. I loved the idea of a boozy custard cream. Now there's a topping of bitter chocolate blocking access to my pudding. When I finally get a spoon of the sherry cream to my mouth, all is forgiven.
Jerez gracious. The best way to describe the taste is a cross between a very good, very creamy crème brulee and a very well-made, strong liquer chocolate – but that doesn't even do it justice. There's a slight lemony finish that rescues it from Christmasy richness. It's just absolutely delicious, a beautiful smooth texture – and the kitchen didn't cut corners with the sherry. There's none of the sharpness of cheap liquor (that you get in an inferior trifle, for instance). Pinchos owner Liam Tomlin and head chef Gordon Logan uncork the good stuff for their Jerez dessert.
Jerez is a city in southwestern Spain noted for its sherry. In fact "sherry", is an anglicization of the word Jerez (just as Jerez is the modern form of Xérès, the name of the Andalucían region where the best Spanish sherries are grown and produced).
At this stage size no longer matters to me. In fact I'm glad I haven't been overfaced. The cream is rich. The honeycomb is very sweet – as it should be. The berries are a delicious counterpoint. The bitter chocolate marries beautifully with the sherry cream. The tiny meringues deserve a special mention. They are light as air, and also with a lemony flavour. I could make an argument for spacing out the elements of the dish on a plate in order to aid appreciation of each constituent part of the dessert. But here's the argument for hiding the sherry cream in a little copper pot under a fruit headdress of toppings: it's precisely that the cream is hidden. You have to go looking for it. It is treasure. Your spoon will pick up bits and pieces – a berry, a meringue and a bit of dark chocolate – on the way.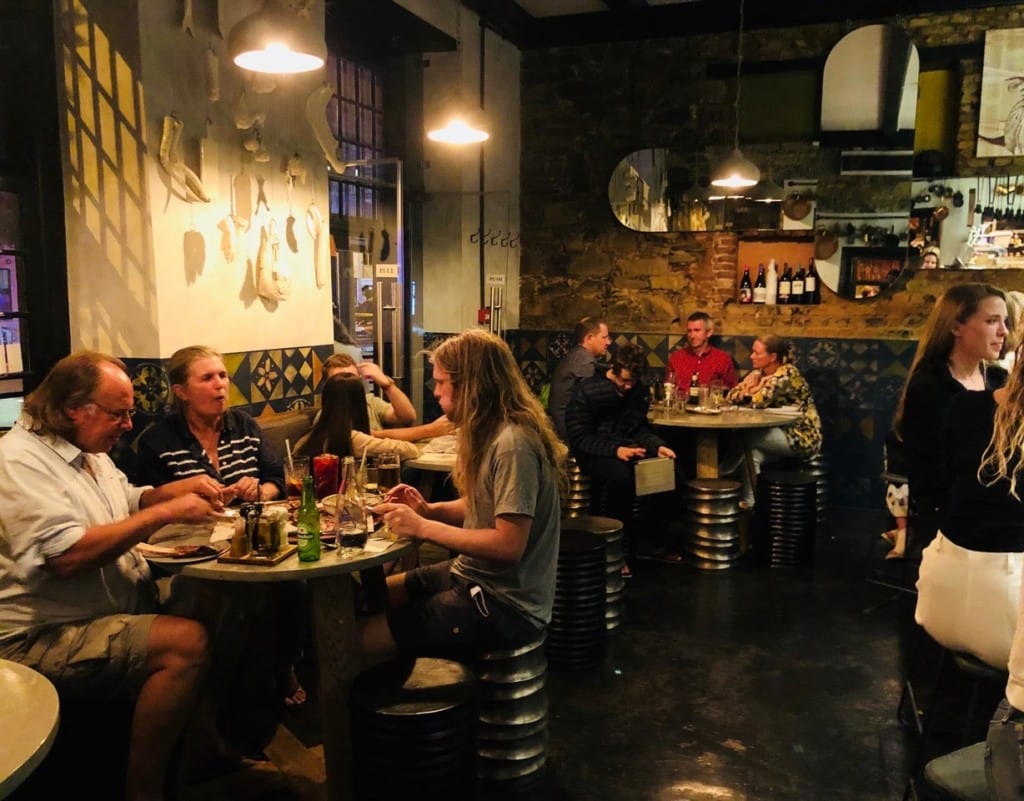 The look and feel of Pinchos is informal. There's exposed brick and raw wood. The patterned tiles and bullfighting posters remind us that we're eating Spanish food. The logo is a big green olive with bull horns sticking out its pimento tongue. There's some charcuterie out on display. That's nice to see. Chorizo is Spain's national sausage and the making of Spanish ham – jamon – is taken very seriously (the best jamon is made from blackfoot pigs, and comes from the province of Iberia).
Our calamari starter is enriched with slices of rust-red, fried chorizo. It also comes with fried garlic, anchovy and lemon. The calamari is perfectly, deliciously tender. On the whole, the dish hits all the right sweet, salt, sour and umami notes.
The tomato salad knocks the lights out. The dressing is superb, made with Spanish olive oil and best quality vinegar. Pinchos shares space with a winebar, so that may explain why liquid ingredients on the menu – from the sherry for my dessert to the olive oil and vinegar here – are remarkably good. The tomato salad is all luxury: the heirloom tomatoes are the hero, but made more heroic by the additions of pickled garlic, marinated white anchovy fillets and sliced of manchego, a hard sheeps' cheese.
I like the sardines and tomatoes on toast, but the dish is similar to the tomato salad, and not as good.
I don't like the doughy, comfort-type dishes as much as the salads and proteins. The croquetas are as they should be: crispy on the outside and tasty on the inside (very generously cheesy and oozy in the case of the manchego balls). I find them a little uninteresting. The magenta-hued salt and vinegar sprinkle that has been rained upon the salt and vinegar churros is a low point. It reminds me of those shakers of flavoured salt for popcorn.
Next time I might try the dressed oysters, spicy grilled peppers and 36-month aged jamon. I doubt I'll be brave enough to order morcilla, the blood pudding with caramelized apple and hazelnut.
Here's what I don't understand about Pinchos. There are several very expensive, big-enough-for-two dishes available as main courses. The seafood paella is R720. The grilled aged beef rib eye is R650. Mussels are available as a main-for-two, as is pork belly, and tuna belly.
These dishes certainly fit the website description of "sumptuous", but why not offer individual portions? I did see a pair of young women sharing a paella. But then one would have to forego starter and dessert, surely?
It makes sense to me that diners might be keen to try Spanish food that doesn't come on a small plate and go well with a cold beer. The tapas trend has been with us for a decade now so maybe it's time we move beyond the starter menu.
Tapas is always tempting, but why not a main like grilled chorizo, smoked lardo and pickled tomatoes? With a bottle of Spanish red? We might have space for the cheesecake with orange, and plum jam. There might be a Spanish sherry to go with that.
It won't be easy to skip the tapas-style appetizers and starters, but I need to remember my Jerez dessert. It was exquisitely prepared and the sherry was top-notch. I already trust Liam Tomlin. I should have put more trust in Logan. Delicious tapas dishes are within reach for anyone with Spanish ingredients and a deep frier. Not any chef can master paella and aged rib eye. Based on my experience of his food at Pinchos, Logan is a chef who can.
Chefs Warehouse Wine Bar and Pinchos is not Tomlin's only new restaurant. He also recently opened Mazza at Heritage Square in Shortmarket Street. Chefs Warehouse Tintswalo is relatively new. Chefs Warehouse at Beau Constantia, Thali and Chefs Warehouse at Maison are more established.
Chefs Warehouse Winebar & Pinchos: 021 422 0128; 92 Bree Street, Cape Town; Chefswarehouse.co.za
Daisy Jones has been writing reviews of Cape Town restaurants for ten years. She won The Sunday Times Cookbook of the Year for Starfish in 2014. She was shortlisted for the same prize in 2015 for Real Food, Healthy, Happy Children. Daisy has been a professional writer since 1995, when she started work at The Star newspaper as a court reporter.
Help us out. If you'd like to show a little love for independent media, we'd greatly appreciate it. To make a financial contribution, click here. Invoice available upon request – contact info@winemag.co.za
Like our content?
Show your support.
Subscribe