Russian Tea Ceremony at Hazendal, Stellenbosch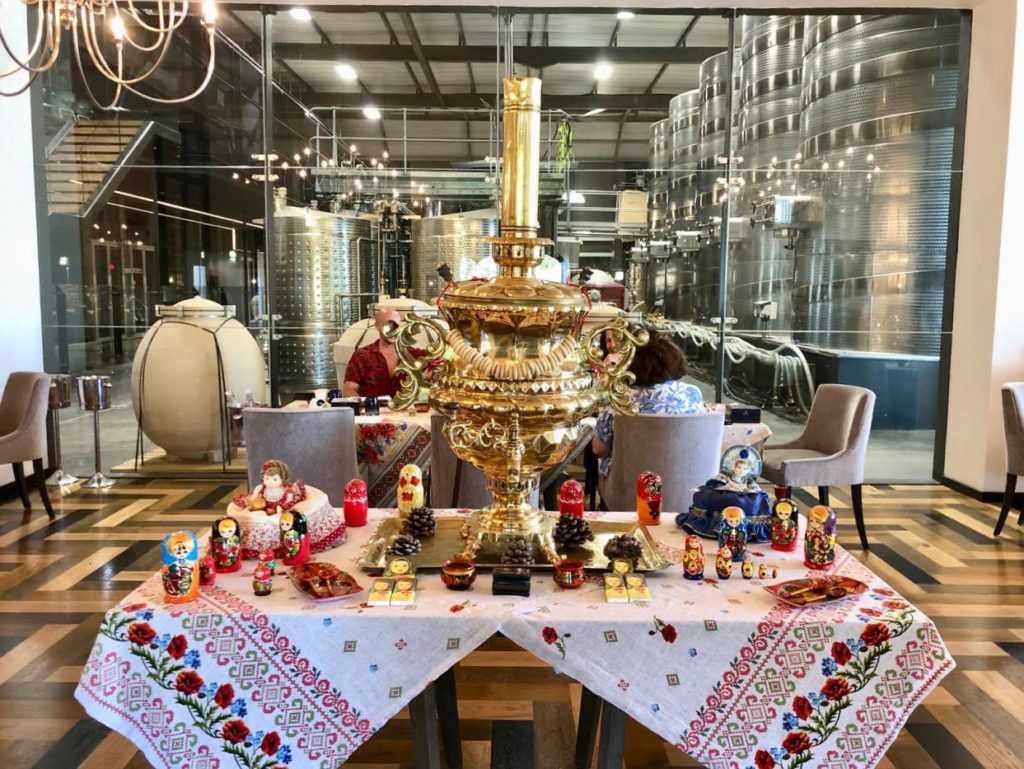 "Never mix the jam in the tea!"
We all stop what we're doing.
"No, you never mix the jam in the tea. You take a little bit of jam with the spoon – see? – and put the jam in your mouth."
The jam is raspberry, and a very good one too.
"Now drink the tea over the jam. That's how you get the sweetness."
Ina Gran Voloshin is hosting us for a Russian tea ceremony at Avant-Garde Restaurant on Stellenbosch property Hazendal. Ina's father, Russian-born Mark Voloshin, owns Hazendal. Established in 1699, it's one of the oldest wine farms in the area.
Behind us, through glass walls, is Hazendal's working cellar. Here in the fine-dining restaurant, chandeliers hang from the hand-painted ceiling. Valuable oil paintings of Russian landscapes are displayed on the walls. In the centre of the room, on a long table, is what looks like an unliftable gold trophy – with a chimney on top.
This is a giant samovar, a traditional Russian tea urn. A fire is lit in the centre of the samovar. Traditionally the petals of pine cones are dropped down the chimney to keep the fire going. The fire heats the water in the urn – the body of the samovar – and a metal teapot is balanced atop the chimney. This is where the tea brews.
We have our own, smaller samovar on the table. We are careful not to clatter our teacups in their saucers. The cups and saucers are gold-rimmed porcelain with a hand-painted paisley design. They were created by Dulevo Porcelain Works, one of Russia's oldest and most famous porcelain producers. The saucers are deep enough to act as bowls for very hot tea. Russians sometimes pour their tea out to cool it, Voloshin tells us.
This is an eyebrow-raising moment. Slurping tea from the saucer during high tea? There are many things that distinguish a Russian tea from an English one. We already know about eating jam off the spoon. We'll be having potato and cabbage later. What makes sense of this high tea is Russia's climate.
Hazendal imports zavarka, the Russian black tea that brews on top of the samovar's smoke stack. The tea itself has a distinctly smokey taste. Why? Voloshin says early Russian importers of Indian and Chinese tea would travel long distances across the Asian continent, cooking on and sleeping next to wood fires. By the time the tea was sold, a smokey flavour had permeated the leaves. Today, zavarka is made to taste smokey.
"We don't add milk," she says.
Russian tea, prepared in a traditional Samovar, is as strong or as weak as you'd like it to be. Water from the urn is added to the cup – as much as nine times the volume of the tea – in the same way that you turn an espresso into an Americano by diluting it with boiled water.
Berry jam, Voloshin tells us, made more sense as a sweetener than sugar in the Russian climate. When Russians started buying sugar, it would be destroyed by wet and cold. But jam made with sugar and local berries would last. According to Hazendal's website, the Babushkas – the grannies – would make the jams in summer "in preparation for the long cold winter evenings ahead".
When a Russian home receives guests, tea is served with baranki, the ring-shaped biscuits that decorate the samovar, hung on a red ribbon around its middle.
Voloshin reminds us that the sun is very important to Russians and these circles symbolize the sun. They also stand for wealth and prosperity. Baranki are not cookies. More like a cross between a rusk and a bagel, they are bready biscuits sweetened with vanilla. Warm from the samovar, they are pretty on the plate and delicate in taste.
When our eats arrive, Volshin explains that this is a meal with tea, not a tea with snacks. Hazendal's Russian tea is an ideal lunch for those with a sweet tooth – or anyone who likes to eat their way through a plate of crafted delicacies. Who wouldn't like that? It's the culinary equivalent of opening one small, expensive gift after another on your birthday.
Except that there's an order here. We start with the savouries – Olivier salad first – before moving onto the sweets.
The Olivier salad is no ordinary potato salad. The potato cubes are teeny. There are smaller cubes of carrot and pickle. The mayonnaise is creamy, not tangy. The dressing is a coating, not an overpowering, soupy mess.
Pancakes are not difficult to make. The blinchik on the plate is a slice of rolled Russian crêpe with a cheesy centre. Crumpets are not hard either. The oladyi at Hazendal is topped with herbed sour cream and smoked salmon. The elements are simple, but the execution is perfection: flecks of dill in the sour cream and an onion ring on the blinchik so thin and crisp it might blow away.
This tea is an interesting mix of homely comfort and palace-ready perfection. We've forgotten that smoked salmon is a treat for survivors of bitingly cold climates, surrounded by icy seas. One of the piroshok – stuffed buns – has a braised cabbage and potato stuffing. Yes, cabbage. Because soft greens won't grown in sub-zero temperatures. When you start to think of what's beyond the samovar and the hearth – the forests and frozen earth beyond the frosted windows – the richness of these tea treats takes on a greater significance.
Looking at the array of eats, one is reminded of Parisienne pastry art. The honey cake displays expert layering. But the decoration of the apple cake and cheese tart seem to be inspired by palaces and jewels: mini onion domes of icing; gold leaf and clusters of ruby-red berries.
Michelle Theron is the executive chef at Avant-Garde restaurant. Her CV is impressive. She has cooked in Michelin-starred restaurants in Holland, and several respected kitchens in the Cape: De Volkskombuis, De Oewer, Laborie and the Cape Grace Hotel (alongside the late chef Bruce Robertson). Before Avant-Garde, she was executive chef at Pierneef à La Motte.
People drive long distances for Theron's Russian honey cake (Medovik). You can tell it's special just by looking at the tea plate: the Medovik slice is centrally placed, with a chocolate babushka balanced on top. This is an iced, filled sponge of multiple, caramelized layers. It's a very technical cake and Theron smashes both the execution and taste. The look made me think of elegant Viennese coffee houses, warmly lit. The honey taste brings something of the countryside.
The pryanik – ginger cookie – is soft and dark; gingery and sweet with brown sugar. The dome of Royal Icing is saccharine, with a crisp edge and soft inside. It's as white as cloud. The pryanik looks like a snowball and tastes like Christmas.
The zephyr is Barbie pink, sprinkled with lipstick-coloured candy. At first glance, I thought the sprinkles might be Space Dust. The zephyr did not look like it had any place on an adult plate of food. It was surprisingly heavy when I lifted it – it's stuffed from the bottom – and the taste was subtly fruity. The meringue kept the texture light. In spite of looking like the skirt of a fairy's ballgown in Unicornland, it was a lovely confection.
The Russian apple cake – Sharlotka – was decorated with edible gold leaf and an impossibly thin disk of dried apple that seemed to float at an angle above the cake. It reminded me of painted Russian icons with gold leaf haloes.
My friend Jo liked the vatrushka, the sweet cheese tart, best. It reminded me of a French fruit tart; one with crisp pastry, glazed fresh fruit and a custard filling.
Hazendal calls itself "the Russian cultural centre in the Western Cape" and mounts exhibitions and events to promote cultural exchange.
Russian tea at Hazendal happens every day except Monday, between 10am and 5pm. There's a gluten-free menu, and menus for vegetarians and vegans. Hazendal is generally family friendly: a child's tea is R255 and comes with Russian-themed colouring-in pages.
The Full Kremlin Experience includes 15g of Beluga caviar and a bottle of Hazendal's pink bubbly, the Methode Cap Classique 23.5 Blanc de Noir 2018.
The farm is running a four-for-three special this February: pay R1 185 for three teas and get four. Bookings are essential and require a minimum of 24 hours' notice. Full pre-payment is required.
Hazendal: 021 903 5034; Bottelary Road, Stellenbosch; Hazendal.co.za/the-russian-tea-ceremony/
Daisy Jones has been writing reviews of Cape Town restaurants for ten years. She won The Sunday Times Cookbook of the Year for Starfish in 2014. She was shortlisted for the same prize in 2015 for Real Food, Healthy, Happy Children. Daisy has been a professional writer since 1995, when she started work at The Star newspaper as a court reporter.
Attention: Articles like this take time and effort to create. We need your support to make our work possible. To make a financial contribution, click here. Invoice available upon request – contact info@winemag.co.za
Like our content?
Show your support.
Subscribe