Veld and Sea, Cape Point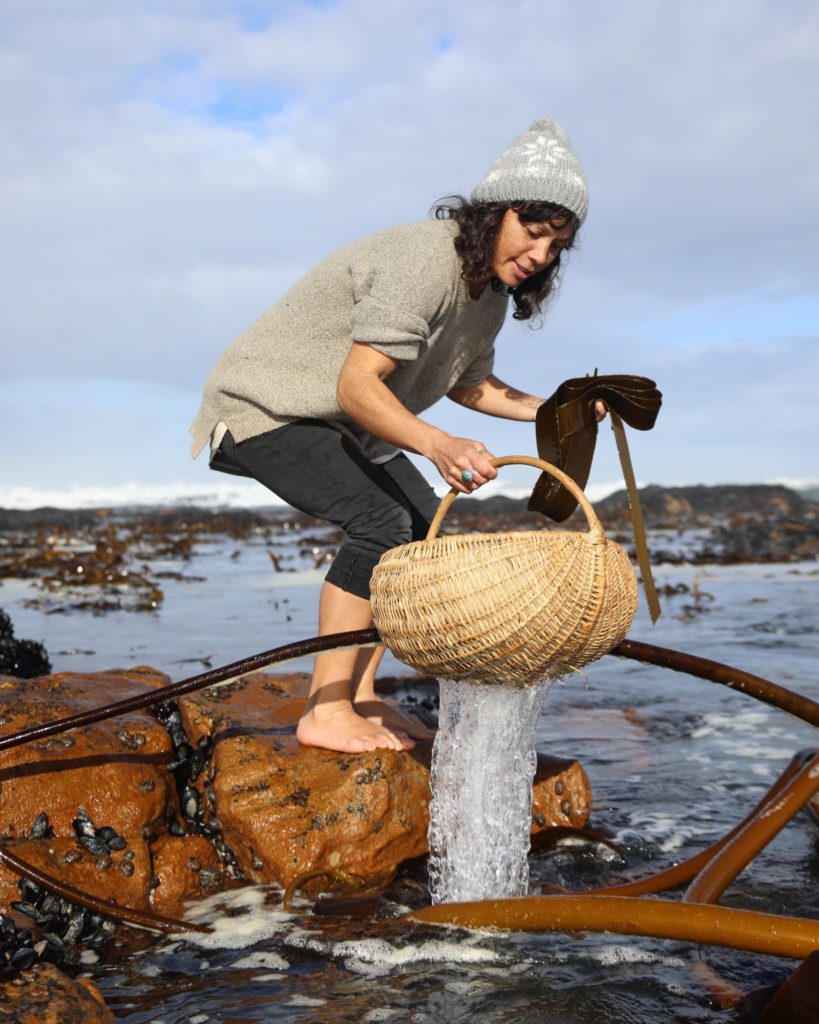 "If you're doing a vegan feast, this one is a showstopper."
Roushanna Gray is talking us through a three-course meal in "the glasshouse" at the Veld and Sea Centre near Scarborough. All the dishes we're eating – from the nori chips to the mussel pot to the sea slaw and even to the brownies and ice cream – contain seaweed.
She directs our attention to the pieces of rust-coloured, skinless and seedless tomato flesh on our plates.
Someone in the group has a nibble. "It tastes like tuna!" the guest exclaims.
Gray nods and smiles. The tomato pieces have been marinated overnight in soy sauce and seaweed. Gray has us make a "rugby ball shape" of sushi rice with our hands. We spread some vegan mayonnaise on top and add a tomato piece to create vegan sashimi. It's delicious. The mayonnaise is superb: creamy, lemony, and thick. The rice is very sticky, with a light sprinkling of black sesame seeds. And yes, the marinated tomato tastes not unlike tuna.
Veld and Sea's coastal foraging trips are not new. For eight years, hundreds of people have been led among the rock pools in intertidal zones. Foraging in pristine rock pools with a huge sky overhead and the soundtrack of breaking waves, Gray's guests have collected sea lettuce, tongue weed, wrack, nori, mussels, limpets, urchins, and kelp – and they've sat down to a meal made with these ingredients afterwards. It's what Gray calls "completely immersive, interactive learning".
Gray is passionate about sharing her knowledge. She's a great teacher: calm and in control, an expert on the health-giving properties of Cape seaweed and molluscs – and their almost unbelievable nutritional value – but she doesn't brag about the quality of the lunch.
The food is really good. Before becoming interested in wild food and founding Veld and Sea, Gray ran a tea garden, creating teas and baking tea-time treats. Gemma Hancock, who works with Gray, is a sous chef.  As foodies, part of what Gray and Hancock love about foraging is that they now cook with what they see and smell around them. For Gray, there is no longer the "disconnect" of cooking with bought ingredients. As any keen eater knows, things taste better when you eat them where they grow.
When we arrive back from foraging we drink a kelp and chai fynbos tea. It's like rooibos on steroids. The taste is so complex, so layered, it reminds me of mulled wine. It's herby, spicy, fragrant, fruity and warm. The list of ingredients it contains is long: lemon verbena, tiny buchu leaves ("not commercial buchu"), mint and more. The herbs are all from the garden here. The overriding taste is of freshness, with not a hint of packet mustiness. The same will be true of everything we eat for lunch.
In the garden, as we divide up our harvest into bowls of water, we can smell the braai. We're going to watch Hancock make a giant mussel pot over the coals later. But while the shellfish relax and spit out any bits of sand caught in their shells, we gather around an outside table to start the limpet ceviche.
The limpets, like the mussels, are still alive. One is clinging to the side of the enamel bowl. Hancock shows us how to extract the meat from the shell using a spoon. We are less squeamish now than we were on the rocks earlier, when another of Gray's "mermaids" cut open a live urchin with scissors and offered us morsels of orange meat on a mussel shell. The taste of that live urchin – sweet, rich and sea-flavoured – cured us of our qualms. We've also been nibbling on bits of sea lettuce and "sea pretzels" fresh from the rock pools.
The limpet is tough. We all get a chance to slice and mince the meat. It looks like a bit like chopped bacon rind. We're wondering now if the ceviche might be the dud of the meal: the one that's impressive in principle, but poor in execution. There's always the danger, when people are passionate about an idea – as Veld and Sea are about the connecting potential of forgaging — that righteousness replaces art.
The mussel pot will almost certainly be delicious. This is a tried-and-tested recipe, after all, and the mussels are as fresh as can be (we took alien Mediterranean mussels, with their wider profile, leaving the indigenous black mussels on the rocks). Hancock is using a base of onions and fresh herbs, along with white wine, coconut and dairy cream. She adds small amounts of thinly sliced kelp and tongue weed (which will act as a sauce thickener).
We needn't have worried about the ceviche, or any other part of the meal. We realise that as soon as we try the nori chips. The thin, dark seaweed we collected has been roasted in a hot oven and sprinkled with sea salt. The crunch is crackly perfection: very light and very crisp. The taste is earthy – like potato chips – but fresher. There's a greenness to the taste. The saltiness is absolutely clean, without a hint of chemicals.
We roll sea lettuce and seagrass into our sushi hand rolls. The seaweed adds richness. We didn't need avocado.
The ceviche is excellent. The limpet is chewy, yes, but it's been "cooked" in the citrus juices and flavoured with ginger. Minced cucumber, diced pineapple, pepper and tomato bulk out the dish. The taste is as zesty and fresh as it should be, but with a meatiness that isn't always present in a white fish ceviche.
The mussel pot is even better than we anticipated. The sauce is the perfect consistency: thin but luscious. There is a delicacy here that delivers on every serious chef's promise to work respectfully with natural ingredients, freshness and seasonality.
The coconut, strawberry and kelp ice cream is a masterclass in subtlety. The interplay of fresh strawberries, coconut cream and the faint vegetal saltiness of the kelp makes the dish change in the mouth from naturally sweet to naturally savoury – and back again.
What Gray and Hancock are capable of doing is drawing out layers of umami flavour from rockpool ingredients.  This requires a high degree of culinary skill. The type of umami seaweed offers is subtle and fresh-tasting. Gray describes umami as "nature's MSG". This "fifth taste" – after salt, sweet, sour and bitter – is the deeply savoury, moreish taste you get from red meat, strong cheese and ripe tomatoes. Umami-rich dishes like bolognaise can be pushy in the mouth and heavy in the stomach. But the sea-water flavour of shellfish and seaweed keep the taste light.
Gray and Hancock work with this light umami to create dishes that are energizing and fresh, with an unexpected degree of complexity. The quality of the food suggests that in their years of working with foraged ingredients, Gray and Hancock's cooking has gone from strength to strength.
Gray is currently writing a wild food cookbook. It's likely to contain the kind of recipes Gray and Hancock favour for their lunches: simple, everyday dishes to which foraged ingredients can be added or used to replace supermarket ingredients. Gray is not a purist when it comes to drying, preserving or fermenting foraged ingredients for the pantry.
Veld and Sea's five-hour coastal foraging workshops only happen in summer. The last one of this season – and the only one that is not already fully booked – is on 1 May in Plettenberg Bay. Alternatively, Gray is co-running a Free Dive Forage Weekend in the Simon's Town area over Easter. She is also offering a coastal foraging webinar on 25 April.
Veld and Sea: veldandsea@gmail.com; Veldandsea.com
Daisy Jones has been writing reviews of Cape Town restaurants for ten years. She won The Sunday Times Cookbook of the Year for Starfish in 2014. She was shortlisted for the same prize in 2015 for Real Food, Healthy, Happy Children. Daisy has been a professional writer since 1995, when she started work at The Star newspaper as a court reporter. She is currently completing a novel.
Attention: Articles like this take time and effort to create. We need your support to make our work possible. To make a financial contribution, click here. Invoice available upon request – contact info@winemag.co.za
Like our content?
Show your support.
Subscribe