Beau Pick-Up and Go – Chefs Warehouse Beau Constantia
Ivor Jones's wild honey and lavender dessert should be world-famous. It should be like pizza or burgers. It should be ordered and eaten that often, all over the world. More to the point, it should be as common on menus as Crème brûlée, the classic French dessert that provides its jumping-off point.
I have eaten Jones's deconstructed, garden-inspired signature pudding three times: twice at Chefs Warehouse overlooking the valley of vines at Beau Constantia, and once at home with my family, the table littered with dirty forks and scraped-clean takeaway boxes.
The messiness of our table this weekend did nothing to detract from the brilliance of this deconstructed dish. The crèmes came in dear little glass pots, decorated with the teeniest lavender flower petals. A chunk of honeycomb was sent separately.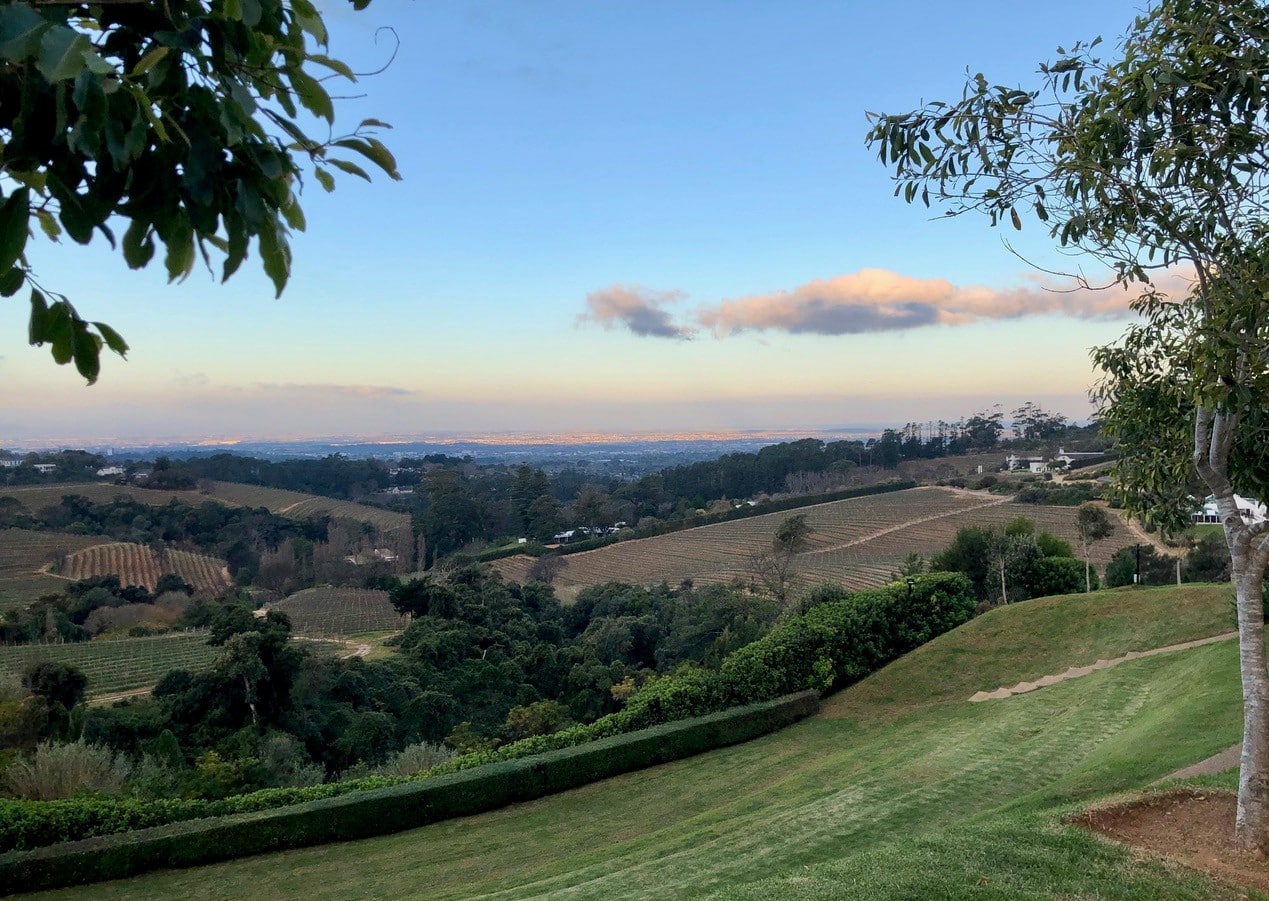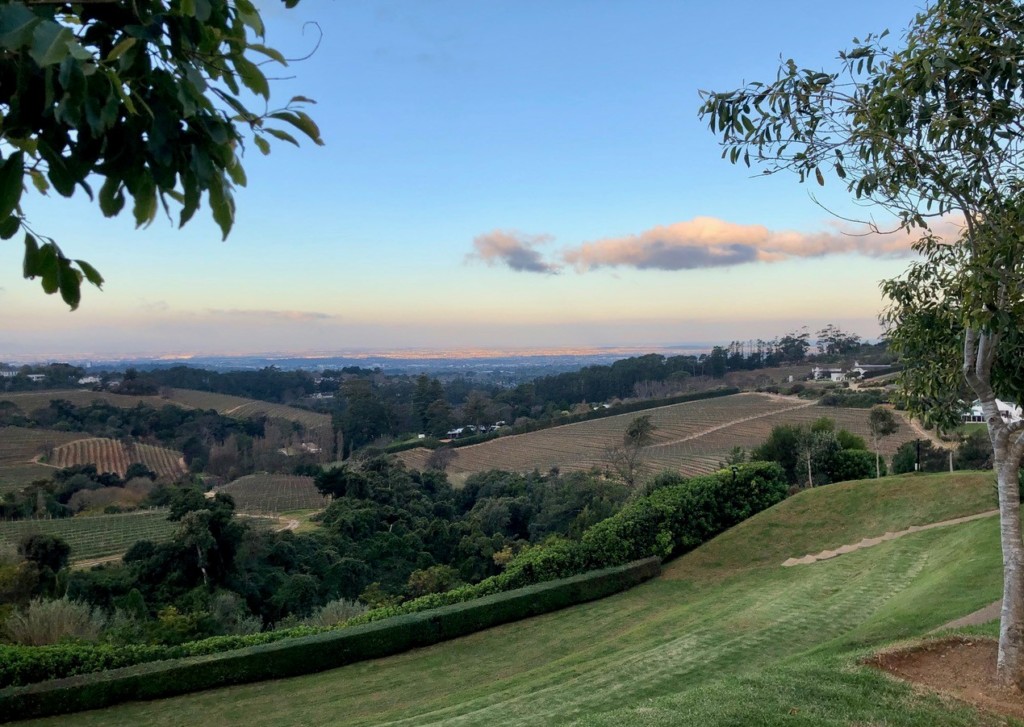 "We use wild honey from the West Coast," chef Sarah-Lee Cuppleditch told me when I collected our take-away meal from the wine farm at dusk on Saturday. She was wearing full chefs' whites and through the windows behind her, the sky was fading pink over the patchwork vineyard. She is one of five chefs – including Jones, the man himself – who line up along the pass at weekends to finish dishes and chat to patrons about any final preparations required to be done at home.
"We make the honeycomb separately so you get that strong caramelization. If we did it as a topping the custard would curdle."
Jones is greedy for extremes, in the best way. He wants as much flavour as he can possibly get into one bite, and as much fragrance as he can get into one whiff. The fresh honeycomb smells as strong as whisky: smoke, sugar, heat and grass. The cool crème beneath plays with the musty-sharp taste of the lavender – the rosemary taste is gone; the soapy smell is gone; the rose perfume remains – and the wild honey comes through with all its herby-sunniness.
Given Jones's standing as a chef, it almost goes without saying that the texture of the custard is creamier than seems possible – is there such a thing as triple cream? – and the honeycomb is perfectly crisp and crumbly (and doesn't get stuck in your teeth like the centre of an ageing Crunchie bar).
It's an exquisite pudding – and wholly accessible. It's like a nice meadow: sometimes it's an oil painting by an Impressionist master; sometimes it's a nice enough spot for a picnic with toddlers.
The main course – a lamb pie with an oozy cheese centre – is similarly unpretentious. Yes, the lamb ribs are cooked for twelve hours in red wine and a mirepoix (oil, onion, carrot and celery) base. Yes, the oozy centre comprises a proper bechamel sauce and matured cheddar. Yes, the shortcrust pastry is at once strong and flaky. But this is a pie that my twelve-year-old son described as "the definition of heaven". It would satisfy a French gourmand and a lover of cheeseburgers to the same degree.
This is the genius of Jones – and indeed the Chefs Warehouse group of restaurants. All six of owner Liam Tomlin's establishments walk the line between fine dining and crowd-pleasing comfort food. It's reflected in the style of food ("fine dining quality global tapas", according to the CW website) and it's reflected in the pricing: R400 each for five courses from Beau Constantia. Compared to other "top ten" restaurants, this is a just-affordable take-away treat – especially as there's no need for babysitters, or Uber, or marked-up wine.
Interestingly, Jones appears to be taking more and more inspiration from his excellent kitchen garden at Beau Constantia. I see it as a mark of his creativity and maturity. It doesn't take a genius to extract flavour from meat bones and truffles. Creating a flavour symphony with raw leaves and raw fish ain't so easy.
I wondered at first why it was Jones himself who finished the first course on the pass for us. I assumed he was first in line because he was the leader of the team. I wonder now if he presides over the first course because it represents what he's most interested in at the moment.
"Chefs Larb of Linefish" is inspired by a meaty salad that's the unofficial national dish of Laos. Also eaten in Thailand and China, a larb incorporates lime, chilli, mint, other fresh herbs, fish sauce and toasted rice.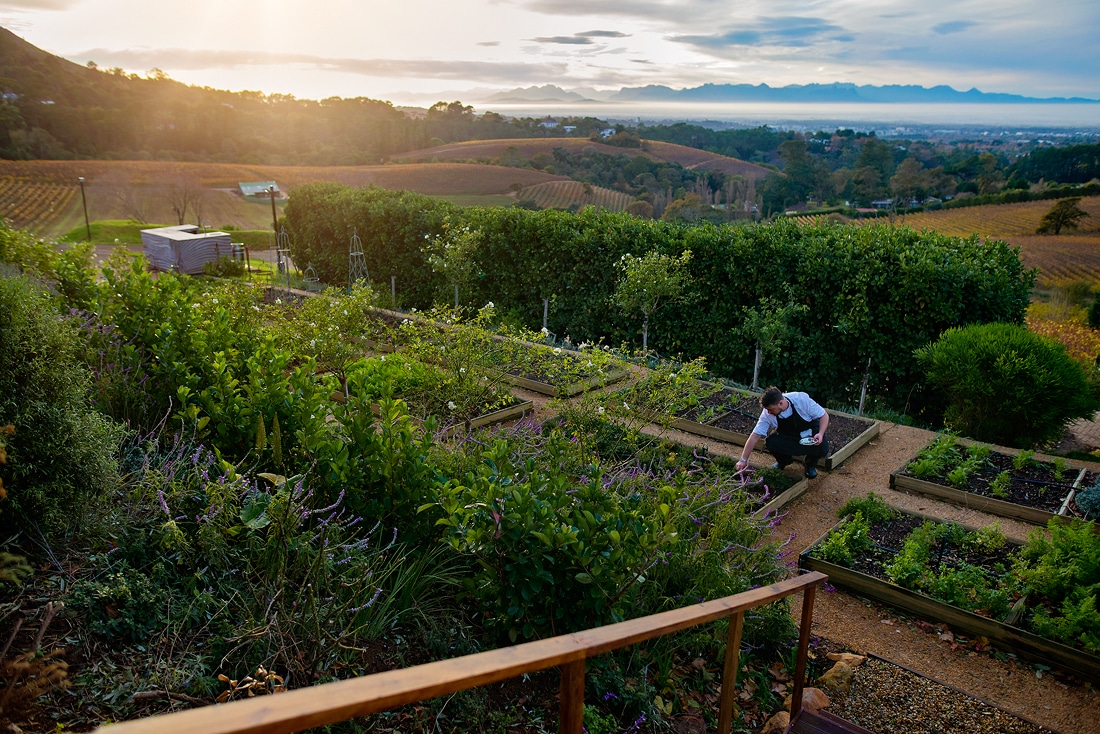 "This is catmint, or catnip, from the garden," Jones tells us. He tweezers basil leaves and threads of fresh Thai lime leaf onto yellowtail sashimi. He has us smell the rind of a frozen Thai lime.
"They're so amazing. But you can't import them. So we have someone grow them for us."
Jones chuckles and tells me he paid someone in fresh tomatoes to keep the garden watered during lockdown.
Further down the pass, fresh wild rosemary from the garden is used to finish the chicken liver parfait and venison course.
Jones and his team seem determined that the first three courses of the meal shouldn't lead up to the "main", fourth course – but instead that every course should be equally intense, starting with the first.
The first course is all zing. There's that zesty lime leaf and rind. There's chilli and spring onion. There's a toasted palm sugar and coconut "crunch". The dressing is tart and hot. The yellowtail itself is velvety. Honestly, this course is like your first plunge into the ocean at a seaside resort. It's very refreshing and very exciting. It's a total reset button for your tired, end-of-the-day palate.
The coal-seared tuna course is luxurious but not rich. Ginger provides a more gentle heat here. The condiments are a revelation: there's a miso sour cream to run your tuna slices through and a chunky Cantonese black bean dressing for piling on top. This is the heavenly settling-in course. It's sun on wet skin and the soothing sound of the ocean.
The third course is almost startling. Chicken liver parfait is topped with raw, pressed venison slices. This is then topped with many sprinkly things: among them deep-fried Jerusalem artichoke flakes, chestnut crisps, dehydrated raspberries and pickled shiitake mushrooms. At home, as requested, I heated a sachet of truffle butter, poured it over and served the dish with oven-warmed bread (five cute rolls, each coated with salt, lamb fat and rosemary, squeezed into a little circle). Chicken livers plus raw venison plus truffle butter plus oily bread could be a disaster of richness. It wasn't. The pickle and fruit flavours, and the crispy bits, maintained order during a multi-pronged attack of pleasures.
The lamb pie, along with its side of cheesy artichoke gratin, quite obviously provide the big punch in terms of depth of savoury flavour. But the intensity of flavour is successfully maintained over each of Jones's five courses. Only a mature chef can create full, fireworks-style flavour from the lightest to the heaviest course.
Jones is 2019's Eat Out Graham Beck Chef's Chef. Each one of last year's top 30 restaurants were asked to vote in the category. He won it in 2018 too. Chef Michael Cooke of Camphors at Vergelegen cited Jones's "humility and passion". He said, "his food packs an immense punch". Chefs Warehouse at Beau Constantia is currently South Africa's tenth best fine dining restaurant, according to Eat Out. Earlier this year, @insideguide awarded it Best Overall Restaurant Experience. The votes were collected from SA's top chefs.
Jones announced this week that CW Beau is now open for lunch.
Beau Constantia: 021 794 8632; Constantia Main Road, Glen Alpine; Chefswarehouse.co.za/beau-constantia
Daisy Jones has been writing reviews of Cape Town restaurants for ten years. She won The Sunday Times Cookbook of the Year for Starfish in 2014. She was shortlisted for the same prize in 2015 for Real Food, Healthy, Happy Children. Daisy has been a professional writer since 1995, when she started work at The Star newspaper as a court reporter. She is currently completing a novel.
Attention: Articles like this take time and effort to create. We need your support to make our work possible. To make a financial contribution, click here. Invoice available upon request – contact info@winemag.co.za
Like our content?
Show your support.
Subscribe