Restaurant review: The Cousins Trattoria, Cape Town
1
There are plenty of Italian restaurants in Cape Town – and several authentic ones – but there are very few regional ones.
In an unflashy part of the city, sharing a street address with Home Affairs and Parliament Hotel is The Cousins Trattoria. The three Italian cousins – Luca, Simone and Andrea Biondi – defy business logic by opening only at night.
When there's no foot traffic, how is a restaurant consistently fully booked, night after night for over four years, for both a six- and an eight-o'clock sitting?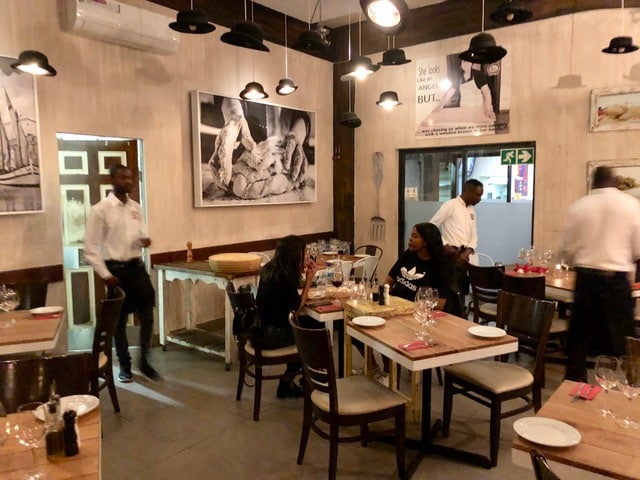 The answer is pasta – and not just any pasta. This is pasta from the northeastern Emilia-Romagna region, the region that has Bologna as its capital. Bologna, of course, lends its name to arguably the most famous pasta sauce in the world: bolognese.
In the new menu at The Cousins, there's a close-up of Andrea's handmade tagliatelle tangled up in a slow-cooked, meaty sauce. The dish is sprinkled with Parmesan and flecks of parsley.
"Land in a cobbled stone street in the heart of Romagna …" the menu says. "This is our grandmother's recipe for bolognese sauce." There's a stamp on the photo: "Original recipe since 1600s".
The sauce has much of what you'd expect: meatiness, herbiness, salt and oil working together to create the umami taste for which bolognese is famous. But there's an absence of tomato that means there's less acid and less sweetness. This is an authentic Italian ragu, an earthy meat stew cooked long and slow with tough cuts of beef and pork.
It's glorious. Interspersed with mouthfuls of red wine for fruitiness and acid – and with a whole handful of Parmesan to add depth and sweetness – this is the most confident bolognese I've ever eaten.
We need to talk about the cheese. Emilia-Romagna is the home of parmesan cheese. Parmiggiano Reggiano is made almost exclusively in this region. Production of Grana Padano, the world's second most famous parmesan, is permitted in six of Emilia-Romagna's provinces.
It is no coincidence that the trattoria's signature dish, The Cousins Pasta, features a half wheel of three-year-old Grana Padano.
In a brilliant and theatrical inversion of the cheese-sprinkled-on-pasta convention, a dish of creamy mushroom pasta is dropped into the huge wheel of cheese. As it's swirled, the cheese is scraped and flakes of Parmesan melt into the sauce.
The sauce is creamy, the mushrooms are buttery and juicy, there's a hint of thyme and the crystal-studded Parmesan is the making of the whole. It's sublime. I don't think there was a table at the restaurant that didn't order at least one.
All the pasta is handmade daily by Andrea. He uses eggs, soft flour and a little water. The hand-twisted strozzapreti – "strangled priest" pasta – is made with egg whites only. It's served a little more al dente than the yellow tagliolini and tagliatelle, but it's easier to digest. Andrea – also a working TV and print model – is a welcoming host and passionate cook. Is he formally qualified as a chef?
"No!" he says, dimples deepening and dark eyes twinkling. "I'm Italian."
The challenge at this trattoria is to eat sensibly. The starters are so tempting. The Impepata di Cozzi – peppered mussels – is a warm dish served with crostini. The broth is clear and fishy, strongly herbed. It's a taste of the cousins' seaside town, directly south of Venice.
The Affettati Misti features beautiful examples of meats from the Emilia-Romanga region, made locally. There's Parma ham, salami, bresaola and coppa served with puffy, deep-fried gnocchi fritto bread, another regional speciality.
The Involtini Mozarella showcases impossibly velvety, pure white mozzarella, also sourced in the Cape. The pear and blue cheese salad pairs fresh tastes with strongly savoury-salty hits and a dressing in the manner of a traditional antipasti board.
The crostini mix starter –five different toppings! – is summery and sociable.
The mains are rich with meat, cheese and carbs.
The carbonara is made with raw egg, guanciale (cured pigs cheek) and Parmesan. As with the Bolognese, the technique is so refined it doesn't require culinary underlining through the use of cream. Egg yolks are mixed with whole eggs. Pigs cheek is used because it's less salty than pancetta. The eggs don't scramble; they coat the pasta silkily. A spoon of the pasta's cooking water is added to loosen the sauce.
The ravioli stuffed with ricotta, spinach and pecan nuts is served with sweet, roasted cherry tomatoes, chilli and garlic. It's delicate yet homely.
The spinach gnocchi is light and moreish. It's served in the traditional manner, with a simple tomato and basil sauce.
Historically, a trattoria is a family-run restaurant, sometimes even a home with table and chairs set up outside. The cousins are determined that their trattoria should honour the food of their region, and particularly the recipes of their grandmother.
On the trattoria's Facebook page, the cousins posted this message for Women's Day: "Without this incredible woman, Nonna Tina (always busy making pasta and all sorts of delicious food for the family), The Cousins would not exist. She is our inspiration and our strength. She has taught us all we know, and we keep on learning every day."
I'm keen to try her historic, authentic versions of other Italian comfort food favourites: her lasagna with spinach pasta, besciamella sauce and bolognese contains no mozzarella or cheddar. The Specials Board sometimes features "Four Cheeses Maccheroni", with fontina, gorgonzola, provolone and Grana Padano.
On the night we ate at The Cousins, a couple called over to Andrea, saying they had eaten pasta in Rome, but they'd had nothing that compared to their meal that night.
Andrea chuckled. "In Rome, there's food for tourists and food for locals … Here you get the family food."
Service at The Cousins is excellent: swift, confident and undemanding. The décor steers clear of trattoria clichés while avoiding intimidating smartness.
The pricing is surprisingly low, at about R200 per person, total. Pasta's cost about R140 each. Local reds and a Sicilian white are around R60 a glass. You can also bring your own bottle and pay R60 corkage.
The wine list is extensive and the bar is well-stocked with local and Italian liquors. The trattoria's negroni, served in a squat glass, is a deliciously strong, slightly bitter drink to start the evening.
The Cousins Trattoria and Coffee Bar: 083 273-9604; 3B Barrack Street, Cape Town; thecousinsrestaurant.com
Daisy Jones has been writing reviews of Cape Town restaurants for ten years. She won The Sunday Times Cookbook of the Year for Starfish in 2014. She was shortlisted for the same prize in 2015 for Real Food, Healthy, Happy Children. Daisy has been a professional writer since 1995, when she started work at The Star newspaper as a court reporter. She is currently completing a novel.
Like our content?
Show your support.
Subscribe