Dahlia on Regent, Sea Point
I only ordered the chicken wings because the waiter told us to treat ourselves. I don't love chicken wings but I love it when people say that.
We left them near the edge of the table. I was tucking into the "smashed" cucumber salad, my sixteen-year-old was delving under lettuce leaves to reach her raw tuna and my daughter's friend was oohing and aahing over the spicy peanut salad.
"We should try the Hong Kong chicken wings," one of us said. "The waiter recommended them."
It was one of those moments foodies dream of: a hand-shaking, mn-hmm-ing, grinning combination of ecstasy and disbelief. The glaze was lovely: all sweet, rich hoisin, salty soy and nutty sesame oil flavours. But the surprise was in the crispy skin – it literally crackled — and the impossibly juicy meat.
My daughter's friend, who is a vegetarian, had her arm twisted to try them ("only because it's your birthday"). She ate a second one ("it's really about reduced intake", she said – and quite right too). Dahlia on Regent generously supplies at least six chicken wings as a "snack". We thought we might take a few home for others to try – "Dad would love these" – but suddenly they were gone.
Damian Dafel is an extremely impressive (and young) chef. He earned his stripes at Cape Town fine dining restaurants La Colombe, Foxcroft and La Tête. He opened Dahlia on Regent – his first independent venture – among a cluster of Sea Point's best restaurants (the so-called "Golden Mile"), at the end of last year. The plan was to serve contemporary South African meals, but after lockdown – and, importantly, after spending a month in China – he decided to "pivot" away from luxury ingredients and put his skills and talent into interpreting Asian street food favourites.
My daughter's Sichaun tuna "salad" featured baby gem lettuce leaves that on the street could become bowls-on-the-go. Having sent the dish over as a birthday treat, Dafel popped out of the kitchen to show my daughter how to pile the sturdy lettuce leaves with cubes of tuna, pickled daikon, fresh radish and the Nanjing mayonnaise.
Dafel's training is evident everywhere. The tuna cubes were meltingly tender – no compromise on freshness and quality here – and with every dish we tried he achieved the balance of flavour that characterises regional favourites in Asian. Sichaun food in China is famous for its spiciness. Here, the rich, spiced mayonnaise and fatty fish was balanced by the zinginess of the pickle, the freshness of the herbs and vegetables and the heat of dried Shanghai spices and chilli.
Everything on Dafel's main course menu centres around noodles. Dahlia's dan dan noodles are like thick spaghetti but the biang biang noodles are something new: as thick as belts and hand-pulled.
I ordered the Biang Biang pork dish. In Chendon, the capital of Sichaun, dan dan noodles are served with chilli oil, sesame paste, ground Sichuan pepper, soy sauce and black rice vinegar. The dish is typically topped with preserved mustard greens, peanut flakes and crispy pork mince. Dafel has put his own spin on this dan dan classic by substituting thinner noodles for the thicker biang biang ones, and mixing the mince in with the oil and sesame at the bottom of the dish. I had an unexpected experience – especially towards the end, once I'd gobbled my pickle and pak choi and was down to meat, sauce and noodles – of eating a very good spaghetti bolognaise. It was because of what one blog writer calls the "ultra umami" experience of a classic dan dan.
Dahlia's "sticky miso aubergine dan dan noodles" was similar to my dish, with pickled daikon instead of mustard greens and aubergine instead of meat. Again, the umami flavours reminded me of a rich pasta dish. Again, the dish owed its provenance to Sichaun. Sticky, stir-fried aubergine is popular dish in this province.
Another vegetarian dish – the biang biang noodles with crispy ginger tofu and pickled daikon – came with fresh herbs and a thick, nutty sauce. My guess is that the base was fermented black bean sauce with chinkiang vinegar. To stretch the noodle-pasta comparison, this dish was reminiscent of spaghetti pesto.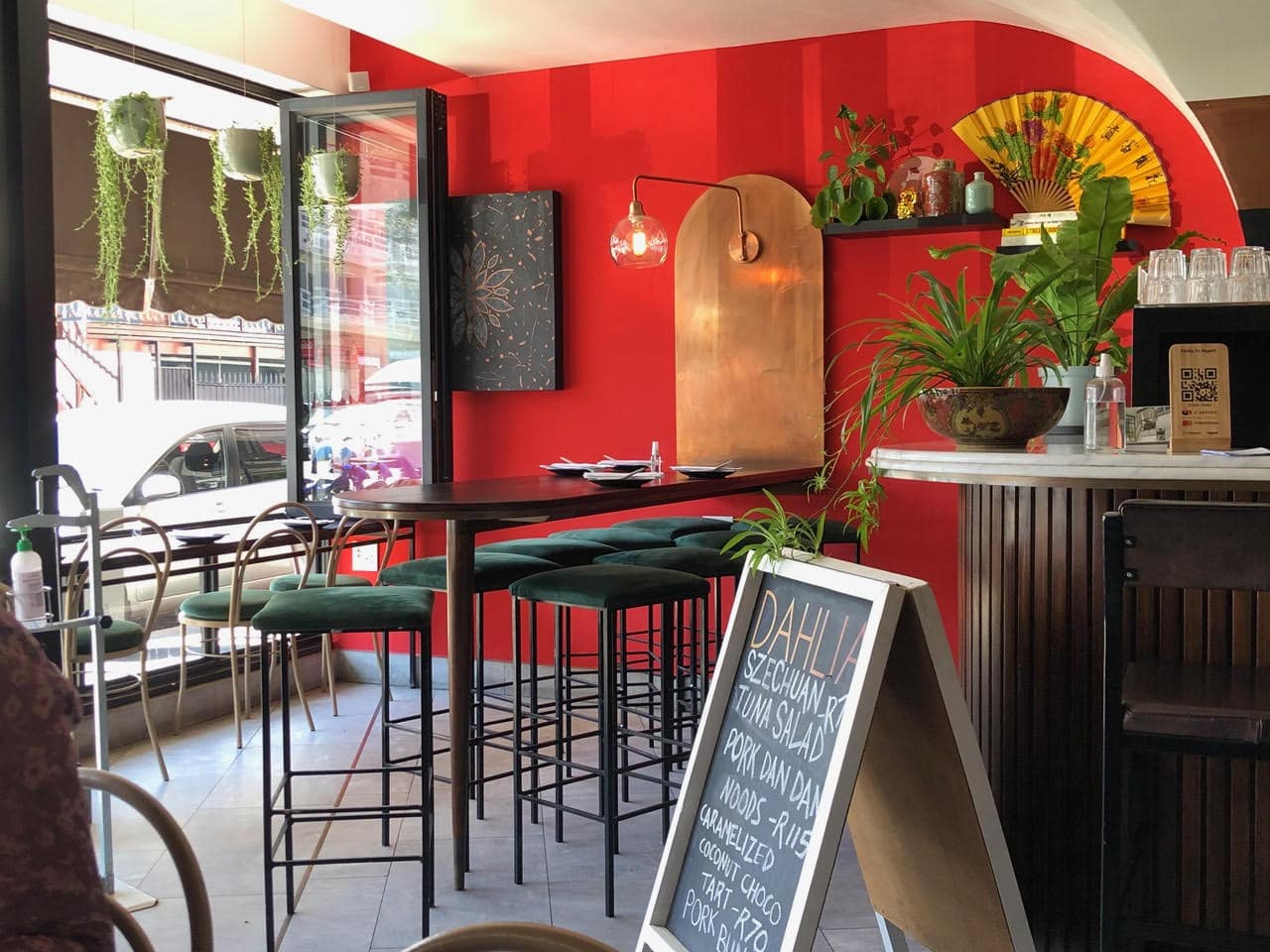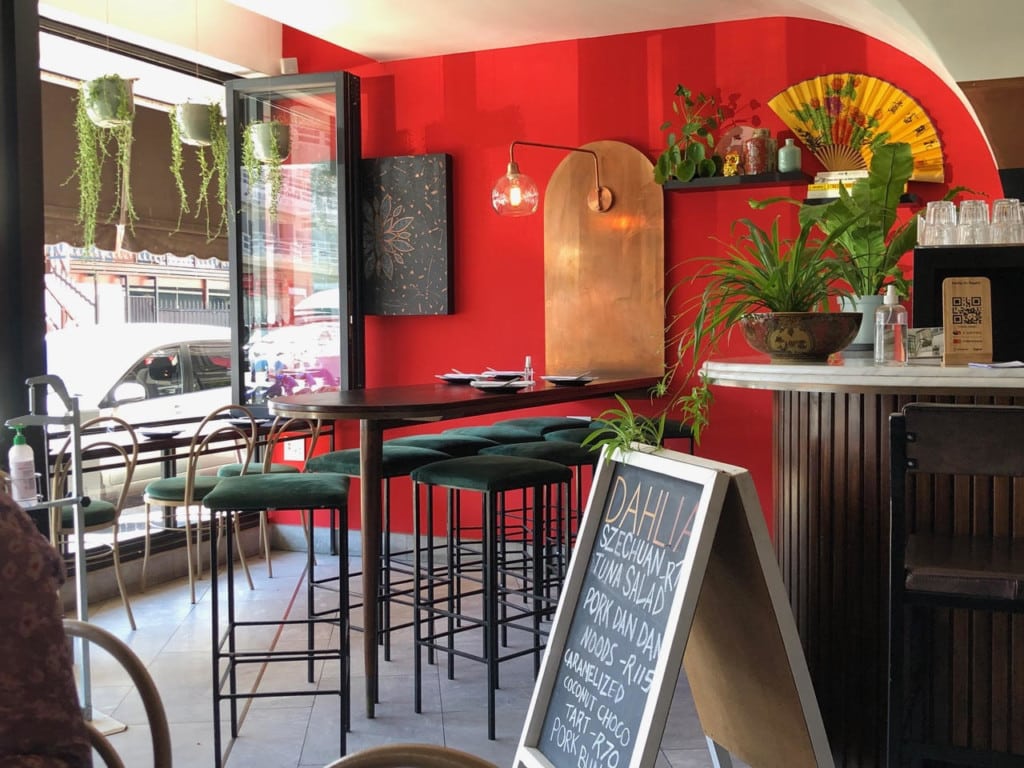 Dafel's dishes are both contemporary and delicious – but also punchy, sticky and a bit splashy: I had to apply a wet napkin to my dress post-"noodling" (a verb Dafel uses on the menu and his Facebook page). Similarly, the décor strikes a balance between urban night-out glam and a fun vibe. The restaurant is open to the street. There's a cheery striped awning and a trio of hanging plants. But there's also a sheet of copper on one wall, and a sheet of marble on another. The walls are Chinese red, but the seat cushions are moss green velvet and the scatters are old gold velvet. The wall between the dining area and the kitchen has a big porthole punched into it, lower than the round window in the door that separates classic French restaurants from the kitchens. At Dahlia, there is no glass and you can see Dafel's busy apron through it. The wall itself is covered in posters. ("Is that an Instagram wall?" I ask the girls.) Interestingly, all the posters are of Western cliches of Chinese culture: a panda, a dragon, red Chinese lanterns, Bruce Lee, White Rabbit sweetie wrappers and even a poster of a fortune cookie and a Chinese take-away box – both of which are American inventions. The wall may appear ignorant, but more likely it's a nod to David Chang, the New York chef who opened Momofuku Noodle Bar in the East Village in 2004. Chang is famous for exploring the crossovers between maligned fast food or junk food and revered posh restaurant food or regionally-specific "authentic" food.
Dafel makes other, subtle references to Chang. One of Anthony Bourdain's cookbooks is on display in the restaurant. Bourdain supported Chang's work. Dafel has only one item on the dessert menu. It's a coconut tart. I didn't try it, but the most famous dessert ever served at Momofuku was Christina Tosi's crack pie.
On weekends, Dafel sells crispy katsu chicken sandos. These are Japanese cutlet sandwiches. As Elyse Inamine said in Bon Appétit magazine in 2018, "If you want to open a buzzy restaurant, you put a katsu sando on the menu."
Dafel's menu is clever. It's cool, and current – even though street food is not a new trend in Cape Town. In the past five years many of us have raved about the fish tacos at Pot Luck Club and the bao buns at Bao Down. But what Dafel is doing is double-clicking on Asian street food, and double-clicking on noodles within that. He's onto something. Eating Sichuan-inspired dishes in Sea Point is a bit like armchair travel. Besides, the street food trend was always going to last longer in Cape Town than the tapas trend. We love big hits of flavour but South Africans are not naturally savourers or lingerers. We don't move our cheese around in our mouths. We don't sip at our sundowners either. We drink fast and – speaking for myself, and perhaps controversially – I like my supper at suppertime. Also, I like my own plate. Street food caters to that.
At Dahlia, the wine list is very short, with only one bubbly, Sauvignon Blanc, Chenin Blanc, Chardonnay, Rosé, Cinsault and red blend. Having said that, the wines are well-known, well-though-of local wines like the Pasarene Rosé and Groote Post Sauvignon Blanc. Everything on the wine list is available by the glass. Quality local beers like Jack Black and Devil's Peak are on the drinks lists, along with Mati, Roku and Clemengold gins.
Dahlia on Regent is open from Friday to Sunday for lunch and dinner. On Wednesdays and Thursdays it is open for dinner only.
Dahlia on Regent: 087 470 0296; Shop 2, La Rhone Building, 77 Regent Rd, Sea Point; bookings@dahliaonregent.co.za
Daisy Jones has been writing reviews of Cape Town restaurants for 12 years. She won The Sunday Times Cookbook of the Year for Starfish in 2014. She was shortlisted for the same prize in 2015 for Real Food, Healthy, Happy Children. Daisy has been a professional writer since 1995, when she started work at The Star newspaper as a court reporter.

Attention: Articles like this take time and effort to create. We need your support to make our work possible. To make a financial contribution, click here. Invoice available upon request – contact info@winemag.co.za
Like our content?
Show your support.
Subscribe