Die Damhuis, Melkbosstrand
2
Is it a Capetownian thing? We all know that September is spring flowers month. Every year around this time we are seized by the desire to shoot up to the West Coast National Park and ooh and ah at floral carpets of yellow, orange and white. We know it's a full day's outing, and that queueing at the gate of the park is involved. Do we make bookings in advance for lunch – or even tea? Never.
It struck me this year that we should have several coffees and a massive, rich brunch beforehand. It worked brilliantly; moreover, I discovered a lovely new restaurant at the start of the West Coast: Die Damhuis.
Actually it's very, very old. Built in 1785 in Melkbosstrand, Die Damhuis is coming up for 250.
Brunch at the beach in the Cape is nearly always glorious. Camps Bay on a Sunday morning is a mini-trip to Los Angeles. Late breakfast in Kalk Bay is a little bit of Cornwall, a little bit of Portugal. Muizenberg is a hazy Californian scene; Sea Point is … I don't know, San Fran?
Melkbosstrand was new for me. The beach is huge and sandy. It goes on for miles – all the way to Koeberg power station. In the parking lot, we saw a surfer, his body glittering with droplets, chatting to a lifeguard. We saw palm trees on the beach road and cyclists in lycra. We saw women walking tiny dogs and small children on shoulders.
Die Damhuis is prominent on Beach Road. It sits close to the cars, its lime-wash-white walls and rough buttress visible from the sand. The thatch hangs low. Even if you can't date it to the nearest half-century, it screams "national monument".
The tables are full and a manager seems to never leave his spot at the front door, checking reservations, requesting the use of sanitizer, reminding people (the cyclists) to put on their masks, and declining chancers without bookings. Die Damhuis has been popular for over a decade. The views, coffee, food and service are all good – very good, actually. But what's truly unique is the building.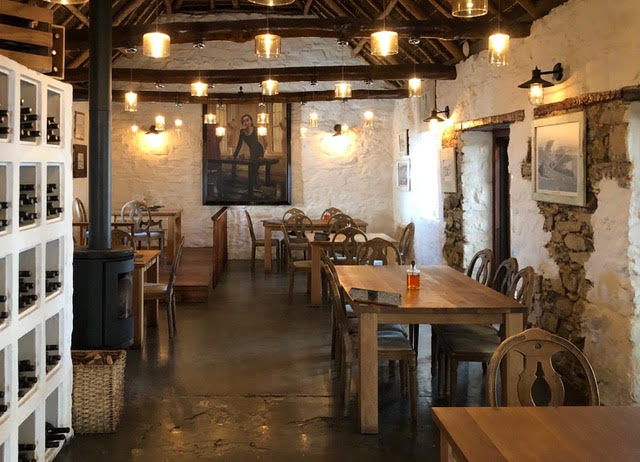 The walls of Die Damhuis are famous for their composition. They are mostly built of local sand and stone, but cattle dung was used too. And hay. And whale bones. In the historic inside section of the restaurant ("Die Voorhuijs"), sections of plaster have been stripped back to reveal the very rough, chunky form of the walls. It's a bit like dried-out, rocky road biscuit mix.
Our coffees are served hot – I do like coffee as a hot drink, not a room temperature one, what about you? Service at Die Damhuis is swift and efficient – and friendly. When I express an interest in the building's history, waitress Louise Booysen hands me Damhuis Cookbook, the big, hardcover coffee-table-cum-history-cum-recipe-book that's available for browsing and purchase at the restaurant. The book was written by Damhuis owners Dirk and Reinet Nagtegaal.
In the foreword, Dirk says Die Damhuis was built by Christiaan Brand and his family. According to him, Brand was the first resident of Melkbos. He may have been the first settler: Ancient Khoi-San middens and stone-age artefacts have been found nearby.
Brunch has arrived, and very quick it was too. The Banting Breakfast – with poached eggs, bacon, hollandaise sauce, a black mushroom base and roast tomato garnish – is piping hot and generous. The eggs are perfectly poached, the bacon is neither fatty and limp nor overcooked to a splintery crisp. The mushroom is meaty, the tomatoes are sweet and the hollandaise has a rich yellowiness to it that makes me think of big, brown-shelled farm eggs.
My husband's hollandaise breakfast is wolfed before I have a chance to taste it – surely a good sign — and my fast-growing son's toasted cheese and ham with chips is just what he wants: an extra-generous mound of chips and a sandwich heavily weighted with melty cheese.
If I had to be critical, it would be of the zig-zag balsamic glaze added to the hot breakfast plate for a gourmet flourish. I know that a strong feature of West Coast farm food is a delight in sweet and sour – think of bobotie with peach chutney; snoek with apricot jam, "korrelkonfyt" (raisin jam) or grape must with cheese, not to mention honeyed root veg – but to me the balsamic glaze zig-zag is simply an overused and now dated stab at Mediterranean style.
As the plates are cleared and we luxuriate in the sunshine and sea air outside, Die Voorhuijs is being prepared for lunch. Die Damhuis is famous for its oxtail, lamb shanks and tripe. Mussels and hake are popular too. Milk tart and lemon meringue pie feature on the dessert menu.
Interestingly, the restaurant's interior didn't start out as a home. It was originally a "visschuur" (fish shed), a place to clean, salt and dry fish. It became a home later. In front of Die Damhuis, under the tarmac of Beach Road, there is a fresh water spring. Once Brand had collected spring water into a dam, he and the family moved in, and the house became known as Die Damhuis.
There aren't many restaurants in the Western Cape that have been occupied for two and a half centuries. Our oldest wine farms were established in the early 1700s. Like the Nagtegaals, the owners of places like Vergelegen, Spier, Groot Constantia, The Vineyard and the Cape Heritage hotel market a glimpse of heritage.
Through its book, its website, its menu and its interior décor, Die Damhuis very sensibly draws attention to its building's history. Knowing that we're dining in an SA National Monument, and being able to easily access information about the history of the area and the building, adds richness to our dining experience. This sense of place can be the difference between dining and destination dining: in other words, we might be prepared to drive out to eat in a place that makes us feel like we've been somewhere different – both in history and in real time.
Without grumbling, given the restrictions on movement in the past six months, "going somewhere different" is a longed-for treat.
Die Damhuis: 021 553 00932; Beach Road, Melkbosstrand; Diedamhuis.co.za
Daisy Jones has been writing reviews of Cape Town restaurants for ten years. She won The Sunday Times Cookbook of the Year for Starfish in 2014. She was shortlisted for the same prize in 2015 for Real Food, Healthy, Happy Children. Daisy has been a professional writer since 1995, when she started work at The Star newspaper as a court reporter. She is currently completing a novel.
Attention: Articles like this take time and effort to create. We need your support to make our work possible. To make a financial contribution, click here. Invoice available upon request – contact info@winemag.co.za
Like our content?
Show your support.
Subscribe