Foxcroft, Constantia
There's a reason why the Winemaker's Dinners at Foxcroft Restaurant can sell out within hours. Glen Foxcroft Williams is the reason.
It's not just his cooking. The chef-proprietor's talent in the kitchen is well-known. Foxcroft has been nominated for the Eat Out Mercedes-Benz Restaurant of the Year award for the past three years running. No, the remarkable thing that Williams is doing at the moment is with food and wine pairing.
Getting a gourmet dish and a glass of wine to act in synergy – to show each other equal respect and to kick off an in-mouth symphony – is a real art. What usually happens is that either the wine or the food play the starring role. Chefs of Williams's standing generally create their menus and only afterwards begin the search for bottles to appear on their wine lists. Even when chefs offer meals with wine pairings, the food typically comes first – in both senses. The wine is there to enhance what is created in the restaurant's kitchen.
When wine is the focus, dishes can be predictable: well-seasoned red meat and wine-based gravies with dry reds and delicate fish or chicken dishes with dry whites.
Here's something new: how about this for a dish to go with The Blacksmith Viognier 2019? Williams gives us squash ball-sized organic baby turnips (yes, grown here), served on a thick bed of latte-coloured roasted sesame cream. The turnips are young and fresh yet hearty; the cream is richly, densely flavoured with nuts, smoke and fat. There are slices of pickled turnip – thin and sharp – a hot chilli crisp, a deep-fried turnip leaf and, most audacious of all, sprinklings of smoked bokkom. Bokkoms begin life as small, oily West Coast fish. Williams smokes them in-house. The flakes taste like confetti made of anchovies and biltong.
It's an outrageous dish. The ingredients and combinations are "out there". But the execution is faultless. There's coherence and balance. The overall impression is of punchy umami hits with the excitement of Japanese flavours (the sesame, the chilli, the pickle slices and the smoky-saltiness of the fish flakes) matched by all the comfort of Sunday roast flavours: root veg, butter, salt and greens.
Does it complement the Viognier? Absolutely. The dish was created specifically by Williams for this wine.
Williams has been creating dishes for specific wines since 2018. In that year, Foxcroft invited Dawid Nieuwoudt from Cederberg Wines to host an evening at the restaurant talking about five favourite wines from his portfolio. Williams offered to make a dish to complement each one. The evening was such a success that Foxcroft launched its first Winemaker's Dinner Series.
Since Nieuwoudt's visit, Foxcroft has hosted numerous wineries, some big-volume, household names, and others less well-known but high-quality boutique operations. Foxcroft is currently in its third series of dinners. Winemakers Lourens van der Westhuizen of Arendsig, Jonathan Grieve of Avondale, Tremayne Smith of The Blacksmith Wines (and also Fable Mountain Vineyards), Lukas Wentzel of Groote Post, Ewan MacKenzie of The Wine Thief and Chris Mullineux of Mullineux Wines have benefitted from collaboration with Williams. Môreson, Paserene, Journey's End, Strydom Wine and Domaine des Dieux accepted the invitation, too.
From the point of view of the chef, that's over 60 new dishes created for a one-off. (The turnip dish is an exception. It was so good with the Viognier it was placed on the regular menu.)
Williams tells me he wasn't a wine fan early in his career. He knew as much as he needed to know as a chef, but he couldn't imagine sitting down with a glass of wine and loving it. A few years ago he completed a wine course, and then he started collaborating with the winemakers.
This is one of the most exciting things about Williams' attitude to wine: he isn't restricted by convention or snobbery.
The main course I ordered – steamed kingklip with cashew nuts, charred corn velouté, gem squash, kale and pak choi – was paired with a blend that didn't name varietals: the City on a Hill White Blend 2018.
The hot and spicy blesbok tataki dish – an exciting combination of flavours including salsa seca, tomatillo, chipotle crema and tostado – arrived with a red, the fresh and fruity Ashbourne Pinotage-Cinsault 2019 as made by Hamilton Russell Vineyards.
With the desserts, Williams opted for sweet-on-sweet, in contravention of the tendency in some quarters to serve sweet wines with pâté, terrines or cheeses. Thelema's Vin de Hel 2016 paired deliciously with my rich pudding of pear, spiced port, salted macadamias, muscovado and Orelys, a blonde chocolate with muscovado sugar and a hint of liquorice.
A factor that Williams is using to his advantage with his pairings is that both the food and wine are consciously rooted in the Cape.
This might sound obvious, but it's not. It's quite a recent development for wine connoisseurs to be able to define the taste of a Constantia Sauvignon Blanc, for instance. The most pioneering winemakers are no longer aiming for a generic taste. Instead, progressive winemakers are foregrounding the unique flavours of a grape grown in local soil.
Williams is also interested in the very particular tastes of our region. I was hugely impressed by how he uses humble local ingredients.
My husband's main course lamb was glazed in a sauce made from suurvygies. One of the sides was a mebos purée. In the winter and spring, Williams forages for suurings, a weed that has always been an important ingredient in waterblommetjie bredie.
My first course, the market fish Crudo (served with a Tierhoek Rosé), featured locally-caught tuna, a strongly spiced Malay dressing, a naartjie kosho, avocado and strands of poppadom
I tell Williams that his use of humble (and historic) Cape ingredients reminds me of Henry Vigar and André Hill at Upper Bloem Restaurant, where the best bits of the carvery – thrice-cooked potatoes, bright veg and deeply meaty sauces – meet tastes of the Bo-Kaap like samoosa spices, mutton, dried fruit and coconut. Williams chuckles when I say this. He and Vigar are friends.
Vigar and Hill are pioneers in creating a new Cape Town cuisine. Williams has absorbed the lessons of Upper Bloem and is exploring a new angle with his pairings.
"What grows together goes together": this old winemaker's adage sums up the obvious. Both food and wine will taste their best if they are paired with something that shared their soil and climate. In any region, from Greece to the Karoo, the grapes go with the meat that lived next door and ate the herbs that grew among the veg that will be used to accompany the dish
Williams takes this very seriously — and it is serious. Not any bergamot goes with a Cape sweet wine. The little citrus fruits Williams uses for his bergamot syllabub were grown here. The flavours of the Miles Mossop Kika 2019 (a Noble Late Harvest made exclusively from Chenin Blanc) are deepened because of the connection.
Because he is using local, seasonal, organic and often historic ingredients in his dishes, Williams is actually assisting local winemakers who are striving to draw out a local taste in their wines. The flavours of Williams' Cape ingredients are pristine and true. And then he combines them with complementary flavours. This adds to a winemaker's bank of knowledge when they are aiming for an authentic regional taste to their wines.
Without taking anything away from Williams' creative courage and commitment, it must be said that Foxcroft Restaurant is well-positioned to be leading the field in food and wine pairing. Foxcroft is part of the La Colombe group, a sister restaurant to La Colombe itself, as well as the group's three restaurants in Franschhoek: La Petite Colombe, Protégé and Epice. Williams has long been a part of the La Colombe family. He was pastry chef at La Colombe before opening Foxcroft with Scot Kirton, who now leads Protégé. Williams' association with the brand is a helpful recommendation for his Constantia clientele. It's helpful for Foxcroft that many of its patrons are both well-heeled and keen on wine (even – or especially — the pricey bottles).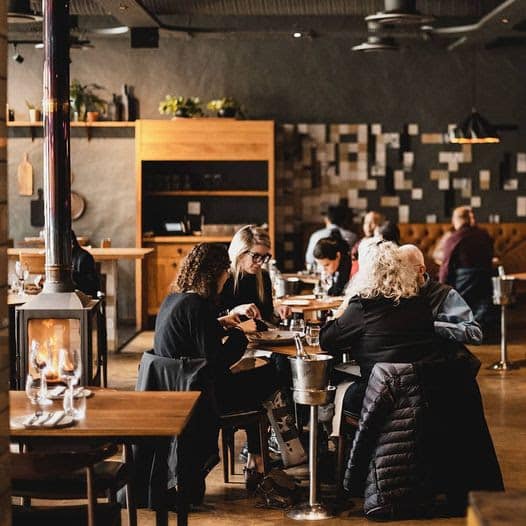 On the other hand, Foxcroft styles itself – to an extent – as a neighbourhood eatery. It's open seven days a week for lunch and supper. Williams himself makes the croissants that sell out every morning. There's a Sunday Night Supper Club and there are both Winter and Spring Specials. It's located in a shopping centre – one just minutes from the gates of Groot Constantia, but still. The interior has charcoal walls and a wood-burning stove in the centre. During the day, people sit at outside tables. There is a warm, relaxed vibe at Foxcroft that contrasts with the more formal dining rooms of La Colombe and La Petite Colombe.
In other words, Williams is not entirely restricted by a patron's perception of Fine Dining. He has some scope to try things out. As he says on the restaurant's website: "…we aim to cook with the same intensity and thoughtfulness as fine dining but in a more casual and approachable format …deliciousness must come first… our team of chefs believe in treating simple ingredients with the same care, attention and respect as those of rarity."
Foxcroft's prices reflect Williams' eagerness to attract new customers and encourage regulars. The Spring Lunch Special, which runs until 15 December, costs R395 for four courses. At dinnertime, the four course "reduced menu" is R495. Corkage is R80.
The food at Foxcroft is highly recommended. It's contemporary, progressive and delicious. But if you have the slightest interest in Cape wine, go with the wine pairing. You could even try and book the November 4 Winemaker's Dinner with Andre Bruyns of City on a Hill (R745). You'll have to be quick on the keys though. Watch Foxcroft's Facebook page and get in there the hour that bookings open. (Hint: bookings for the The Blacksmith Wines event opened exactly seven days before the event.)
Foxcroft: 021 202 3304; Shop 8, High Constantia Centre, Groot Constantia Road; reservations@foxcroft.co.za; Foxcroft.co.za
Daisy Jones has been writing reviews of Cape Town restaurants for ten years. She won The Sunday Times Cookbook of the Year for Starfish in 2014. She was shortlisted for the same prize in 2015 for Real Food, Healthy, Happy Children. Daisy has been a professional writer since 1995, when she started work at The Star newspaper as a court reporter. She is currently completing a novel.
Attention: Articles like this take time and effort to create. We need your support to make our work possible. To make a financial contribution, click here. Invoice available upon request – contact info@winemag.co.za
Like our content?
Show your support.
Subscribe