Hamm & Uys, Stellenbosch
3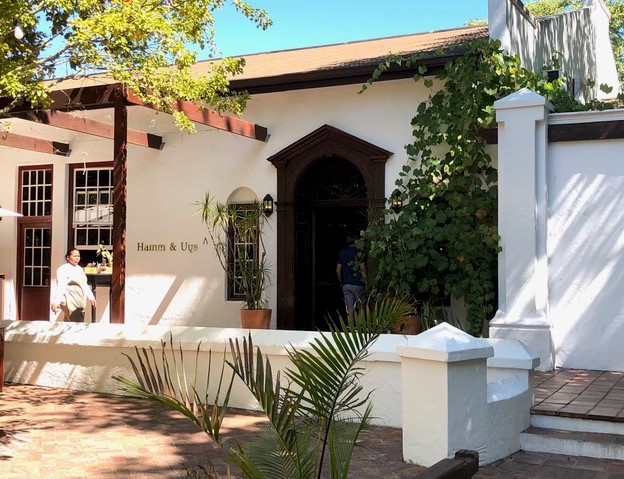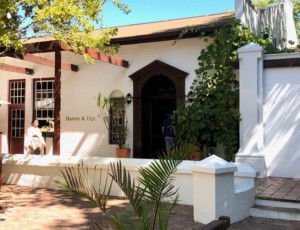 Note: From March 2022, The restaurant on this property stopped doing business as Hamm & Uys.
I am besotted with the new restaurant at Blaauwklippen in Stellenbosch.
The food is delicious and interesting, but what I love is how your feel like your meal has been cooked by someone with big hands in a big apron who moves up and down the farm kitchen making more and more food for lunch: more sides, more pickles, more bread, more pudding. There are fresh vegetables, warm bread and whole spices on the counter; there's farm butter in the fridge.
The menu at Hamm & Uys is an energetic and emotional. It features "heritage" specialities like mosbolletjies, herenboontjies, pumpkin fritters and koeksisters. Everything tastes like it's made from scratch and the quality of the cooking verges on faultless. The chefs want you to try everything: roasted bone marrow with beef fat chips with a condensed milk potato salad with a rusk dough burger and salad… The Sunday brunch buffet table struggles under the weight of bobotie, roast beef, chops, roasties, sauces and platter after platter of salad and veg. It's almost overwhelming: too hospitable, too open, too humble. I'm not sure how Johnny Hamm and Marius Uys will make any money. They are, seriously, way too generous. Of course, this is one of the restaurant's chief attractions.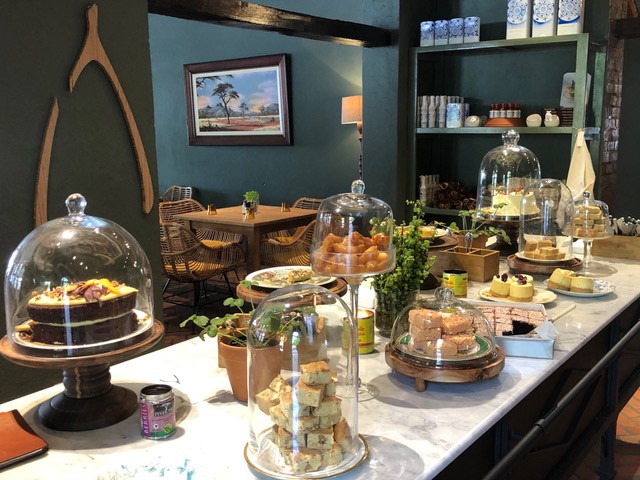 The enormous lunches – steaks, chops or fish served in enamel dishes with several sides – average at around R140. The truly excellent wood-fired pizza with buffalo mozarella from Wellington, Swartland olive oil and fresh tomato compote is less that R100. The nostalgic, fete-ready sweets – farm fudges, enormous cakes, rice crispie squares, brownies… and a milk tart that deserves a plate-sized satin rosette – are absurdly cheap.
There is a sense here of tremendous, energetic talent and youthful exuberance. One of my favourite menu items is "chicken wings glazed with Wilson cola toffee". The glossary at the end of the menu describes the sweets as "a legendary South African toffee (that) used to be sold loose at most old-school cafes and corner shops. The taste is very distinct and calls up nostalgic memories for most South Africans".
"Boerekos" is famous for its love of sugar and indeed the Sunday roast features roasted butternut with a sweet crust; the first course pates are served with a mini vetkoek and the roast beef is accompanied by a sweet mustard sauce. But Hamm & Uys avoids the trap of over-sugaring and over-oiling everything. Nothing here is sickly or greasy, and that's an achievement.
The other significant achievement here is flavour balance. My French-trimmed lamb cutlets were coated in cumin and coriander before being flame-roasted. The meat was rich and the coating was smokey and earthy. The slaphaksteentjies – "a traditional South African salad made with pickling onions, mustard, turmeric, and brown vinegar" – was tangy and worked well with the fatty, dry-braaied meat. But the real genius was the addition of a roasted guava salsa: sweet, tart and luxurious in texture. I loved the beef fat fries. They were as deeply crispy and as savoury as they sound.
Every item that comes out of the Hamm & Uys kitchen is distinctive – and often bold and complex in flavour – but dishes are not thrown together. The mussels, cooked in white wine, cream, garlic and onion, are served with a traditional, criss-cross-topped roosterkoek. Full stop. No herbs, no oils, no sprinkles.
The "freshly minty choc" ice cream is served in a sugar cone or in a tub. A single scoop. Full stop. The mintiness is fresh and zingy. The chocolate is dark and rich. It needs nothing more.
The bobotie from the Sunday buffet table is all fragrance and spice: whole curry leaves, cardamom pods and dark, crunchy edges. The dish is shallow and the texture is moist and open. If I knew someone who'd never had bobotie before, this is the one I'd want them to try.
I am a pickle fan and the pickles at Hamm & Uys are wonderful. I had crunchy pickled carrots and radishes with my roast and pickled red cabbage with my lamb chops. The fish and chips lunch is served with a mixed green pickle.
The preserves are equally good. I loved the gooseberry and raisin preserve served with a starter of smoked fish pâte, chicken liver pâte and a mosbolletjie bread.
In contrast to the abundant food offering at Hamm & Uys, the wine list is short. All the wines are made on the farm, and all are young and cost less than R150. For the a la carte lunch we drank Blaauwklippen's 2017 Cabernet Sauvignon (R145). It exceeded expectations, and we weren't the only ones to be impressed – it rated 93 in last year's category report sponsored by Prescient and compiled by this website. Every main course on the lunch menu suggests a wine pairing. Blaauwklippen is famous for Zinfandel. There's a white Zinfandel and a red Zinfandel Cabriolet. All wines are available by the glass.
So what's not to like at Hamm & Uys? It's family-friendly, which means there are children about. It can accommodate big groups, so there are birthday lunches and office parties. On Sundays there's live music outside, and a family market, so there's pedestrian traffic and a degree of noise.
Blaauwklippen has never been snobby. It was one of the first Stellenbosch wine farms to open to the public, and one of the first to offer "entertainment", in the form of tractor rides for kids. The feeling of openness and welcome is everywhere, from the hospitable attitude of the staff to the goat pen, centrally positioned, where families can scratch friendly billies between stumpy horns.
The aesthetic of Hamm & Uys, with its enamel plates and brownies presented in the pan, has something of the padstal. But the deep green walls, brick floor and crisply dressed waiters fall comfortably within the elegant wine farm aesthetic. Anyway, Blaauwklippen doesn't have to try too hard. It's 337-years-old. The oak-lined avenues and the enormous lawns are magnificent. The whitewashed homestead walls are as thick as ancient tree trunks. The doors and window frames are as dark as bitter chocolate, and heavy as steel.
Marius Uys and Johnny Hamm's food "theme" is boerekos – it makes sense to offer a farm meal on a farm – but it's not culturally exclusive. With items like pickled fish and "slaptjips" on the menu, it's more down-to-earth than that. It's nostalgic in a way that young creatives can be: with cheerful, innovative energy.
Hamm & Uys is a feel-good restaurant perfect for overseas visitors – and for all of us who value big tables and big hearts.
Blaauwklippen Wine Estate: 066 495 0270; Strand Road, R44, Stellenbosch; Blaauwklippen.com
Daisy Jones has been writing reviews of Cape Town restaurants for ten years. She won The Sunday Times Cookbook of the Year for Starfish in 2014. She was shortlisted for the same prize in 2015 for Real Food, Healthy, Happy Children. Daisy has been a professional writer since 1995, when she started work at The Star newspaper as a court reporter. She is currently completing a novel.
Attention: Articles like this take time and effort to create. We need your support to make our work possible. To make a financial contribution, click here. Invoice available upon request – contact info@winemag.co.za
Like our content?
Show your support.
Subscribe