Restaurant review: Hoghouse Barbeque, Ndabeni
1
My friend's husband is a chef. "He'd love this," she says. "It's what he's always going on about: Just a few tables, nothing fancy, a short menu, but everything is done brilliantly."
She's ooh-ing and aah-ing and finger-licking her way through an Argentine "Picanha" sirloin that was cold-smoked for two hours before being cooked on a wood-fired grill to melting-fat, juicy-meaty, crisp-edged perfection.
"I think anyone would love this," I say through a mouthful of beef brisket that was smoked for 14 hours. "People love cooking meat with fires in South Africa. This is like braaivleis-meets-chisinyama-meets-snoek-smoker-meets-tandoori-oven."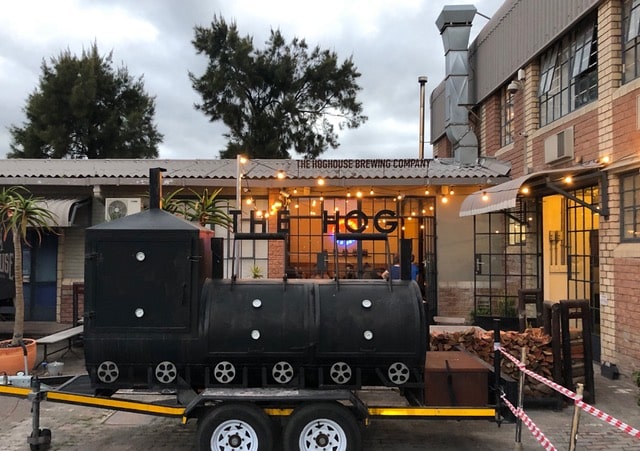 The "this" we're talking about is Afro-Texan barbeque. It's what they do at Hoghouse, the restaurant attached to Hoghouse Brewery in Ndabeni (of all places).
When we entered it was past "the hog", a giant black smoker on wheels. What distinguishes Texas barbeque from all the beloved sorts of outdoor, fire-fuelled cooking we do in South Africa, is that it's done low and slow.
At Hoghouse, the speciality is my red-edged brisket, served with handmade pickles and, in my case, handcut chips with truffle aioli.
Brisket is a tough cut from the lower chest of the animal, dense with connective tissue. Cooked right, the collagen gelatinizes. In the right hands, brisket can become a fantasy of tender, super-moist meat.
And so it is on my plate. The colour and texture are reminiscent of corned meat, and the taste is deeply meaty. In character, this is a plate that lends itself more to an all-day, family Sunday outdoors than a rich winter meal.
Brisket is the speciality here. As an Austin, Texas, homeowner recently remarked on the Netflix show Stay Here: "In Texas, barbeque is religion and brisket is Jesus."
At the time, a pitmaster was coating the brisket with a spicy rub. Other masters of southern barbeque marinade with secret-recipe sauces. At Hoghouse, the brisket sees no marinade, no rub.
"The meat is smoked without sauce, allowing the natural flavours of the meat to blend with the smoke from the Rooikrans wood," the website says.
Barbequed brisket, like pulled pork, traditionally loves to be stuffed into a bread roll with pickles, alongside potato salad and beans.
I'm very glad I chose my fat chips with truffle aioli. They're like extra-crispy roasties. My daughter ordered onion rings that are fat and crunchy. The batter is made with chickpeas.
My son wolfs his glistening pork ribs before anyone has a chance to try them. The "pollo-pescatarian" teens rave about their snack-portion BBQ chicken wings with sriracha, soy and honey.
My friend's "Saturday special" steak is served with a good-enough salsa verde and a chimchurri that's disappointingly dry.
The menu at Hoghouse is a surprise. Naturally the focus is on the meat – next time we'll try the pork belly and the pastrami lamb rib – but the vegetable sides have been given proper cheffy attention.
I'd like to try the fire-roasted cauliflower; the mielie ("corn on the cob") with honey chipotle butter and the roasted butternut with parmesan crumble, pickled mushrooms and green sauce.
I'm also intrigued by the coal-roasted sweet potato with smoked orange yoghurt, chilli, coriander and crispy onion. The baked aubergine comes Italian-style with mozzarella, napolitana sauce, basil and parmesan. I should definitely have ordered the fire-roasted cos lettuce with feta, dates, almonds and citrus. I would like my children to try the braai broodjie done with beer bread, mature cheddar, tomato and onion.
At this point it's important to introduce the name of PJ Vadas.
Chef Vadas created the menu here, and he led the kitchen for three years. A year ago he left to head up Vadas Smokehouse & Bakery at Spier Wine Farm.
Vadas has been called a "braai genius". He's the one who was inspired to produce "Afro-Texan style barbeque" after visiting some of the most renowned BBQ smokehouses in the Lone Star State.
It was a brilliant choice, given that one of the main purposes of the eatery was to complement the Hoghouse beers brewed on site.
Beer, not wine, is the traditional accompaniment to barbeque in the Southern states, and here's where the location of Hoghouse Barbeque, in the light industrial area behind Pinelands, begins to make sense.
Ndabeni is the location of the award-winning Hoghouse micro-brewery. The menu at Hoghouse Barbeque works with the list of beers in much the same way as the menu of a fine dining restaurant on a wine farm carefully considers the farm's bottled product.
Last month, Hoghouse received a gold medal at The SA National Beer Trophy awards for its Roadhog Porter. This is a dark, London-inspired beer with hazelnut notes. It's delicious. Earlier in the year, brewer Byron Damonze picked up five awards at the 2019 African Beer Cup.
Hoghouse does accommodate wine-lovers. Its wine list features small batch wines chosen by consulting sommelier Joakim Hansi Blackadder.
Happily, Hoghouse also accommodates non-drinkers – or designated drivers. There are housemade, non-alcoholic pineapple and ginger beers, as well as a housemade iced tea. The "virgin" drinks include a rock shandy and Virgin rose geranium mojito.
The mojito above costs R28. The prices at Hoghouse are a joy, for both food and drink. Where else can you buy a salsa or a kimchi aioli for R10? And what about my portion of heavenly chips with truffle aioli for R40?
Meat is charged per 100g, so my son's spare ribs meal cost R40. A kiddie portion of buttermilk fried chicken and chips is R60. A BBQ platter for two – including brisket, ribs, chicken wings, cowboy beans, corn, slaw and braai broodjies – costs R365 (or R183 each).
Hoghouse's excellent hot sauces are open on all the tables. The Vintage Chilli sauce provides the perfect degree of hotness, to the fraction of farenheit.
There is a purposefulness and generosity to Hoghouse Barbeque that is heartwarming. Diners are encouraged to eat their orders off a sharing platter in the centre of the table, family-style. The menu says that the R65 dessert sundaes (salted caramel pecan pie or chocolate fudge brownie with vanilla Moro Gelato) are good for sharing. Alternatively, the table may order ice creams and sundaes in cones. We had a tiramisu ice cream that was almost indescribably delicious and an excellent chai sorbet. My naartjie sorbet was tentatively flavoured; it didn't deliver the citrus hit I'd wanted. But this is a minor quibble.
Service at Hoghouse is friendly and efficient. Lucky, the "receptionist", deserves a special mention for his warm welcome.
At Hoghouse Barbeque, everything is made from scratch. All the meat is local and free-range, sourced from sustainable farms. I love the fact that Afro-Texan barbeque refers to but doesn't honour any South African wood-cooking tradition above another. The venue is available for hire. I'm thinking of throwing a party.
Hoghouse Barbeque: 021 810 4545; Unit 4, Technosquare, 42 Morningside Street, Ndabeni; howdy@hhbc.co.za
Daisy Jones has been writing reviews of Cape Town restaurants for ten years. She won The Sunday Times Cookbook of the Year for Starfish in 2014. She was shortlisted for the same prize in 2015 for Real Food, Healthy, Happy Children. Daisy has been a professional writer since 1995, when she started work at The Star newspaper as a court reporter. She is currently completing a novel.
Like our content?
Show your support.
Subscribe