Restaurant review: Jewells, Paarl
Trendy it may be, but opening a farm-to-table restaurant is challenging for chefs and restaurateurs.
The principle behind farm-to-table restaurants like Jewells in Paarl is that food tastes better the more it's respected. This means healthy soil for plants, and minimal interference during the growth cycle. For animals it means natural feed, and space to live. It also means working with local produce in season.
The team behind Jewells – restaurateur Liam Tomlin, head chef Neil Jewell, baker Tina Jewell and Spice Route Estate owner Charles Back – is well-placed to do this trend justice.
Tomlin has been called "the king of small plates". His Cape restaurants – Chefs Warehouse Canteen & Bar, Chefs Warehouse at Beau Constantia, Thali and Chefs Warehouse at Maison – are hugely popular. Tomlin is inventive with international flavours, but his brilliance lies in achieving a kind of hallelujah deliciousness that speaks more to his talent than his impressive CV.
Neil Jewell is a chef's chef. He's highly skilled, highly focused – and humble. For 19 years, he and his wife Tina made all the magic happen at Bread & Wine at Môreson.
Back owns Spice Route Estate, where Jewells and several other restaurants are located. He produces Spice Route wine, fresh produce and organic Red Angus beef.
One of the major challenges of farm-to-table cooking is that the chef must be flexible, creative and knowledgeable. Obviously, the menu must change with what's available. A farm-to-table kitchen simply can't trot out the same menu night after night.
Cleverly, what the Jewells team has chosen to focus on is meat. Vegetarians and vegans are catered for – and the menu's vegetable sides are impressive – but the overall impression is of modern, meaty comfort food. The focus on meat creates menu stability, meat is a crowd-pleaser, and importantly, it plays to Neil Jewell's strength. He is passionate about charcuterie – his salamis, hams and mortadellas are for sale at Jowls Charcuterie alongside the restaurant – and he is also skilled at cooking nose-to-tail. Our menu, for example, featured a charcuterie platter, a beef short rib starter and a pork neck main.
Tina Jewell's exceptional bread board is constant, as are dishes made with eggs and locally-produced cheese.
Take my starter, a twice-baked Klein Rivier cheese soufflé with creamy, thyme-flavoured leeks and a dark green salad studded with hazelnuts.
No, don't take it. I am in love with it. The soufflé is an ode to dairy, with neither cheese, milk nor egg flavours dominating. It's not too light, it's not too salty, it's not too rich. It is comfort-meets-sophistication – and the salad that surrounds it keeps it real: fresh, peppery greens and earthy-sweet hazelnuts, with high quality oil and acid for the dressing. The creamy leeks hidden under the soufflé are a surprise: more creamy loveliness? A lesser chef may have introduced a contrasting element, to show off the subtle heaven that is the soufflé. Instead, Neil Jewell underlines it. In doing so, the dish begs to be enjoyed with a glass of crisp white wine. How can a dish straddle lunchtime-quiche-and-salad and fancy-French-soufflé so effectively? This is the masterclass.
Tina Jewell's bread board is magnificent. We tuck into cheese sticks, cumin crackers, a warm mini-loaf of potato bread and slices of cumin-crusted rye. What's remarkable is not the technical perfection of the breads – that was to be expected – but the restraint in terms of flavours.
The accompaniments are gently flavoured – a brazil nut butter; a yellow pea and ginger spread, and a lightly pickled avocado dip. None of the flavours in the breads or the accompaniments are allowed to dominate. Even more impressive is that each items is served at its ideal temperature: from cool to room to warm.
The mains are interesting in that they find a balance between modern cooking and crowd-pleasing meat-gravy-and-veg dishes.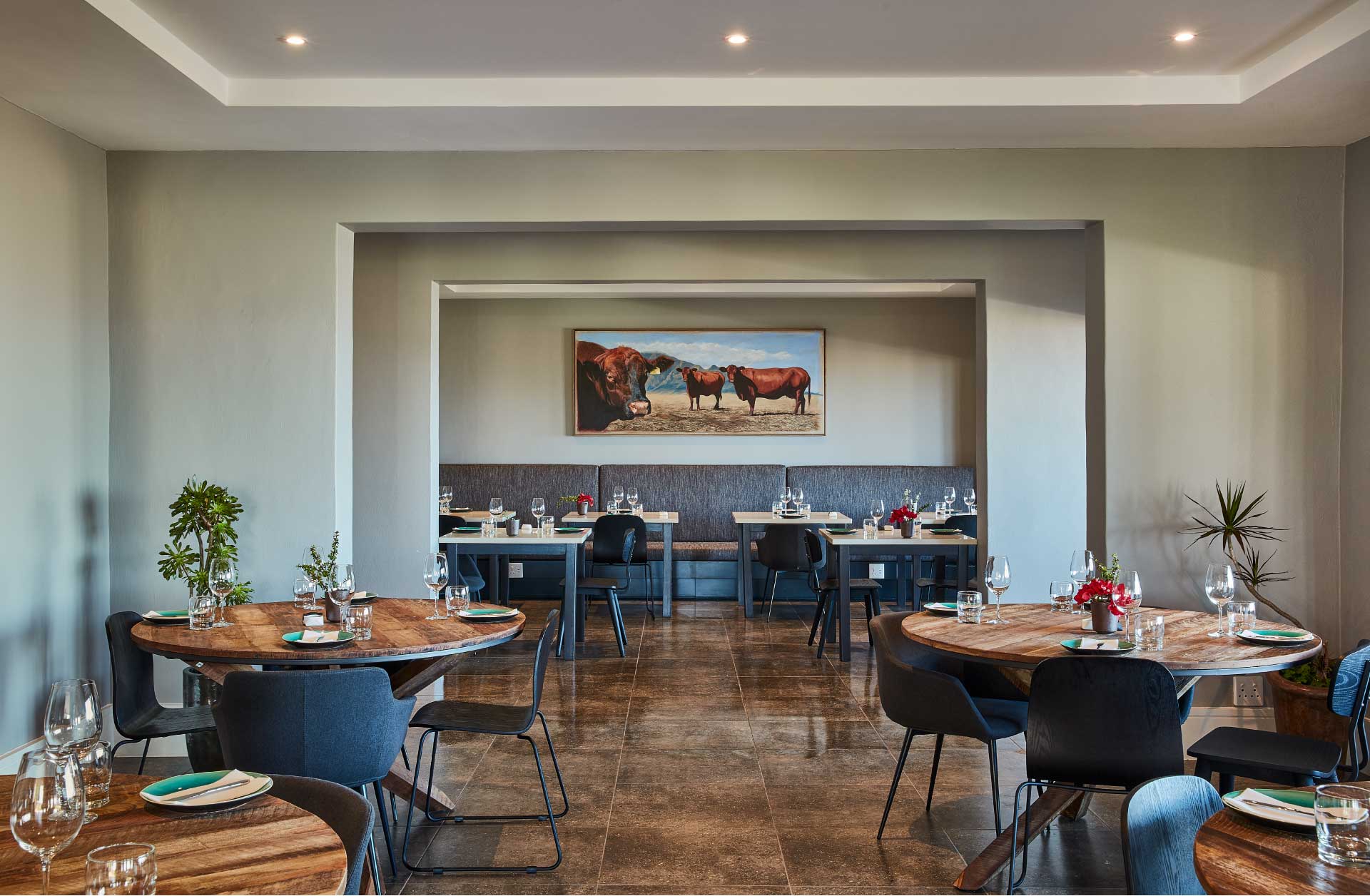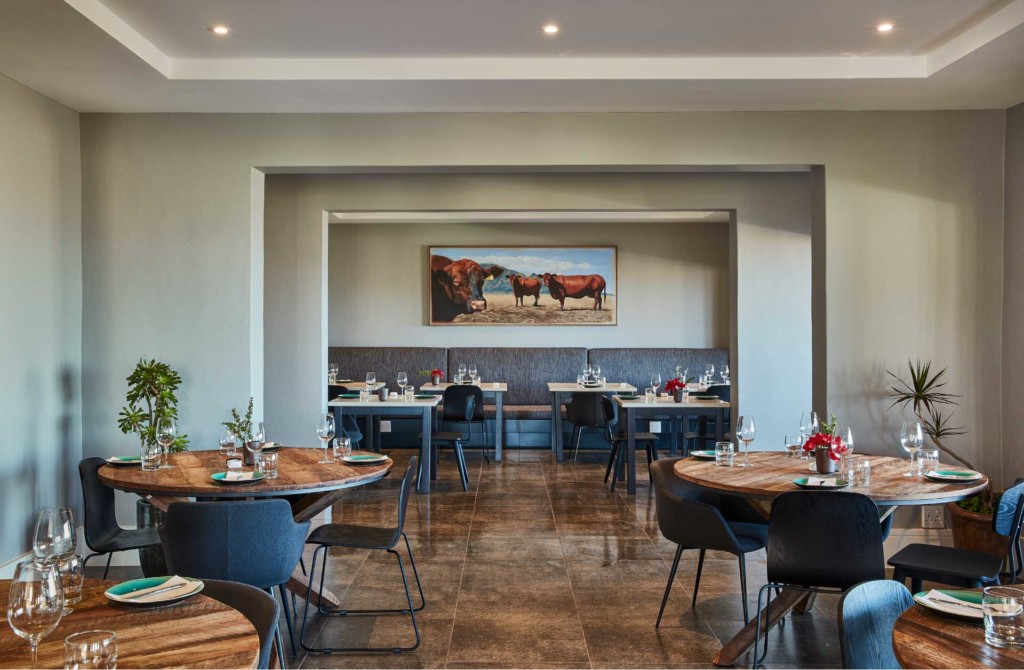 If you look around, the most remarkable feature of interior décor at Jewells is the large-scale portraits of cows, roosters and hogs. These are rendered in meticulous detail, presented as portraits of individual animals rather than generic images. The message is clear: the cooks respect the lives they take and work very hard to exploit all the benefit of the animal's body.
The pork neck is cooked to juicy, sweet perfection. It's coated with a tart apricot purée and served with airy crackers. This a dish that would please everyone from a hipster butcher to a no-nonsense farmer from down the road.
For a side dish, our waitress recommends the pumpkin, roasted overnight in a Pira oven, served with feta and sage. I'm so glad she does. This humble dish is rich and exciting, with the strong musty herbiness of the sage, the sharp saltiness of the feta and the intensely concentrated sunshine-sweet vegetable taste of the pumpkin. There is plenty of oiliness too, a flourish I appreciate given that some of the dishes – for instance, the braised short rib – are not over-generous with sauce.
It's a terrific shame we aren't drinking. A carefully-chosen wine would easily have compensated for Jewells' measured approach to sauces and gravies.
The design of Jewells is almost entirely orientated towards a spectacular view of Back's vineyards, with a patchwork of Boland farms beyond and Table Mountain in the far distance.
The winelist is heavily weighted towards his Spice Route wines. Our waitress highlighted the Spice Route Viognier 2017, Grenache 2015 and Mourvèdre 2015. An online reviewer was impressed with the Spice Route Chakalaka 2016, described at Jewells as "luscious, rich and full-bodied". Another reviewer enjoyed the "unusual but rather lovely viognier-based Charles Back MCC 2015". The wine list also includes Back's new range of natural wines, produced in clay vats from Georgia, Europe (see here).
Jewells has been open just five months. For families in Cape Town this season, it ticks a lot of boxes for lunch. Magnificent views over vineyards? Tick. A kids menu, and safe spaces for children to play while adults eat? Tick. Big-name involvement? Tick.
It's a big ask, to please such a range of diners: international and local tourists, residents from Paarl and Durbanville, fans of Back's wines and foodie fans of Tomlin and Neil and Tina Jewell. It strikes a chord across a wide range of diners because it has aligned itself to the values of integrity, honesty and respect. It's a restaurant in which to bask in great work.
Jewells is open every day for lunch, and dinner on Fridays and Saturdays.
Jewells Restaurant: 021 204 4875, Spice Route, Suid Agter Paarl Road, Jewellspiceroute@gmail.com
Daisy Jones has been writing reviews of Cape Town restaurants for ten years. She won The Sunday Times Cookbook of the Year for Starfish in 2014. She was shortlisted for the same prize in 2015 for Real Food, Healthy, Happy Children. Daisy has been a professional writer since 1995, when she started work at The Star newspaper as a court reporter. She is currently completing a novel.
Like our content?
Show your support.
Subscribe