Limoncello, Noordhoek
1
Limoncello is such a dreamy little restaurant it's worthy of its own scene in a Nancy Myers romantic comedy (working title: Stage One).
Here's the couple. They've just walked the length of Long Beach, Noordhoek. It involved a ground-shifting conversation for both of them. The waves glittered, the sky darkened their faces one moment, and lit them the next. At times they had the beach almost to themselves, with acres of sand in every direction. When they reached the shipwreck, it was almost symbolic.
The light is golden now. The sun is setting on this day, sinking through dramatic swathes of lilac, pink and silver. Things have been said, things have been felt. We hover, suspended with this couple in the hours between choice and consequence.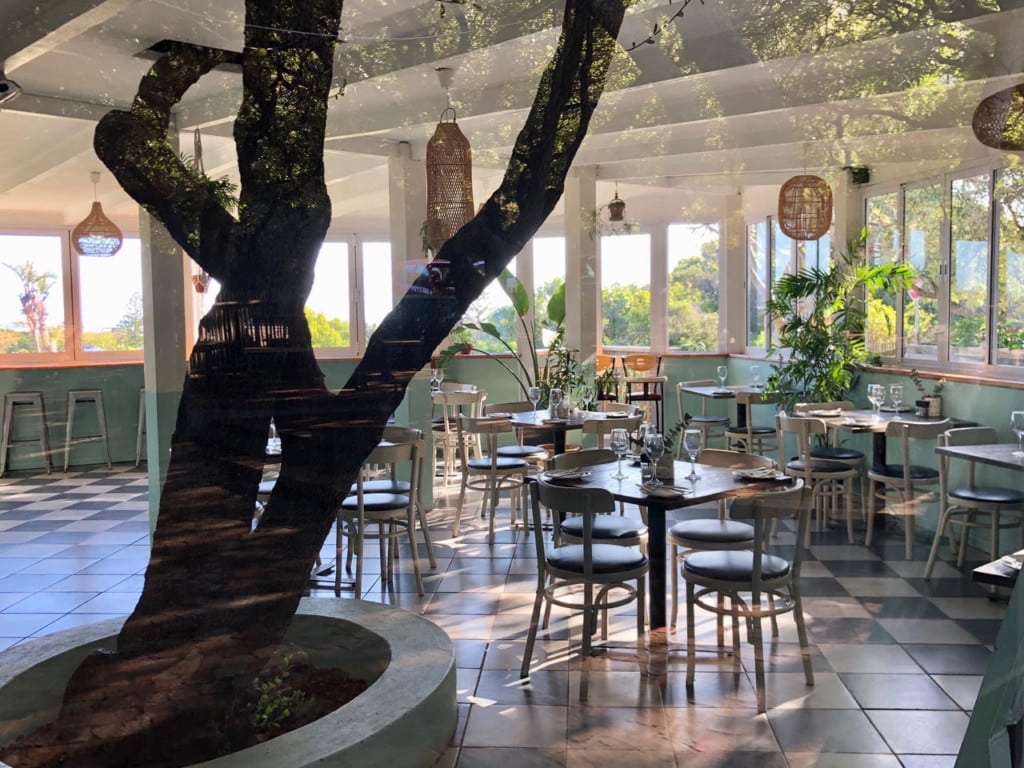 It's with this sense of weightlessness that the couple decide, on a whim, to try the little twinkly Italian on Beach Road. They walk down the sloping path, past terrace tables and milkwood trees, up to the glassy walls of Limoncello. The door is opened for them. Their eyes go to the L-shaped picture window framing views of the sea, sky and mountain. There's a counter running the full length of the L, with bar stools beneath. Between the counter seats and the front door, on this side of the simple tables and chequered floor, is a tree. Yes, a tree. The couple is seated by the owner, a third generation Neopolitan in a faded T-shirt. The smells of garlic, tomato, seafood and pizza are intoxicating.
As the darkness settles – over glasses of wine and plates of calamari, ragu, pannacotta and an after-dinner glass of the owner's homemade limoncello liquer – the couple is drawn into a new understanding. It's been an evening so unexpectedly pretty, delicious and comfortable, their decision seems charmed.
That's where we leave the good-looking Americans and bustle in for our own dreamy repast. I guarantee we won't be disappointed. The salt-and-pepper haired Neopolitan in the faded T-shirt is real. Along with his wife, he is the chef-owner of the dreamy restaurant. His name is Luca Castiglioni and he's very good.
Limoncello's melanzane starter is the sexiest I've ever eaten. The aubergine is thinly sliced. The tomatoes taste of sunshine. The Parmesan is real-deal Parmigiano, and generously sprinkled. I've never had so much delicious, quality olive oil in a melanzane. The fact that it's cooked among the coals in the pizza oven means there's a hot-roasted velvetiness to the vegetable flesh and a smokiness to the whole. There's a slight crisp to the edges, another new thing. It's fragrant, juicy and deeply savoury. The Castiglionis' melanzane begs for a glass of good wine and an elbow of chewy bread.
It's unusual for a restaurant to offer only two starters. It's confident, and one hopes the confidence is justifiable. The second starter is baby calamari tubes fried in olive oil with lemon, garlic and chilli. This dish is a triumph. The ingredients are simple – almost everyday – but the execution is dazzling. Each flavour is fresh and bright. The calamari is cooked fast and hot. The meat is as tender as can be. Like the melanzane, the calamari tempts with the thinnest of crispy, tasty edges.
If you subscribe to national stereotypes, feel free to credit Luca's Southern Italian blood for his prowess. Surely it can't hurt being born to a family in Naples, where pizza was arguably invented. But I mostly credit the hard work of the owners. The couple opened the original Limoncello in Gardens many years ago. They won loyalty and praise because of their culinary skill but also, importantly, for their professionalism. Good food should be the primary focus of restaurateurs, but a successful restaurateur understands that efficiency, style and warmth are neglected at the restaurant's peril. Diners like to be respected. The places that become our favourites are the ones that not only provide comforting and inspiring food, but also a proper welcome and smooth transactions.
Last Sunday was rainy and grey, no weather for a beach walk or excursions of any kind. Yet Limoncello was humming at lunchtime and again at suppertime. When I phoned, Luca himself answered and offered variations of menu items to satisfy unadventurous tweens. During the dinner service he chatted to patrons about their meals, greeted guests personally and at one point was greeted by a young woman who held his face, kissed his cheek and said "Ciao, Luca".
For a time the Castiglionis had a food truck. At places like the Oudekraal Market between Hout Bay and Camps Bay they sold calzone and spaghetti vera (squid, capers and olives). Luca has a taste for adventure and the outdoors. He's known as "the extreme chef", given his fondness for surfing, motorbiking and cooking on the beach. But I'm glad that he and Cecilia took physical premises last year. Luca presides over the kitchen and dining room with a cool leadership. Since Limoncello opened in Noordhoek at the end of last year, online reviewers have highlighted its friendly service.
Importantly, how's the pizza? How's the pasta? For all its innate sophistication, Limoncello welcomes families and even dogs. There's a jungle gym on the terrace and I can confirm that the pizzas please both young and old. The ash-spotted bases are thin, with chewy, rolled crusts. The passata is sweet with fresh tomatoes. The fresh, artisanal mozzarella slices are plump and creamy.
The tagliatelle is homemade, and tastes it. There's a comforting softness here that's impossible to achieve with packet pasta.
The Castiglionis change their menu often. The meat sauce may be tomato ragu meatballs or slow-cooked beef stew. The vegetarian options feature artichokes and mushrooms. Luca is excitable when it comes to fresh fish and seafood. His tomato-based seafood sauces, mussels in wine and ocean-inspired risottos draw superlatives from online reviewers. Cecilia does a spiced tuna belly that's I'm keen to try.
Limoncello's menu is consistent with Luca's heritage. Naples is in the Campania region in Southern Italy. If the boot of Italy was an ankle boot, Campania would be the front of the ankle.
Naples is on the coast in Campania, and fish features strongly in Neopolitan cuisine – as it does on Limoncello's menu. Inland, the volcanic soil of Mount Vesuvius produces rich-tasting plum tomatoes. The south has a longer growing season than the north; aubergines and baby marrows are common in Neopolitan cooking – and at Limoncello. Other popular ingredients are the buffalo milk mozzarella made inland, walnuts and lemons. Italians in the north use more dried pasta; in the south, pasta is more often made by hand.
What about limoncello, the "digestivo" from which our dreamy restaurant takes its name? A strong and sweet after-dinner drink, Limoncello is most strongly associated with Sicily, but is drunk throughout southern Italy. If there's one product that is quintessentially Southern Italian and Sicilian – a drink that speaks of long, sun-drenched summers, rich seas and rich soil – it's this.
My one criticism to the Castiglionis is around its seafood choices. Although many of Limoncello's choices – squid, mussels, yellowtail and yellowfin tuna – are on SASSI's green list, Luca has pictures of himself on his Facebook page with a catch of kabeljou. Dusky, silver and squaretail kob are all on SASSI's red list. Dusky kob is on green if it's farmed, but farmed kob are plate-size. Prawns and octopus are orange-listed.
This week, Limoncello has octopus is on the menu. Given how many South Africans – and surely those in the South Peninsula – have very recently been stirred by the Netflix documentary My Octopus Teacher, I might have held off on the octopus carpaccio special.
Limoncello is open for dinner every day except Monday, and for lunch from Thursday to Sunday.
Limoncello: 021 224 0830 / 072 243 1223; Cnr Beach and Pine Roads, Noordhoek; Limoncelloristorante.co.za
Daisy Jones has been writing reviews of Cape Town restaurants for ten years. She won The Sunday Times Cookbook of the Year for Starfish in 2014. She was shortlisted for the same prize in 2015 for Real Food, Healthy, Happy Children. Daisy has been a professional writer since 1995, when she started work at The Star newspaper as a court reporter. She is currently completing a novel.
Attention: Articles like this take time and effort to create. We need your support to make our work possible. To make a financial contribution, click here. Invoice available upon request – contact info@winemag.co.za
Like our content?
Show your support.
Subscribe