Saltwater Grill, Pinelands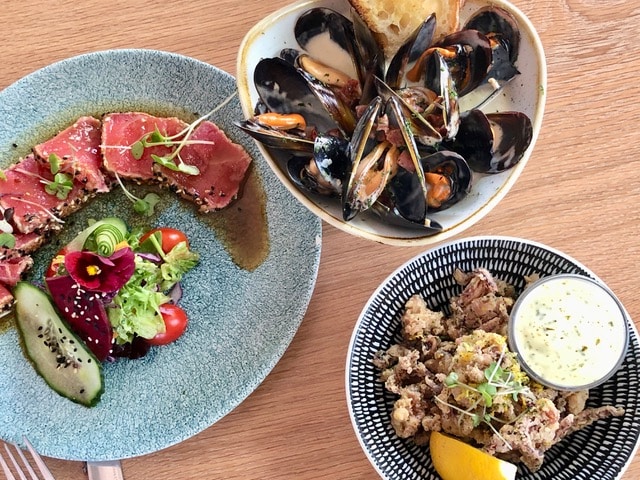 If Saltwater Grill was at the beach it would be run off its feet, even if it doubled its prices.
The standard of food at this suburban bistro is curiously high. The mussels could not be cooked any better, anywhere; the pannacotta wobbles and tastes like Greek yoghurt, not cream. The seafood Spanish stew, with a handmade tomato base and butter-soft calamari, would make any chef proud. Differently plated, the food at Saltwater Grill could easily pass as posh nosh.
As it is, the restaurant's façade is easy to miss. It's on a corner at the back of Howard Centre, in Pinelands – which as a suburb is hardly a gastronomic hot spot. The signage is almost non-existent. Inside, the décor is crisp but predictable: blue and white tiles and wooden fish and white chairs. With its proximity to The Wimpy and Simply Asia, a first-timer at Saltwater Grill might expect a meal of Ocean Basket standard.
The food is way, way better than that. The battered and deep fried squid tentacles are crunchy outside and tender within. The batter is salty and peppery; the fresh lemon zest garnish releases a Greek seaside scent and adds tang as it mingles with the fishy steam.
The tuna tataki is tender with a very well-balanced Asian-style dressing. There is a good hit of sweetness to counterbalance the acid. The oily-nuttiness of white and black sesame seeds complements the meatiness of the fish.
And oh, the mussels. I tried them with a boozy, fresh tomato sauce and they were good – but the Spanish chorizo, white wine and cream sauce blew my socks off. Best of all, the Saldanha mussels were fresh and plump and sweet and absolutely perfectly cooked, retaining all their tenderness and sea water juiciness.
Throughout the week, at night and during the day, Saltwater Grill's patrons order the crowd-pleasing seafood platters, combos and burgers. I adore a good chip, a beer-battered hake fillet and a calamari ring. But there are very few places where you can get an excellent seafood stew, risotto or paella. These are difficult dishes to nail. When I ordered the stew, my fingers were crossed.
Saltwater Grill makes it look easy. The shallow dish appears, half filled with a nubby red sauce, clearly made with fresh tomatoes. The bright white calamari, the chunks of fish and peachy mussels in their shells steam invitingly. The taste is wonderful: not sugary, not spicy, not herby. There is nothing to overpower the subtle flavours of the seafood. The slow-cooked garlic, tomato, oil and seasoning are only there to enhance the meat. Slices of crispy, smoky fried bread are provided for dipping. This is a very humble, but very impressive dish.
The red wine and poached pear sauce served around the perfect pannacotta – which is sprinkled with perfectly complementary smashed walnuts, for heavens sake – is cherry-rich with a slight alcohol kick and the dreaminess of soft, cooked pear.
Why is the food here so darn good? Who's hiding in the kitchen? What's going on?
Claudio Paioni is an engaging and efficient ex-hairdresser of Italian descent who took over the running of Saltwater Grill when his son expanded the business in Durbanville.
"There's just one secret," he says. "Any Italian will tell you this. Keep it simple. Use the best."
No-one with any sense would disagree with that, but there's another secret too. It's generosity.
On the occasion of my mother-in-law's 79th birthday party, we noticed an addressed envelope slotted between the salt and pepper. It was for the birthday girl, from the restaurant, wishing her health and happiness on her special day and beyond.
Is there such a thing as a feel-good restaurant? A feel-good movie has the "aw …" factor. A feel-good restaurant, if there is such a thing, ticks all the usual boxes – great food, service, value, ambience and so forth – but its greatest offering is an abundance of heart.
Online, people rave about Saltwater Grill. It has received TripAdvisor certificates of excellence three years in a row. Of the 62 reviews on Zomato, the majority give the bistro five stars. The written reviews often mention the friendly service.
The staff here exude cheerfulness and pride. Sadly, this is rare in restaurants, regardless of their price bracket. Poor pay, indifference to individual circumstances and difficult working conditions often result in an atmosphere of impersonality at best, resentment at worst.
Paioni tells me that his son, Dylan, who started the business in 2016, asked him to take over in Pinelands.
"He cared about the staff. They had been with him from the beginning. He wanted to hand over to someone he could trust."
When the company posted a lunch special on its Facebook page recently, celebrating four years in business, it thanked its customers as well as its staff "for being just as lekker".
Paioni visits our table throughout the evening, altering the temperature of the air conditioner, apologizing for the delay of our food, and bringing the children chips to eat while they wait for their mains.
When he leaves our table to attend the busy restaurant, he addresses the waitress, inclining his head towards the guest-of-honour. "Make sure she's happy," he says.
Saltwater Grill charges just R40 for corkage, and allows three corked bottles at any table. The winelist is focused on whites, with seven local Sauvignon Blancs and six bubblies. Almost all the wines – popular labels, well described – are available by the glass. The bar stocks seven gins, including two from Italy, as well as bourbons, cognacs and aged whiskies.
Saltwater Grill is extremely good value. The mussels starter, seafood stew and pannacotta add up to just over R300.
The fact that the bistro keeps its prices down is good for the environment. The most common fish and seafood ingredients here are not just budget-friendly but also sustainable. Saltwater Grill provides a masterclass in how to make green-listed hake, mussels and calamari taste expensive. Kingklip and yellowfin tuna – also on the menu here – are on SASSI's green list if they are sustainably caught. Farmed pangasius from Vietnam is becoming more sustainable, thanks to the work of WWF. Kabeljou is sustainable only if it is farmed.
Prawns are a big seller for Saltwater Grill, as they are for most South African restaurants that sell seafood. Prawns are not sustainable. Neither is salmon. Locally farmed trout is an excellent substitute for imported Atlantic salmon.
My only criticisms, apart from the lack of signage and generic décor, were that the creamy pasta dish looked over-rich and the plating of the fish cakes was fussy. But these are errors of modesty and generosity, essential ingredients of this restaurant's charm.
Saltwater Grill: 081 558 6450; Shop G39, Howard Centre, Logan Str, Pinelands; http://www.saltwatergrillsa.com/saltwatergrillsa.com
Daisy Jones has been writing reviews of Cape Town restaurants for ten years. She won The Sunday Times Cookbook of the Year for Starfish in 2014. She was shortlisted for the same prize in 2015 for Real Food, Healthy, Happy Children. Daisy has been a professional writer since 1995, when she started work at The Star newspaper as a court reporter. She is currently completing a novel.
Like our content?
Show your support.
Subscribe