Solms-Delta Picnic – review
We are back at Solms-Delta for a picnic. Today we're under a tree by the river. We've laid our picnic blankets on this exact spot twice before. We've also eaten on the lawns near the bamboo forest and another time near the lily-topped dam.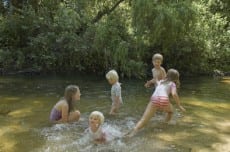 The children are up to their undies in the river, launching leaf boats. My uncle is saying: "It always tastes nicer, when you have wine where it's grown." My nephews are gnawing on pork ribs.
Why do we keep coming back? The food and wine are good and the setting is magnificent. But it's none of those things that make me suggest, time and again, that we drive nearly all the way to Franschhoek for lunch.
The fact is, Solms-Delta makes me happy.
"Service" is often mentioned as an aside in a restaurant review. The "staff" were "excellent", or "attentive" or "surly". In an environment like this, where the people cooking and serving the food live on site – and have done, in some cases, for generations or even centuries – it's not appropriate to sit back and score the waitress on how she deports herself at our table. We are visitors here.
I like what it says on the website: "Solms-Delta wines are the products of a long and complex struggle, embodying the aspirations and sacrifices of innumerable ordinary people, past and present."
I like the photos on the walls of Solms-Delta's high-end Fyndraai Restaurant. Ansel Adams-esque studies of the land? Portraits of Mark Solms and Richard Astor? No. The restaurant walls are lined with photographs of farmworkers, past and present. There are formal black and white photographs of 1950s rugby teams and snaps of toddlers.
What I like most are the open faces of the people who work here.
It's easy to tell when restaurant staff live in fear of their managers. It's easy tell when they've crossed over into rebellion, or boredom. Smiling restaurant staff may be undertrained or overtrained. In all these instances, the face of the person who brings your food is closed.
After our picnic we were hot and thirsty. We went into the smart restaurant, with wet hair and four children, in search of cooldrinks. The restaurant was closed, preparing for the evening's outdoor concert. Four women explained what was happening, then opened tills, brought iced drinks on a tray and continued with their business. The atmosphere was one of women-led, domestic efficiency.
Restaurant owners are notorious for overlooking the humanity of the staff. They don't realize how ruinous it is to the diner's experience. It can make the difference between a one-off visit and a loyal customer.
I have had memorable conversations at Solms-Delta with the man who conducted our wine tasting (he told scandalous stories from the farm's 320-year past with unforgettable relish), the tractor driver who gave my young son a ride with him on the drivers seat and the manager who told us about the farm's famous music project.
It was around the time of the harvest festival; a youth music exchange under the trees. There were little girls in marching uniforms, teenaged boys with brass instruments and a band that would later make it impossible to keep still.
The Delta Trust Cape Music Project has made it its mission to document and interpret musical traditions in the winelands. Cape vernacular music groups have received a massive boost as a result. Every year, the harvest festival (Oesfees) team scouts the area and handpicks a number of local music groups to play at a free concert for farmworkers in the Boland.
It's a feel-good party on a feel-good farm. It's on the 21st of this month. I might drive through again.
Solms-Delta 021 874 3937; Delta Road (off R45), Franschhoek Valley
Daisy Jones is author of Star Fish, a cookbook about sustainable fish. She has written restaurant reviews for Business Day and various guides.
Like our content?
Show your support.
Subscribe